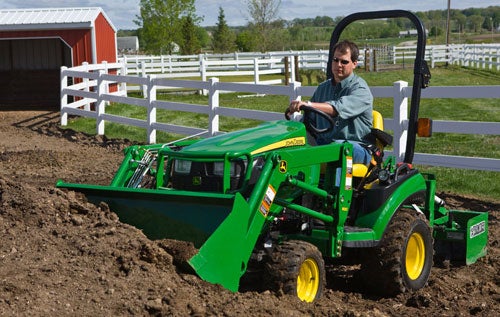 Position Control on the Three-Point Hitch (3PH)
This is a "big" tractor feature that is unique in this class of machine. While any 3PH can go up and down and be stopped at some position in-between, the ability to return to the exact position makes for less time fussing and more precise productivity.
Folding Roll Over Protection Structure (ROPS)
How many garage and shed headers need to be damaged before customer screams for this simple addition are incorporated across the board? Well, Deere listened and acted and we applaud the inclusion of a folding ROPS on the 1026R (and the entry-level 1023E).
Hydro Fan Replaced with Transmission Cooler
Not every SCUT owner takes his or her machine out into the north forty, but getting a stick caught in the little plastic fan cooling the hydrostat is no fun at all. Reports of the repair ranging from "replaced under warranty" to as much as $1000 circulate and make you wonder why a simple oil cooler, which can't cost much, was a corner cut by all the major manufacturers.
"We use our 2305 in the tight quarters of a stable and twigs and sticks are always working their way underneath the tractor," says Harlan. "We've never broken a blade on the fan, but ours has a few nicks that has us cringing whenever we hear the tick, tick of something contacting the fan."