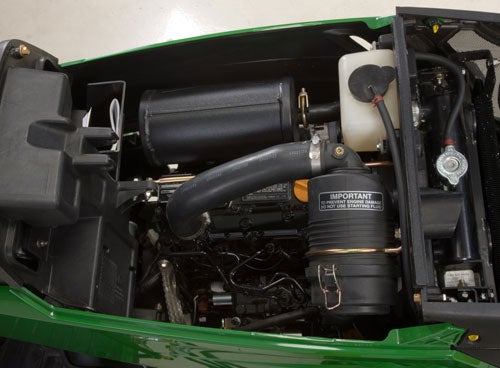 Transmission Oil Filter Moved out of Harm's Way
One of the advantages of a SCUT tractor is its low center of gravity, which makes these machines excellent in uneven and sloped conditions. It does not mean the manufacturers should all put their transmission oil filters in exposed locations also low to the ground. But they did. Deere breaks that mold with the 1000 Series and we whole-heartedly approve.
Platform Integrated Joystick Control
Most manufacturers integrate the selective control valve (SCV) joystick in a way that makes access to the operator's platform from the right side awkward at best. Some put it on the loader, which makes for a long reach and adds cost and complexity if the owner is going to blow snow, while others incorporate it in the tractor cockpit nicely but use up precious right side real estate. The location of the John Deere 1000 series tractors is a welcome and not at all minor improvement.
Drive Over AutoConnect Mid-Mount Mower
The drive over mid-mount mower we saw coming on the 2000 Series tractors and so was not a total surprise to see it on the new 1000 Series line, but the addition of AutoConnect was. How nice to drive up to and over your mid-mount mower (MMM) and without leaving your seat, drive away and start tackling that growing lawn. Slick is all we can say.
iMatch Auto Hitch
And while Deere has had its iMatch on the market for several years now, changing the attaching of a 3PH implement from a wrestling match to a no-need-to-leave-your-seat affair, the all-new AutoHitch system takes the ease of attaching an implement such as a tiller to an all new level. Need we say slick again?