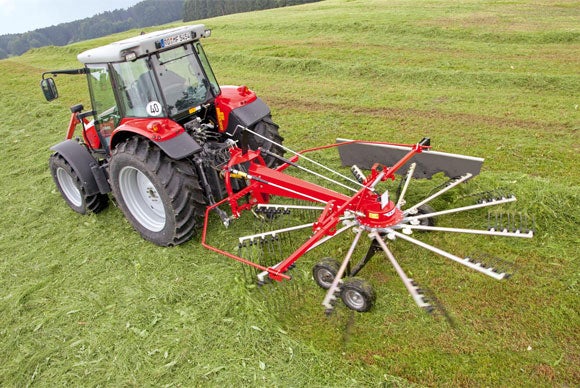 Massey Ferguson has introduced three new rotary rakes, designed to help hay producers optimize hay quality and create windrows that increase baling efficiency and capacity.
The new models expand the RK Series line of rotary rakes from Massey Ferguson to offer more options that help both small and large operations produce quality hay. All three models are designed to help speed drying time because they sweep the hay or forage into a uniform windrow. According to Massey Ferguson, their gentle action helps maximize leaf retention for optimum protein content, resulting in more valuable hay.
"Rotary rakes form more even windrows without roping or plugging, and the tine angle and gentle sweeping motion result in a cleaner crop in the windrow," says Dean Morrell, product marketing manager for Hay and Forage. "In addition, the tines on these rotary rakes last two to three times longer than tines on traditional wheel rakes."
The new durable RK Series of rotary rakes includes three models. The RK3802 single-rotor rake is designed for smaller tractors without hydraulic valves. This model offers a three-point lift system and is an economical upgrade for producers using vertical-fold wheel rakes. The RK3845 is a 21-foot model available with a transport chassis, and the RK3879 PRO model is a heavy-duty model with a 27-foot working width, also featuring a transport chassis. Both larger models are dual-rotor rakes and are equipped with steerable rear wheels on the transport chassis for greater maneuverability on tight turns during raking and moving from field to field.
These dual-rotor models also feature "jet effect" rotor lifting. When the rotor is lowered from headland to working position, the "jet effect" lets the rear of the rotor touch down first (like an airplane landing), which prevents the tines from scalping the soil surface and contaminating the windrow. This also helps extend the tine life.
Standard on each dual-rotor rake with transport chassis is the Massey Ferguson's ROTORFLEX suspension system, which allows rotors to float from front to back and side to side, so the baskets work together to gather the crop into a more uniform and manageable windrow in uneven, rough terrain.
"While the rakes are gentle on hay, they're built sturdy to deliver years of reliable service, and the extra-tough tines can handle many hours in the field," says Morrell.
Finally, the drive system features helical-cut gears to provide more torque than straight-cut gears, as well as deliver longer driveline and rotor life. To prevent damage and operator error, the RK Series is equipped with sealed-grease gearboxes for smooth movement, main-drive gearboxes that automatically swivel when the machine is folding, a simple hydraulic system and overrunning clutches.
For more information, visit www.masseyferguson.us.