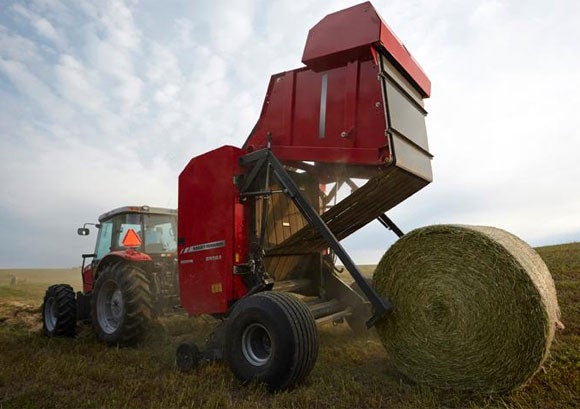 Hesston by Massey Ferguson has introduced its new 2900 Series round baler. This high-capacity baler is designed to feed faster and more smoothly, achieving dense, uniform big round bales regardless of the crop or crop conditions.
"The Hesston 2900 Series features design enhancements that keep pace with the productivity needs of our largest hay and livestock-feeding customers," says Dean Morrell, product marketing manager for hay and forage equipment. "The Hesston legacy of innovation and commitment to quality is evident in the detailed engineering and rigorous testing that this Series has undergone."
The 2900 Series offers two models, the MF2946 that produces a four-foot-by-six-foot bale and the MF2956 that creates a five-foot-by-six-foot bale. Both models are available with either auto-tie or Hesston's Auto-Cycle that automates bale formation from start to finish. The new balers leave the factory with defined, factory-set specifications for baler settings, hydraulic functions and belt tracking so they're ready to go to work with minimal set-up.
2900 Series balers feature a redesigned rotor feeder system with adjustable feed auger strippers and room above the side augers to pull the crop into the bale chamber. High intake capacity comes from a pickup design similar to that of Hesston large square balers. This helps ensure more crop is baled faster, despite tough field conditions such as damp or uneven windrows.
Auto-Cycle is designed to ensure that 2900 Series round balers produce more uniform results in less time and the Hesston-exclusive Quad Cylinders System provides control over belt and bale tension for uniform bale density.
Other features include real-time monitoring with the C1000 monitor for greater control of baler functions, an advanced mesh wrap design that streamlines loading and maintenance, and a single 5.5-inch tailgate roller that offers more durability and improved cycle time from gate open to close.
The Rotor Stuffer Drive System controls the crop from the pick-up to the baler. According to Hesston, this will provide better feeding and faster feeding in all crops including residue crops such as corn stalks, soybean residue and wheat stubble.
Visit Hesston.com for more information.