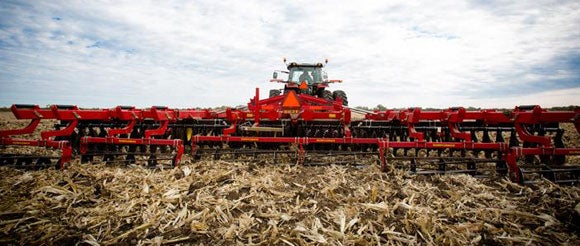 Sunflower has introduced seven new models to the 6631 Series vertical tillage system. The seven new models offer cutting widths from 20 feet, 5 inches to 34 feet, 9 inches, and join the two previous models at 32 feet, 7 inches and 37 feet, 5 inches.
The 6631 Series combines Sunflower's Saber Blade disc blades and staggered offset disc gang design. The Saber Blades feature an edge that is fluted the full cutting depth of the blade, designed to stay sharp and cut residue "long after standard blades become dull." The 22-inch, low-concavity blades are set at an 18-degree gang angle on 7 1/2-inch (191 mm) spacing. Each blade has 25.
"The primary purpose of vertical tillage is to cut and size tough crop residue, then mix it into the very topmost soil to help the residue start to break down," says Larry Kuster, senior marketing specialist for tillage. "The blade design and gang angle of the Sunflower 6631 tools offer effective cutting and mixing action for residue breakdown, but also 'tie' residue to the soil and create a surface that resists wind and water erosion.
"We also built this machine with strength and structural durability in mind – to be a machine our customers can rely on to get the job done efficiently for years to come. It features a heavy mainframe along with many maintenance-free components to ensure long life of the machine."
Visit SunFlowerMfg.com for more information.