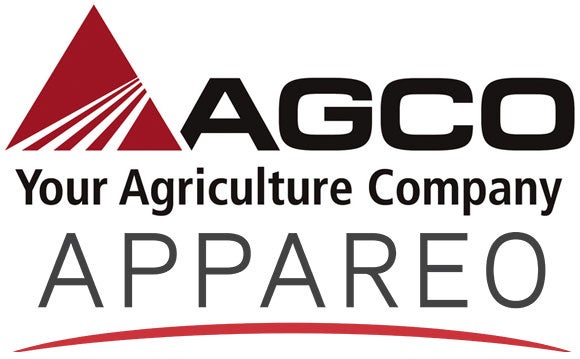 AGCO Corporation and Appareo Systems have agreed to enter a joint venture, building on the existing IAS (Intelligent Agricultural Solutions) business structure, to allow for breakthrough agricultural innovation.
This collaboration will focus on the need for more advanced electronic technology centered around data collection, wireless communication, advanced sensors and intelligent machine control. The proposed joint venture will build on the momentum of Fuse Technologies, AGCO's approach to precision agriculture and precision machine management. Appareo will contribute to the initiative through research and development, Intellectual Property (IP) generation and advanced technology concept development, which will be deployed through AGCO Technology Solutions.
The joint venture will develop technology for advanced machine control systems, sensing applications, automated subsystems, machine prognostics and machine health monitoring, specific protein and grain control systems, and development of innovative electromechanical devices and systems. This will provide AGCO and Appareo Systems a key vehicle to deliver advanced technology and equipment management solutions, supporting a variety of crop types and markets globally.
"Global agriculture is going through a period of revolutionary change. The need for more advanced electronic technology focused on data collection, wireless communication, advanced sensors/sensor fusion and intelligent machine control has grown exponentially. As we continue to build on AGCO's Fuse strategy, we intend to leverage the new partnership with Appareo as a key driver in building the most adept and most open data system available to the industry." says Eric Hansotia, senior vice president, global harvesting, Advanced Technology Solutions (ATS). "As the agricultural industry shifts, there is a greater need for more advanced technology, and we anticipate that this partnership will provide breakthrough innovation making our customers more profitable while supporting their mixed fleet operations."
"Appareo is very excited about forming this exciting new partnership with AGCO, the world's largest manufacturer focused strictly on agricultural equipment," says Barry Batcheller, Appareo chairman and CEO. "The unique contributions that each partner brings to this business will enable the unprecedented infusion of new to the world technologies into production agriculture."