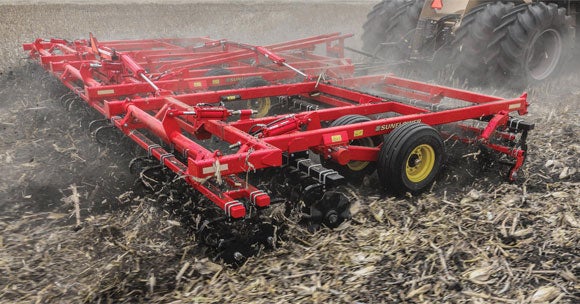 AGCO has introduced its new Sunflower SF6830 high-speed rotary finisher and SF6610 vertical tillage tool, as well as the SF4630-09 to Sunflower's line of SF4600 Series of disk rippers.
According to AGCO, the SF6830 high-speed rotary finisher and the SF4630-09 disk ripper combine multiple tasks into one-pass systems, while the SF6610 rounds out Sunflower's Vertical Tillage offering.
"Sunflower is launching a new era in tillage with the SF6800 Series, a tillage tool specifically designed to utilize a new concept in seedbed preparation," says Larry Kuster, AGCO senior product marketing specialist.
AGCO says the SF6830 Series provides operators the high-speed, high-residue flow capabilities unattainable with traditional shank-equipped finishers and cultivators. The SF6830 Series is completely void of sweeps, combining four types of rolling-ground engaging tools into a three-step process.
"The SF6830 Series utilizes a gang of 20-inch, low-concavity blades set at an 8-degree angle to provide just the right amount of lateral soil movement to level soil and anchor residue," says Kuster.
Placed behind those blades, the SF6830 Series has sealed, service-free disc gang reels that turn at twice the speed of the disc blades. AGCO says this allows the gang reels to break up clots and root crowns, while limiting excess lateral movement of the soil. Wavy coulter blades are positioned in a gang behind the blades and reels to continue sizing crop residue.
"Because all of the ground-engaging tools utilized in the SF6830 are of the rolling type, the possibility of the unit plugging-up is virtually eliminated," AGCO says in a release. "The SF6830 Series is a low-maintenance, high-speed rotary finisher."
6610 Vertical Tillage Tool
The SF6610 is available in two operating widths – 11 and 14 feet. These new, smaller, single-section tools join the nine larger models of the SF6600 Series for a total of 11 sizes.
AGCO equipped the SF661 with Sunflower Saber Blades and the overlapping/staggered gang design.
Sunflower 4630-09 Disk Ripper
The SF4630-09 is designed to combine three post-harvest tillage tasks in one pass. According to AGCO, it is capable of crop residue management, eradication of soil compaction, and seedbed preparation. The SF4630-09 is a narrow-transport, folding frame, nine-shank disc ripper equipped with walking tandem axles between large 385/65R by 22.50 tires. The SF4630-09 frame is constructed of four-inch by eight-inch by 3/8-inch steel tubing.
The SF4600 Series is available in models ranging from seven to 13 shanks, with three models in folding configurations.
Visit SunflowerMfg.com for more information.