2011 John Deere 1026R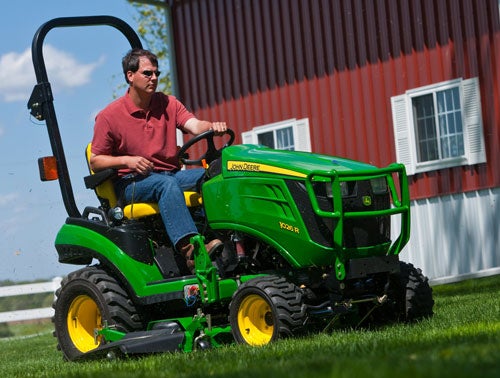 By Geof Fowler, Photos by John Deere
With its 2305 model a bestseller and a standout amongst a field of stellar competitors, John Deere raises the bar with the new 1026R and gets our designation as Tractor of the Year (TOTY).
Harlan and Ed couldn't be more different. Harlan is a self-employed machinist who, along with his wife Rita, raises and boards horses. Ed is an actuary for a major insurance company who teaches at a local community college and, in his spare time, maintains an eight-acre mini-estate. Both sit on our guest judge panel and participated in this year's Tractor of the Year selection.
Says Ed, who already owed a John Deere 2305: "The 2305 was the perfect tractor—almost. It did everything it was asked of, but there were always little things you wished Deere had included. The 1026R addresses that list and more."
While Ed and his wife muck stables and put their sub compact tractor (SCUT) through the daily dirty task of maintaining their stables, Harlan maintains his mini-estate with a shiny orange Kubota BX23 that we're not sure has seen a drop of rain. His views were less from the capability side, although that was important, and more to the ease of use. Says Harlan: "I just want to use the tractor when I need to and not bloody my knuckles in the process."
But the two from their divergent viewpoints both agreed on ten reasons the all new John Deere 1026R is our 2011 TOTY.