2016 Mahindra 2565 Cab Review
The flagship model of the 2500 Series
By Geof Fowler, Apr 29, 2016
The Mahindra 2500 Series consists of four models, most available in open station or cab configuration with three and four-cylinder diesels carrying horsepower ratings from 37.4 to 65. Drive choices include hydrostatic and synchro shuttle transmissions. Though billed as an economy series, these tractors come with many niceties that would be expected in more deluxe or premium offerings. As with the 4540 we tested a few weeks ago, our test 2565 tractor was made available to Tractor.com by the good folks at Ellington Agway in Ellington, Conn.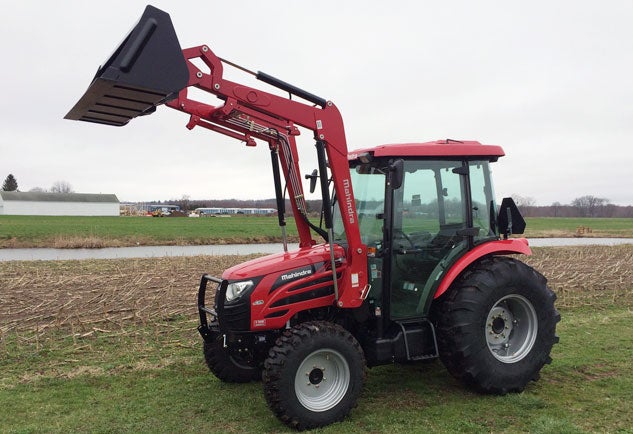 The 2565 is the top of the line of this series and is powered by a turbocharged and intercooled three-cylinder diesel displacing 161.5 cubic inches (2.65L). EPA Final Tier 4 (FT4) emissions compliance is through Mahindra's mCRD (Mahindra Common Rail Diesel) technology that does not require a diesel particulate filter (DPF). This means the high heat regenerative cycling required by tractors using DPF technology is skipped and operator consideration as where the tractor is parked – think potential tinderboxes like a hay field or barn – is not a worry. It also means the addition of a diesel exhaust fluid (DEF) is not necessary, saving the hassle of having an additional fluid to store, maintain, check and consume. Rated engine horsepower comes at 2300 rpm with an operating range of 850 to 2600 rpm.
COMPARISON: Read our review of the 2016 Mahindra 2555 Shuttle Open Station
Power is sent to a 12F / 12R synchronized shuttle transmission with synchromesh on gears one through four. Operator interface is an inverted "L" hand lever located just below the steering wheel at about 10:30. To reverse direction use of the clutch is required, as is changing between the four gears or three speed ranges.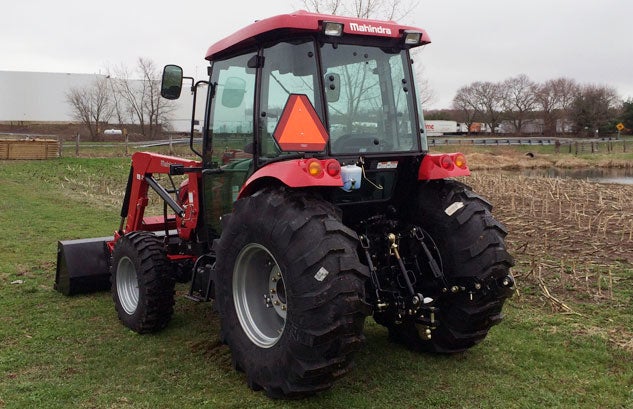 Hydraulics run through an open center system flowing 5.4 gpm to the power steering system and 11 gpm (16.4 total) to implement demand. This allows the Cat-II three-point hitch (3PH) to have a lift capacity of 3527 lbs. Position control is standard so an implement can be returned to an operator-selectable position time after time. Draft control is also standard and when engaged, adjusts (raises/lowers) implement height to maintain a constant engine load. Lower link arms have flex link ends for ease of implement attachment and the outboard stabilizers telescope for quick slack take up. A single rear remote is standard with an option for a second spool. The rear power take-off (PTO) is fully independent with 540 rpm coming at 2300 engine rpm. PTO horsepower rating is 50 (36.8 kW).
COMPARISON: Read our review of the 2016 Massey Ferguson 2705E
Climbing up into the cab is aided by the single step and wide opening door that latches/unlocks with automotive quality. Inside the rubber-isolated floor is flat with suspended pedals (clutch, split brakes, and foot throttle), tilt steering column and adjustable suspension seat for operator comfort. The dash panel has a modern feel with an analog tachometer to the left showing the operating range in white, over-rev condition in red, and 540 PTO rpm in green. In the center is an indicator screen with lights for things such as headlights, PTO engagement, etc., while to the right is a second pod with a digital hour meter, and analog fuel and temperature gauges. There is a hand throttle and PTO switch to the right and a light/horn multi-switch to the left.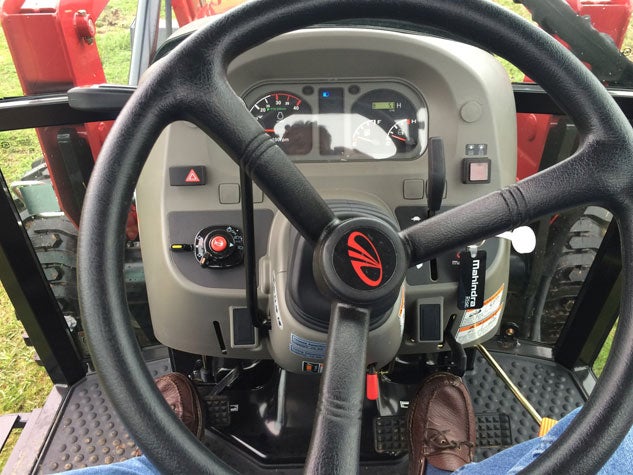 Right of the operator seat are levers for rear remote, position, and draft control with the H-pattern gear selector and joystick just forward. A push pedal for differential lock engagement is on the floor next to the joystick. On the left side of the operator seat is a lever for range selection and a push/pull lever for 2WD/4WD. There is plenty of room on either side between the molded wheel covering panels. Glass area is expansive with only minimal four-post interruption to the 360-degree view. A nice feature is the two curved quarter panel windows that swing out for ventilation along with the fixed pane behind the seat which is helpful for viewing what is going on with the PTO, rear remote and 3PH.
Firing up the engine, we measured a super quiet 70/77 dBA at idle and 80/92 at PTO rpm. Clutch engagement was quicker and more positive than on the 4540 we test drove the same day. Cabs tend to be a little like sails and require more horsepower to push through the air, but with 65 horsepower on tap and a GVW of 5070 lbs (122 lbs less than the 41-horsepower open station 4540) the 2565 is in no way underpowered. Directional changes require use of the clutch, but the package is quite user friendly and not at all difficult to get used to.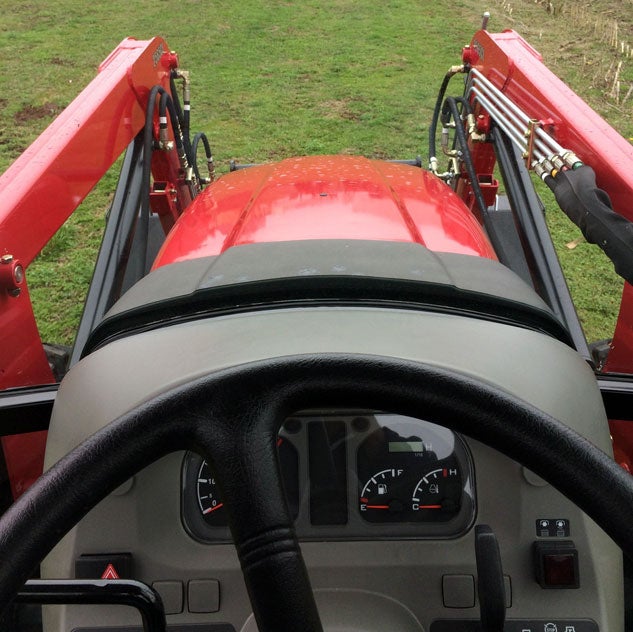 Our test tractor was outfitted with Mahindra's 2565CL loader which can lift 3122 lbs to a max height of 115.4" and has a dump clearance of 82.3". Breakout force at the pivot pins is 5225 lbs. We found the 72" bucket (12.8 cubic foot) with skid-steer style quick attach levers well matched to the tractor capabilities, but had no doubt the package would support a larger bucket, depending on the circumstances of use. Cycle times at 2600 rpm were 6.0 seconds full raise, 4.0 seconds full lower, 4.9 seconds full dump and 3.2 seconds full curl. Dig depth is 5.2".
COMPARISON: Read our review of the 2016 Kubota L4701 HST
The 2565 cab tractor is compatible with Mahindra's 75BH backhoe which can dig to a depth of 116" with a reach of 153". Dig force at the bucket is 5676 lbs and at the dipperstick is 2754 lbs. A variety of bucket styles and sizes are available.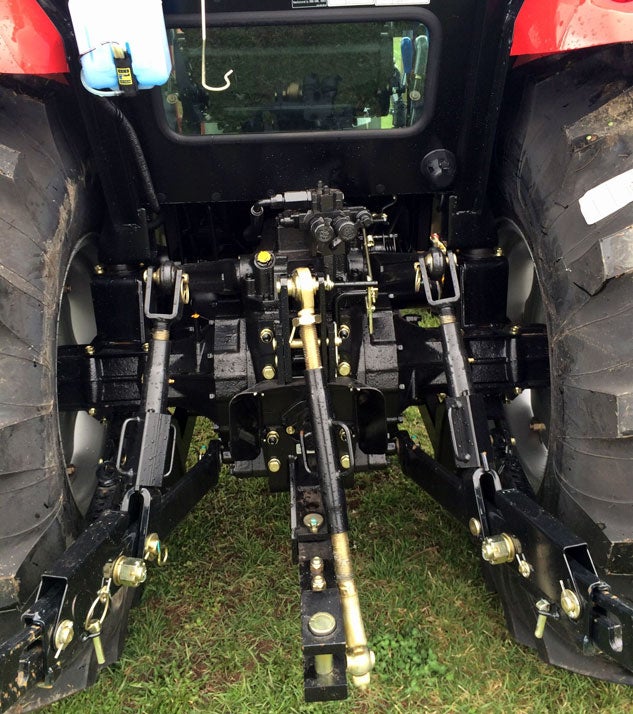 Overall the 2565 measures 142" long by 71.5" wide, rides on an 83" wheelbase, and is 99.2" to the top of the cab. Ground clearance is 15.4". Turn radius using brakes is 12.5'. Industrial (R4) tires size 10.5/80x18 front and 18.4x24 rear are standard with Ag (R1) and Turf (R3) options available. MSRP for the 2565 is $38,815. Adding the 2565CL loader brings the total up to $45,630. That is a lot of tractor for the buck.
For an agribusiness, hobby farm, landscaper, property management firm, or homeowner with some real estate to maintain and needing shelter from the environment while doing so, the Mahindra 2565 would be well worth looking into. For those in the vicinity of Ellington, Conn., a visit to the friendly, knowledgeable folks at Ellington Agway would be a good place to start.
Buyers Guides
Our Partners