2015 Massey Ferguson 1759 Open Station Review
We test Massey Ferguson's most powerful 1700 Series tractor
By Geof Fowler, May 14, 2015
The Massey Ferguson 1700 Series consists of nine tractor models spread over economy and premium ranges. 1700E (economy) models are the 1726, 1734 and 1739 (24 – 38.5 HP), with the middle model covered by Tractor.com in March of 2014. 1700 (premium) models are the 1736, 1742, 1749, 1754, 1758 and 1759 (36.2 – 59 HP) – we featured the 1754 in Dec. 2013. All 1700 Series tractors are built by Iseki, but while the economy models come with Shibaura three-cylinder engines, premium models feature three- and four-cylinder Mitsubishi powerplants.
For the 1759, the series' most powerful model, the four-cylinder Mitsubishi K39 engine displaces 2.2L and is turbocharged, intercooled, features common rail direct injection and electronic engine management, and utilizes a combination of closed crankcase ventilation (CCV), diesel oxidation catalyst (DOC), and diesel particulate filter (DPF) to achieve EPA Final Tier IV (FT4) compliance. Gross horsepower is rated at 59, with 45.6 available at the power take off (PTO) both figures of which come at 2500 rpm (vs. 2600 and 2800 for the economy lineup).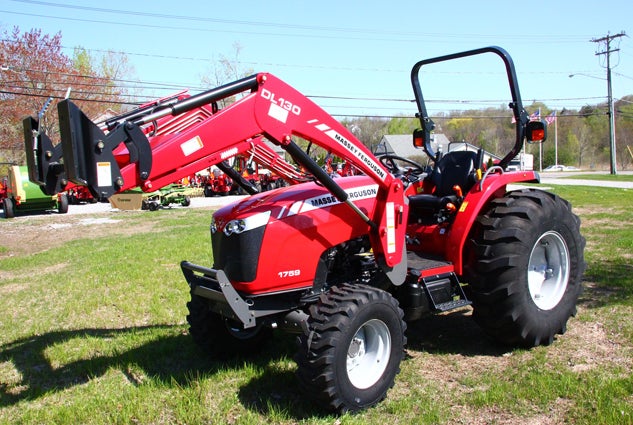 Mated to the K39 mill is a 12x12 power shuttle transmission (the 1758 is essentially the same tractor with hydrostatic drive) with gears 1 – 4 arranged in a familiar H pattern and three ranges (low-med-high) controlled by a second lever near the operator's left knee. To start the tractor and engage a gear and range, the clutch is required. Once the tractor is moving, forward and reverse can be toggled using a left hand turn signal stalk without the need to clutch. The combination works well and is effortless and well suited to conditions requiring repetitive directional changes, such as during loader work.
COMPARISON: Read our review of the 2014 Massey Ferguson 1734E HST
Delivering the K39's 59 horsepower to the ground is a heavy duty, solid axle rear differential with planetary final drive mated to 18.4-24 industrial (R4) tires (12-16.5 fronts). For those that remember our 1754 test tractor which was municipally bound and equipped with turf (R3) tires, the industrials on the 1759 looked (and felt) huge in comparison and seem much better suited for a machine of this size.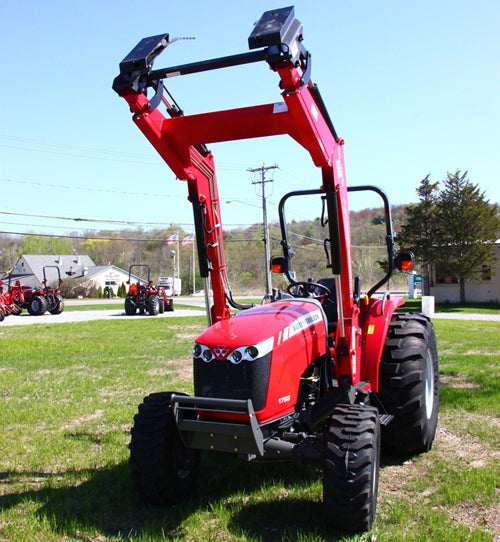 Hydraulics run through an open center system flowing 12.8 gpm to the remotes and 6.8 gpm to power steering needs (19.6 total). This gives the Cat I three-point hitch (3PH) a lift capacity of 3307 lbs at the industry standard of 24" behind. The system will support up to three rear remotes, though our test tractor was not equipped with any. Lower lift arms have telescopic ends for ease of attachment, with outboard stabilizers that also telescope for easy adjustment. For fine side to side 3PH level adjustment, the right lower arm can be raised/lowered using a small hand crank. A 540 rpm rear PTO using a 1-3/8" six-spline shaft is standard. A really nice feature on our test tractor was a left fender mounted PTO engagement switch, which would conserve a lot of time and effort when using a stationary rear implement such as a post-hole digger.
Climb up onto the operator's platform, which is completely flat with no transmission tunnel to trip on or waste precious space, and settle into the comfortable high back suspension seat with arm rests and a dial adjustment for operator weight. The steering wheel tilts for operator comfort, the loader joystick is nicely integrated into the right fender console, the pedals are suspended to free up space (and make a premium cab variant possible), there is a cup holder and 12V outlet, and unlike some tractors from the competition, there are grab handles mounted on both fenders.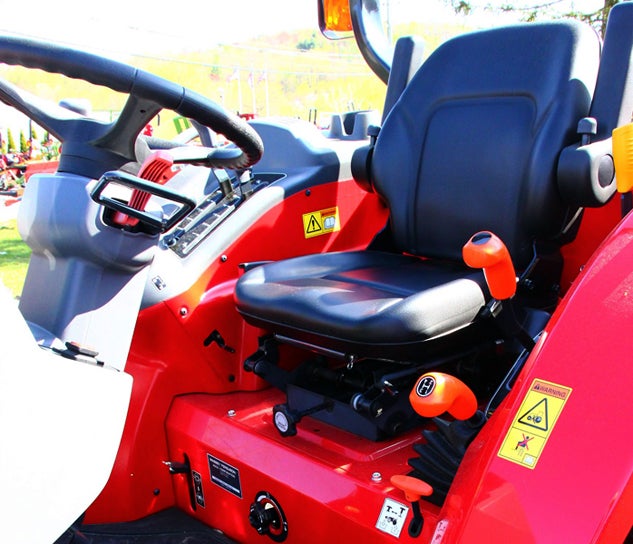 The dash is cleanly laid out, with a large analog tachometer to the left, a central digital pod in the center displaying fuel and temperature in bars, gear, range and PTO selections, and engine hours. To the right are indicators for warnings and functions such as high/low beams. Just below the dash and to the right is the hand throttle (there is also a foot throttle) and the twist/push yellow PTO engagement/disengagement knob. A right turn signal stalk controls the directional signals, flashers and high/low beams.
COMPARISON: Read our review of the 2015 Kubota MX4800 HST Open Station
The right fender console incorporates the abovementioned loader joystick, along with the 3PH position control which allows the operator to return an implement to a selectable position repeatedly, and the draft control settings, which raise/lower the implement while maintaining an even load on the tractor.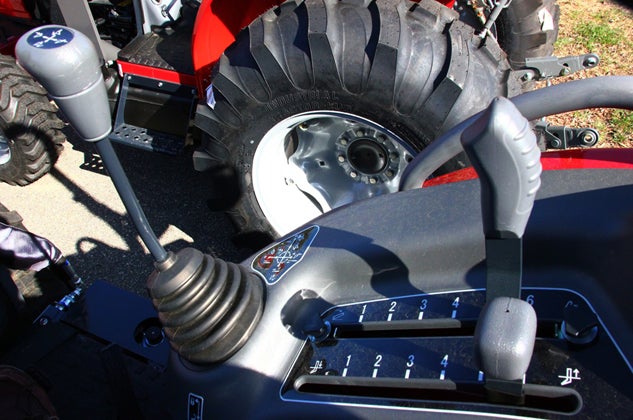 Our test tractor was provided by Goff's Equipment in Litchfield, Conn., who did so last minute and in the midst of preparation for a large open house event, and was equipped with Massey Ferguson's DL130 quick attach loader which has a rated lift capacity of 2527 lbs to a max lift height of 114". Breakout force is 2307 lbs. Bucket sizes are 66" and 72" but the two-lever skid-steer compatible attachment system opens up a large range of implements that can be rented, purchased, or borrowed. Our test tractor did not have a backhoe attachment, but the 1759 is well-matched to Massey Ferguson's model CB20, which can dig to a depth of 100", has 127 inches of reach, can be outfitted with a variety of buckets from 10-37", and has a rated dig force of 4160 lbs (bucket).
Fire up the Mitsubishi K39 and the engine settles into a quiet 75-80 dBA idle. Steering effort is nil with the 1759 turning like a tractor that seems a size or two smaller. Credit the robust hydraulic flow to the steering but also the design of the heavy duty all-steel front differential. Throttle up the K39 to PTO speed and a little turbo whine can be detected, but we found it in no way annoying or tiresome. Hydraulic response at PTO rpm is snappy and demanding of the operator's full attention.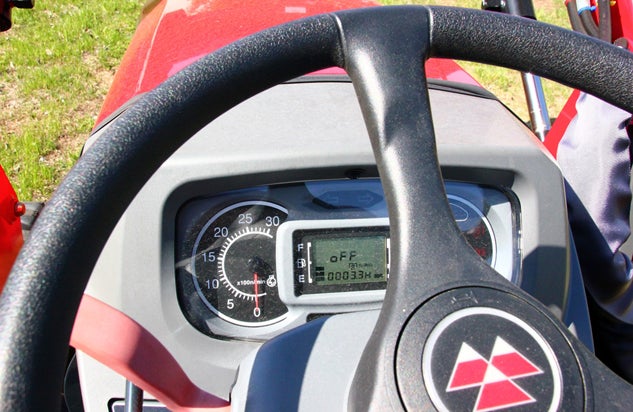 Our one control arrangement nit has to do with the location of the PTO switch. While clearly marked, an operator who most likely is looking over their right shoulder to the implement used (left hand on the steering wheel near the power reverser lever) needs to stretch to reach and twist/tap the PTO switch. It would be nice if Massey Ferguson moved the PTO switch to the right fender on future models.
COMPARISON: Read our review of the 2014 Mahindra mPower 85P
Other niceties include the 14.5-gallon fuel tank, which is located adjacent to the left side step and at a level easy for the operator to access, and the steel fenders and hood, the latter which opens high for maintenance access. As tested, the 4,343-pound 1759 comes with a MSRP of $42,506 (1759/D130), and measures 134.6" long by 71.1" wide and rides on a 77.2" wheelbase. 1700 Series tractors are distributed over five continents and 140 countries and come with a Massey Ferguson five-year powertrain warranty.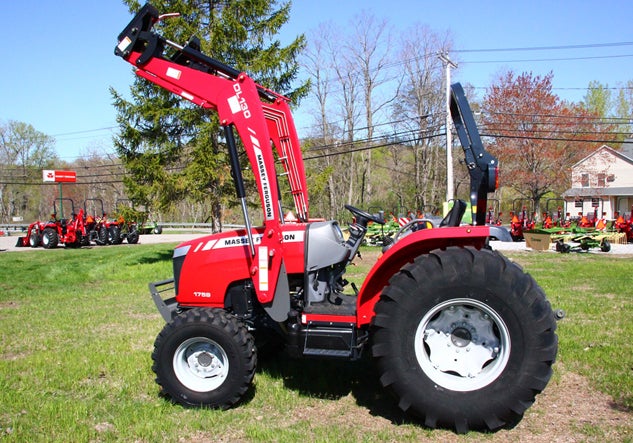 Suitable for general maintenance, small, mixed and specialty farms, equine, hunting property maintenance, landscaping and construction, the 1759 puts a lot of power into a nimble but capable package which comes standard with deluxe, premium features. For those in the market for a compact utility tractor (CUT) of this size and capability, check out the 1759, we think you'll also be impressed. And for those in the vicinity of Litchfield, Conn., make sure Goff's Equipment is on your list of dealers to visit.
Buyers Guides
Our Partners