2012 Yanmar Ex2900 Review
Three-range hydro equipped compact utility tractor
By Geof Fowler, Photography by Yanmar, Apr 09, 2012
The yellow paint may have changed tint slightly and the labeling no longer shared jointly with Cub Cadet, but how does the all new Yanmar Ex2900 stack up against the competition?
First off, we should say happy birthday to Yanmar. 2012 marks the 100th anniversary of the company's storied history. Founded in 1912 by Magokichi Yamaoka building gas and suction gas engines, Yanmar has grown to be a $6 billion company with more than 15,000 employees worldwide. Along the way, innovations such as the first small horizontal water-cooled diesel and cold start technology have found their way into agricultural, marine, power generation, construction and industrial applications.
Last year we had the pleasure of testing the Cub Cadet Yanmar Ex3200 TLB (tractor-loader-back hoe) and were looking forward to testing out its baby brother. When a dealer one state away mentioned that they had just received a shipment of Ex2900s from Yanmar's Adairsville, Ga. distribution center, we didn't hesitate to accept the invitation to check one out.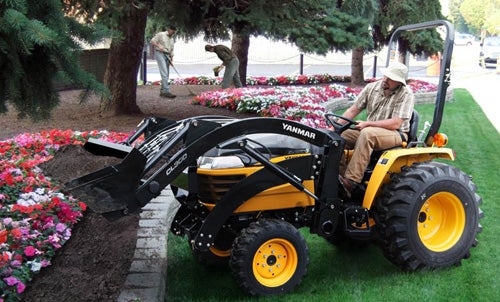 The Ex2900 may be the baby brother of the Ex lineup, but there is nothing baby about its underpinnings. Starting with a 28.7 horsepower direct injection powerplant that equates to 22.7 PTO (power take off) horsepower, the liquid-cooled 3-cylinder diesel provides plenty of power for serious work. Yanmar mates this free-revving gem of an engine to a three-range hydrostatic transmission, which means an Ex2900 operator will always have the maximum combination of power-to-ground speed. Some of the competitors in this class still offer two-range hydros, but around the worksite, estate or farm, the added range is universally applauded. Those three ranges are put to work through a twin pedal arrangement that we generally prefer over the treadle pedal offered by some competitors. We found the modulation to be first rate and pedal placement comfortable for our smallest (5'7") to tallest (6'2") testers. And speaking of ergonomics, we found the operators' platform to be tight, requiring a little more effort to get into position, although our testers agreed once in place, the Ex2900 was generously comfortable. Chalk the higher fenders and control placement up to the somewhat dated John Deere 790 design the Ex2900 is derived from. The Ex2900 comes with a Continuous Live PTO, meaning to engage the power take off, a clutch needs to be depressed and engaged. No clutching, though, is required to engage transmission functions. A mid-PTO is standard.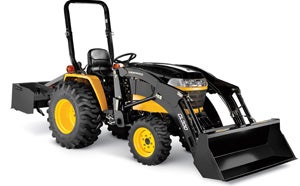 Hydraulic flow on the Ex2900 is the same as its big brother, delivering 9.9 gpm, with 4.3 gpm going to the power steering pump and 5.6 gpm to the main pump. This provides enough grunt for the 3PH (three point hitch) to have a rated lift capacity of 1,100 lbs. Position control over 3PH functions is standard. As you would expect in a tractor of this class, four-wheel drive can be engaged on the go and when the task calls for more traction, differential lock is just a pedal away.
Our test tractor was equipped with the CL300 curved boom loader and BS60 box blade. We're a big fan of the added visibility the curved boom design offers, but thought the squared-off hood took some of the advantage away. The CL300, with its 7 cubic foot bucket, is rated to lift 900 lbs. and was responsive, providing a ground to full lift height (96") in just four seconds. We found the loader joystick control to be nicely integrated into the operators' platform and not a boom add-on like some competitors offer. Our test tractor was not so equipped, but the same CB75 curved boom backhoe offered on the Ex3200 we tested last year is an option (92" digging depth).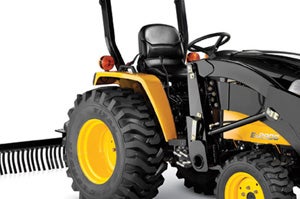 The BS60 box blade was well matched to the Ex2900 and screamed steel, much as the entire tractor. Yanmar clearly believes in the use of cast iron and metal and everywhere you look this is evident. The weight of the bare tractor is 2,495 lbs and with the CL300 installed the weight climbs to almost 3,500 lbs. The Ex2900 has a wheelbase of 61" and an overall length not including the 3PH arms of 109.5". A ROPS (roll over protection system) is standard and folds so the Ex2900 can get into tight spaces.
Turf (R3), Ag (R1) and Industrial (R4) tires are available and each Ex2900 comes with a two-year / 2,000 hour tractor warranty and a five-year / 2,500 hour engine/drivetrain warranty. Yanmar is currently offering incentives such as creative financing and throwing in the first (50 hr) service which can run as much as $400.
While some might say the Ex2900 misses on a few areas (dated design, continuous live PTO, tight operators' quarters, square hood) we say the benefits (three-range hydro, a 28.7 horsepower direct injected diesel engine, side-by-side hydro pedals, use of metal) all point to a tractor we wouldn't rule out if we were in the market for one of this size/class.
Related Reading
2011 Cub Cadet Yanmar Ex3200 TLB Review
2012 Kubota Grand L4240 HST Tractor Review
2011 Kubota B2620 Review
2011 John Deere 2305 4WD Compact Tractor Review
2011 Kioti CK20S HST Overview
Buyers Guides
Our Partners