2015 Mahindra Dealer Meeting
Mahindra has lofty goals for 2016 and beyond
By Geof Fowler, Photography by Geof Fowler, Nov 06, 2015
The 2015 Mahindra Dealer Meeting was held in Kansas City, Mo., a city of 450,000 which manages a small town ambience yet has everything one would wish to see seemingly no more than a few blocks away. As anticipated, the event was charged with excitement, but wasn't the only game in town with the Kansas City Royals going up 2-0 at home on their way to a World Series Championship that would be decided 4-1 in the Big Apple.

The meeting opened for the 1200+ attendees in a manner not so common these days with a prayer by dealer Dave Davis and then the Star Spangled Banner followed by O Canada. Keys to Mahindra tractors were then presented to dignitaries from Kansas City, Mo. and the sister city, Kansas City, Kan.

Next Anand Mahindra appeared in a video clip, speaking of how KC was the "City of Dreams" illustrated by how eighteen-year-old J.C. Hall, who with little more than two shoeboxes of cards and a dream, began calling on drug and bookstores, and gift shops with greeting cards manufactured by others. Mahindra paralleled the growth and success of Hallmark with the Mahindra Group, which now has $17 billion in revenue. The North American market contributes $500 million and Mahindra dared attendees to also dream big, aiming for revenue growth to $1 billion by the year 2021. Driving that "audacious" revenue increase would be the theme of the dealer meeting, The POWER of THRE3, which draws on the synergy of Brand, Partners, and Colleagues. Mahindra further told attendees that the corporate goal is to be the most respected brand in the 0-120 horsepower market.
Read our review of the 2015 Mahindra 1538 HST
Presentations by Mac Payne (Dir. Of Dealer & Product Development), Cleo Franklin (Vice President - Marketing and Strategic Planning), Mani Iyer (President, Mahindra USA) followed, along with a Rush Limbaugh video clip wishing attendees well. TYM Chairman Hi Yong Kim spoke next, congratulating the Royals for their success and letting on that South Korea was also crazy about baseball. Kim talked of the partnership of "M" with Mitsubishi, TYM and Mahindra having a current production capacity of 6,000 tractors with the goal to increase that number to 10,000 annually in just three years. The mForce 105 is the highest horsepower tractor produced by the partnership to date, but in 2016, even higher horsepower machines will be offered. Kim spoke of 120 horsepower, and even 150 plus. Tractor.com readers can be sure of coverage as soon as more details are released.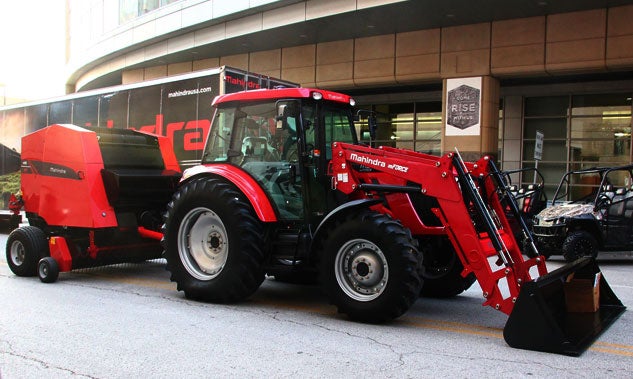 After lunch, attendees split up for new product breakout sessions. Mac Payne introduced the 1526, which replaces the 3016. For the 1526, the three-cylinder powerplant has been detuned to slip under EPA emissions standards, now making 25.6 gross horsepower as compared to 28. Payne told session attendees that in todays' world, a 28-horsepower engine costs as much to build as 33 or 38 horsepower. The 1526 is designed to compete with the Kubota L2501, John Deere 2025R, Kioti CK2510, and even Mahindra Max 26XL, all of which have smaller platforms. Advantages include the option of a three-range hydrostatic or 8F x 8R synchro shuttle transmission, greater three-point hitch (3PH) lift capacity, greater unballasted operating weight, larger tires in most cases, greater loader lift capacity, and EPA Final Tier 4 (FT4) compliance without the need for a diesel particulate filter (DPF).
Payne next introduced the 2538, which has had a pilot launch in Texas, Oklahoma, Arkansas and Missouri with 350 units already sold and being used in those locals. The 2538 comes with a four-cylinder Mahindra engine making 38.7 gross horsepower and is designed to compete with the Kubota L3901, John Deere 3038E, New Holland Workmaster 37, Kioti CK4010, and even Mahindra 1538, which is a more deluxe model. Advantages include a three-range hydrostatic transmission controlled by a side-by-side pedal arrangement, greater 3PH lift capacity, greater unballasted operating weight and larger tires in most cases, tilt steering wheel, SSL quick attach bucket, and mid-PTO option. Mahindra will offer the 2538 in open station and cab variants with the later having A/C and heat. The 2538 is slated to be available in February of 2016.
Read our review of the 2015 Mahindra 2540 Shuttle
Moving to the Hay Tools breakout session, attendees were introduced the mB5 4x5 round baler manufactured by partner Maschio Gaspardo. The mB5 features a 6' pickup, net wrap as quickly as three seconds (twine wrap in six seconds), adjustable hydraulic density, and an auto-lube system. The mB5 would be well-matched to the Mahindra mForce 105P and 105S. An advantage to many will be the front wrap visibility, which visually tells the operator that the bale wrap was completed.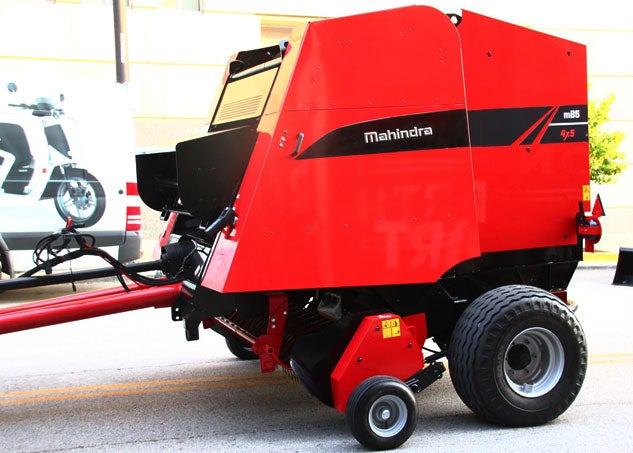 Two new mowers and rakes were also introduced at the Hay Tools session. The mDM 8 is a disc mower with an 8' working width, belt transmission, shock protection and a third blade option, while the mDM 9 has a 9' working width. The rakes are models mWR 8 with an 18' working (8' transport) width, and mWR 10, which has the same transport width but a working width of 21'. Both are pull-type with central wheel options. With brands such as New Holland and Krone firmly entrenched in the hay market and many Mahindra dealers carrying those brands, it will be interesting to see how much success the new hay tool lineup will have.
After the breakout sessions, attendees were bussed to the KC World War I museum high atop a hill on West 26th Street for a cocktail/dinner party. The Liberty Memorial was completed in 1926 and can be seen for miles. The view from atop the 217' memorial is breathtaking, especially at night, with the Marriott Hotel in the distance flashing messages such as KC for the Royals across its façade. The museum itself is located underneath the Liberty Memorial esplanade and is a sobering reminder to those that sacrificed much and the many that sacrificed all.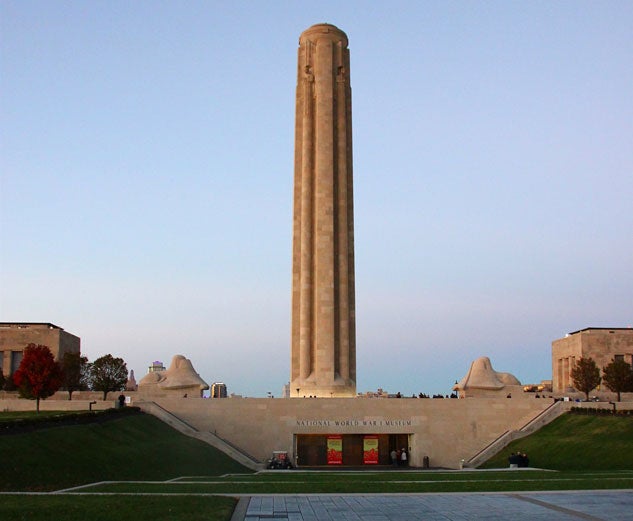 Friday morning, Tractor.com headed off to a nearby location for the Ride & Drive, where plenty of red, green, and orange (for comparison) tractors were parked. Brandon Bozarth, Assistant Product Development Manager for Mahindra USA, was on hand to highlight some of the new product advantages. First ride was behind the wheel of a 2538 open station tractor. Firing up the four-cylinder powerplant resulted a 73 dBA sound reading at idle. Cranking up the revs to 2000 pushed the sound levels to 86 dBA. The 2538 was equipped with an overhead canopy so there was no way to tell if those readings were enhanced or reduced, though those numbers are certainly industry competitive. While the 2538 is a value or economy model, it didn't feel much like one. The side-by-side hydro pedals offered nice modulation over the infinitely variable forward and reverse speed ranges, the 2538CL loader felt responsive, even at idle, and the frame/tire size combination made the tractor ride like a much larger machine on the moderately rough terrain.
Read our review of the Mahindra Factory Cabs
Next we climbed onboard a 2555 open station tractor. The 2555 is another economy model and comes with a three-cylinder Mahindra engine making 55 gross horsepower. Available in cab and open station variants with 12F x 12R shuttle or three-range hydrostatic transmissions, the 2555 at the test site immediately impressed with its quietness. Pulling out our sound meter, we recorded a 68 dBA reading at idle and 81 dBA at PTO rpm. Nearby, a Mahindra product development engineer was checking out a similar horsepower FT4 model from the competition and were surprised to see our dBA meter jump to 77 at idle when it was fired up. The 2555 may be an economy model, but niceties such as a tilt wheel, step level fueling, SSL quick attach bucket and flat platform are all standard. The 2555L loader has a lift capacity of 3122 lbs to a max height of 115.4".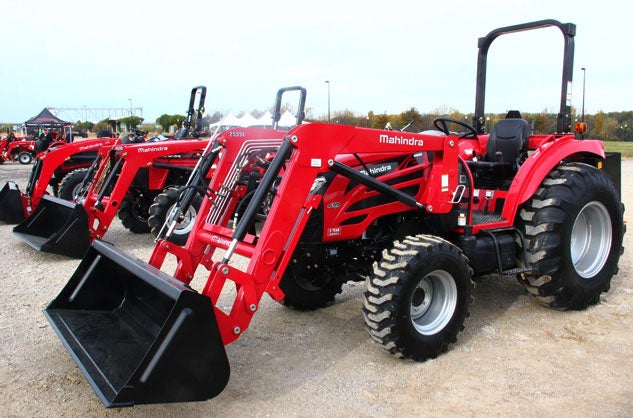 Running up against scheduling and anxious to get as much seat time as possible in the mForce 105P that was on hand, we spent the rest of the morning at that station. The 105P is powered by a Doosan four-cylinder engine that is FT4 compliant using diesel exhaust fluid (DEF) but still no DPF. Climbing up into the deluxe cab we discovered an anomaly: the mForce may be the top-of-the line Mahindra offering, but it does not come with an air suspension seat. What gives, Mahindra? Even the step down mPower tractors have this feature. Firing up the Doosan powerplant highlights the cab's deluxe feel, as evidenced by the 63 dBA idle/73 dBA PTO rpm sound readings. Even the noise from the HVAC fans seemed whisper silent.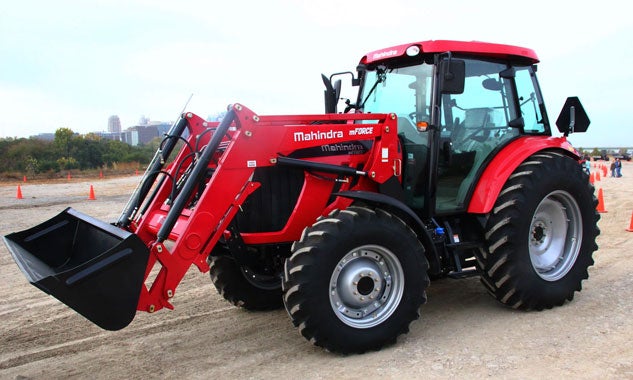 Driving the 105P was effortless and we quickly forgot the lack of an air suspension seat. The tractor shuttled from forward to reverse smoothly and gear changes were precise, though the range lever required lifting the right armrest to access. Beginning in 2016, a buddy seat will be an option. Space will be a little tight, but Mahindra has certainly come out with a credible 100+ horsepower machine. With a base MSRP of $68K, it will be interesting to learn how much market share the 105P can achieve.
All too quickly our time in Kansas City was up. We look forward to more extensive time behind the wheel of the new models and bringing those reviews to our readers.
Buyers Guides
Our Partners