2016 Tractor.com Holiday Gift Guide
10 gift ideas for your favorite tractor owner
By Geof Fowler, Dec 02, 2016
It's that time of year again and many of our readers may be looking for an extra gift for that tractor owner in your life. Tractor.com offers 10 ideas that meet the most stringent test of all: would we mind finding one or more in our stocking or under the tree?

StarTron Enzyme Diesel Fuel Treatment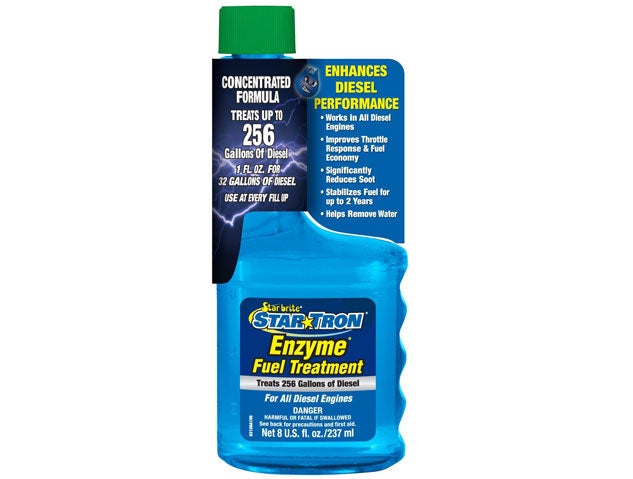 StarTron, well-known for its gasoline fuel treatments, also makes a concentrated mixture for diesel engines. Touted to make engines start easier, run smoother, while dispensing of bacteria and water, just eight ounces of the concentrate will treat up to 256 gallons of fuel. Treated fuel can have an extended shelf life of up to two years. Can easily be found for $25 or less. One Tractor.com editor out of frustration poured a capful into a two-cycle chainsaw that just would not stay running. The very next pull of the cord and the saw ran like new. Can we call it the Marvel Mystery Oil of modern day? That we're not so sure of, but the StarTron treatment definitely goes right to work dispensing water.
Cymas Full HD 1080p 2.0" Sports Action Camera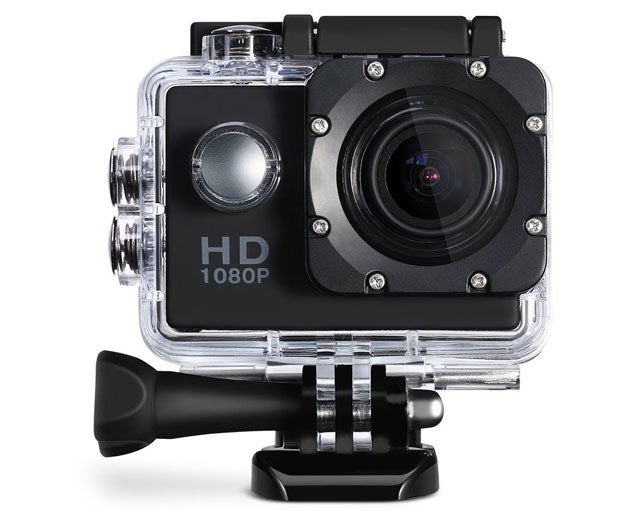 For the techie in your life, the Cymas Full HD 1080p camera has a 170-degree wide angle fisheye lens, comes with a durable case that is waterproof, even fully submerged, and can record full 1080p resolution video at up to 30 frames per second. Retail price is $59.99, which makes the Cymas camera an inexpensive alternative to some of the pricier competitors in this marketplace. Can we say tractorcam?
Mr. Heater Big Buddy Propane Heater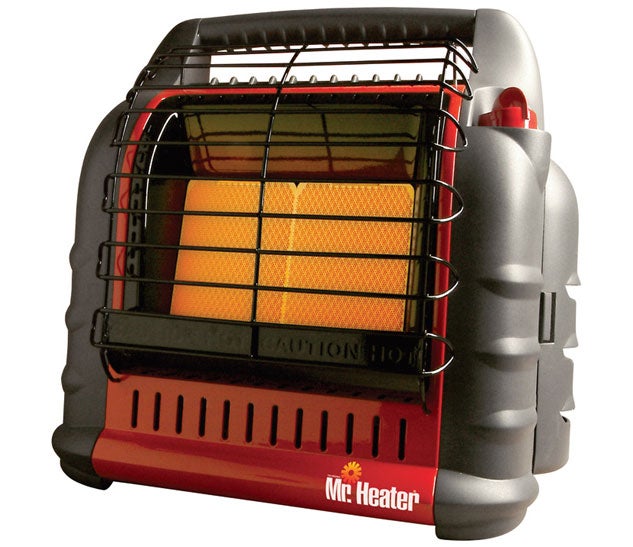 Barns, sheds and garages can be cold places to work when those winter temps nudge downward. Mr. Heater offers a safe, portable solution that can heat up to 400 square feet of space for up to 108 hours using a 20-pound propane tank. The Big Buddy heater can also operate using one or two one-pound propane tanks and the fan motor can either run off 120V electricity or (4) D-cell batteries. Heat output is selectable at 4,000, 9,000 and 18,000 BTU. Low-oxygen shutoff and tip-over protection are built in. The Big Buddy heater retails for $139.99.
Kat's Magnetic Engine Heater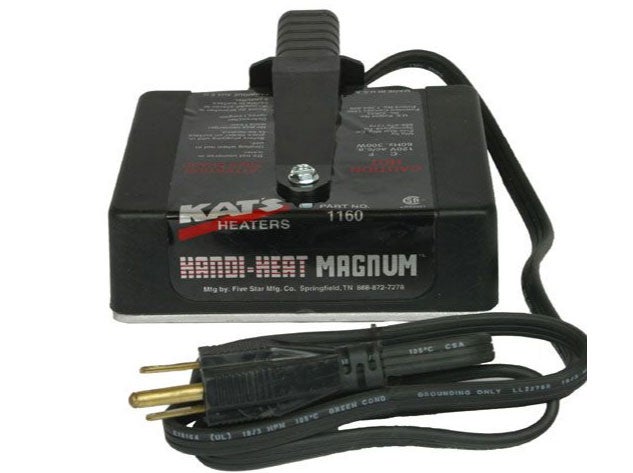 Engines just do not like the cold. While modern machinery is much less sensitive to cold starting issues, the added stresses on componentry can shorten life expectancy. Untreated or warm climate diesel fuel left over into winter can lead to gelling and other problems. Kat's 300W magnetic heater converts 120V AC power into 300-400F degrees of thermostatically controlled heat in a compact 4"x 4" package that can easily attach to an engine block, oil pan, or transmission. Can easily be found for less than $60.
Husky 200-pc. Mechanics Tool Box and Set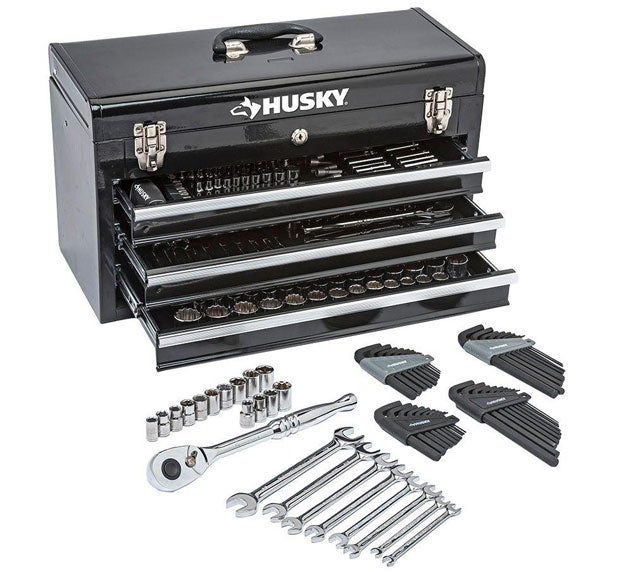 Currently available at Home Depot for $99 as a special buy, the set includes 1/4", 3/8", and 1/2" socket sets protected by a professional chrome finish, numerous screwdriver bits, and a hex key set. The toolbox is heavy-duty welded steel with ball bearing slides on the three drawers, has a storage area under the lid, and comes with a key lock. Everything included with the set and box comes with a lifetime warranty.
Ironton Metal Louvered Panel System with 24-Bins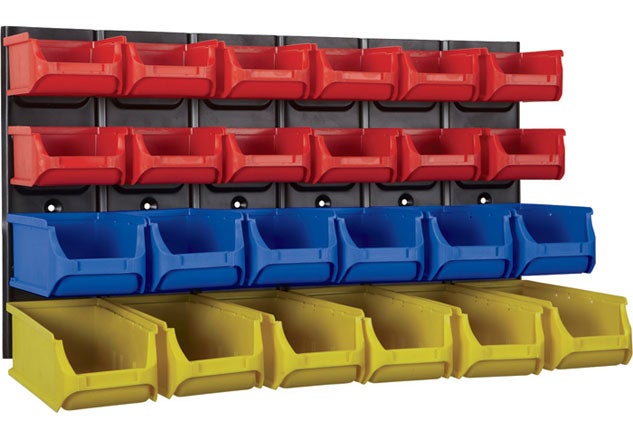 If your tractor enthusiast has trouble getting his or her hands on that nut, bolt, cinch pin, or other doohickey, a storage system such as the 24-bin Ironton model might better help organize that chaos. Sold by retailers such as Northern Tool for under $40, the system comes with twelve bins that measure 4"L x 4"W x 2.3"H (red), six bins that measure 6.3"L x 4"W x 2.8"H (blue), and six bins that measure 6.8"L x 4"W x 2.8"H (yellow). Affix labels to the bins and say bye-bye to stubborn misplaced tractor things.
Ridgid 22" Storage Cases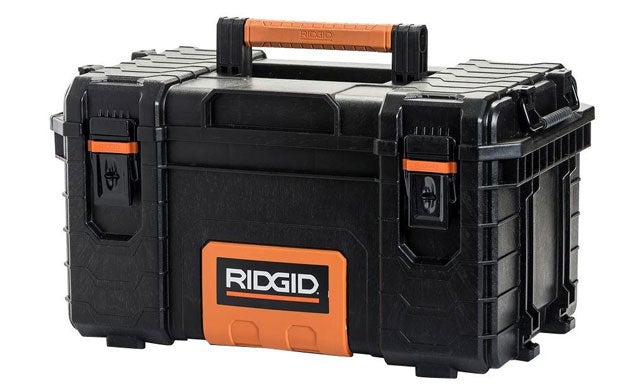 We saw these at Home Depot for under $40 and purchased one, subsequently going back for two more. Measuring 22.2" wide x 13.78" tall, and 12.2" deep, the case made from an impact resistant resin includes a top storage tray, 9.75" wide folding handle, and a dust and water seal to help keep the elements away. Cleverly molded-in common features allow the cases (other sizes and configurations are available) to stack neatly and stay in place. The case weighs 10.6 lbs and can hold up to 50 lbs. Portable storage has never been so convenient.
Craftsman 12-pc. Offset Ratcheting Box-End Wrench Set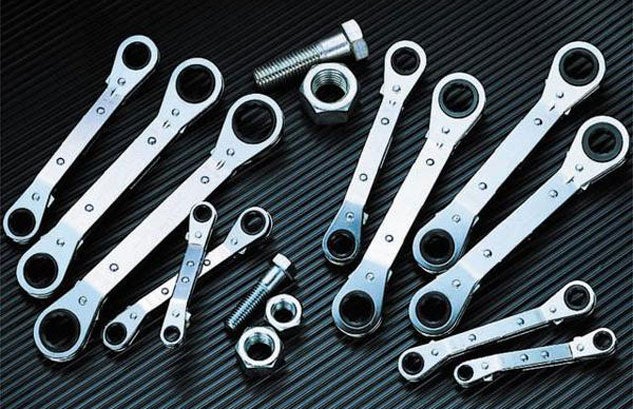 Ratcheting box-end wrenches can be real time and knuckle savers. When they are offset, even more versatility is added. Craftsman offers a 12-pc. SAE/Metric set for under $77, but currently with a "hot-buy" offer for $54.99. The set includes the following wrench sizes: 1/4" x 5/16", 7 x 8mm, 3/8" x 7/16", 9 x 10mm, 1/2" x 9/16", 12 x 13mm, 5/8" x 3/4", 11 x 17mm, 14 x 15mm, 16 x 18mm, 11/16" x 7/8", and 19 x 21mm.
Mountain Made Challenger Ultra-Bright LED Headlamp and Flashlight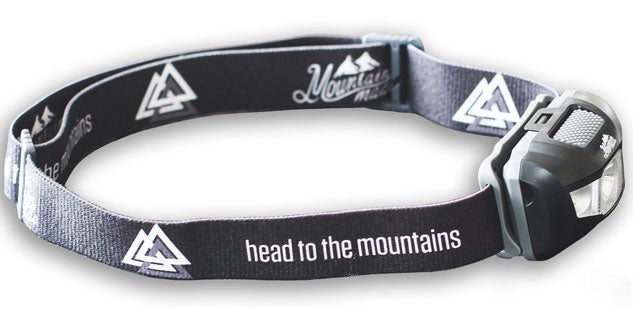 LED flashlights are great. They offer bright light, excellent battery life, and the technology has recently become very affordable. The problem when working in tight quarters is to keep that bright beam focused on the task. Tractor spaces bring challenges of their own. A headlamp is a great solution to keep the beam focused on what your hands are doing. We especially like the Mountain Made Challenger, with its minimal headband and sleek design. Running on three AAA batteries, battery life will range from 40 hours at the highest 145 lumen output to 190 hours at the lowest setting. For under $20 you get the light, a useful carry pouch, and carabiner clip.
Parrot BEBOP DRONE

Whether we like it or not, drones are here to stay. For an agribusiness, drones now more accurately map farmland than GPS satellites can. True ag systems from companies such as Precision Hawk and Trimble are expensive, ranging from $1500 to $25K and more. At the low-end, sub-$30 drones are available, but these will lack real stability and have cameras and lenses subpar for any real work. Systems such as the BEBOP from Parrot combine a 14-megapixel camera, 180-degree wide-angle fisheye lens, and stabilized image at 1080p resolution. Compatible with iPhone or Android phones/pads, the BEBOP retails for $399.99 but is currently available on the Parrot website for under $200. What mapping software you would use, should you decide to use the drone for that use, would require some serious investigation. However, that person on your Holiday Gift list would have a serious drone to get accustomed to using and along the way have a lot of fun.
Tractor.com hopes our 2016 Holiday Gift list gives our readers some helpful ideas or at least moves the gift-giving thought process along, and through the holiday season and into 2017 we wish you all a happy, healthy and prosperous New Year!
Buyers Guides
Our Partners