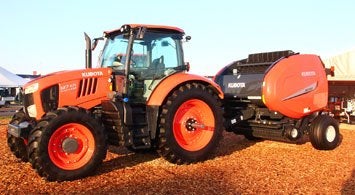 With last week's 2017 Farm Progress Show article we looked at the latest and greatest new products from Kioti, Mahindra, New Holland, JCB, Claas, McCormick and Hagie. With this article we are going to look at the latest offerings from John Deere, AGCO, Case IH, Kubota, Woods and Tribine.

John Deere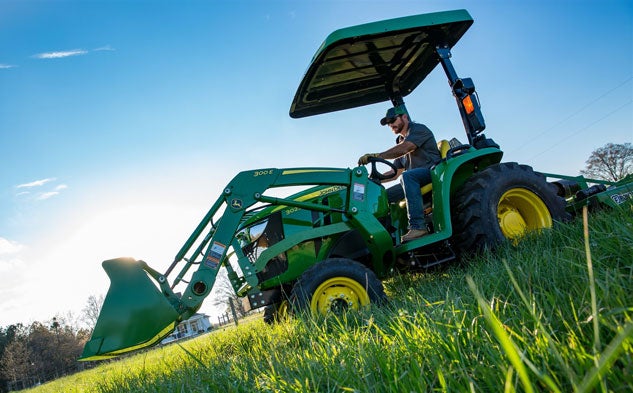 Early Wednesday morning before the show gates opened, select media were invited to the John Deere booth for new product introductions and a promised ride and drive of Gators. Coverage of the Gator XUV can be found on our sister site ATV.com, so we'll focus on tractor news. John Schebler, Product Marketing Manager out of the John Deere Ag Marketing Center in Olathe, KS talked about one new model (2025R) and a restyled series (3E) in the compact tractor lineup. The 2025R joins the 2032R and 2038R tractors and shares some implement commonality, though the 120R loader, 260B backhoe, and drive-over mower decks sized to 62" are unique to the 2025R. Improvements to the 25 gross/18 power take-off (PTO) horsepower 2025R include a high-back suspension seat that is 2" thicker, removable tool box, R3 radial option that promises to improve winter traction, a 12V outlet, and optional LED lighting package.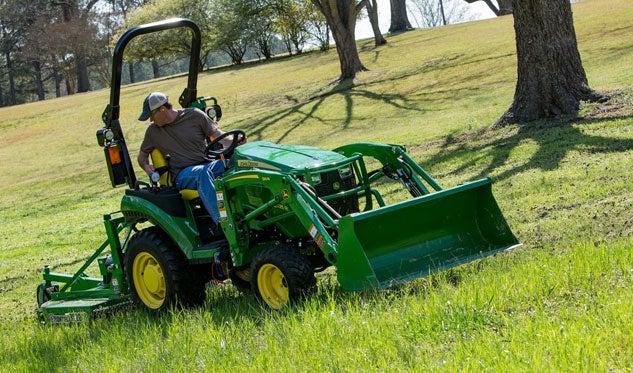 The 3E series, 3025E, 3032E, and 3038E, has been restyled and now offer a better turn radius, an easier to access fuel location that has been moved from the hood to the tractor rear, telescopic three-point hitch (3PH) lower link ends, new 300E curved boom loader, 12V outlet, optional dual rear remotes, on-board diagnostics (OBD), six-year powertrain warranty, and lower price/horsepower. The 3E tractors really blur the gap between economy and more deluxe tractor models, and make one wonder how many 3R tractors John Deere would sell if 3E tractors could come with a backhoe and a removeable loader. Tractor.com looks forward to getting behind the wheel of these tractors and reporting how everything works.
AGCO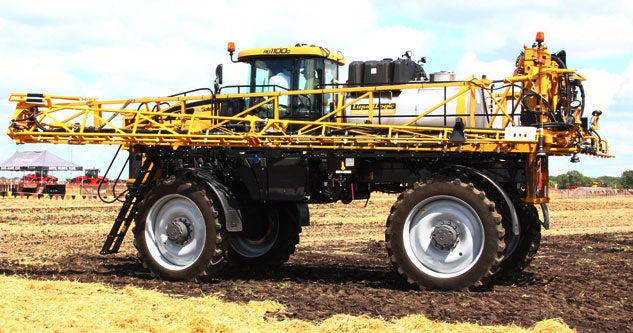 The AGCO booth between Second and Third Progress Streets was a popular stop for show attendees. Experienced backhoe operators – and some not so experienced – could test their skills against the clock on a GC1720 TLB (tractor-loader-backhoe). On display was a nice representation of products from Hesston, Fendt, Gleaner, Massey Ferguson, Challenger, and Sunflower. The big news, though, was the RoGator C-series sprayers, Challenger MT700-series, and Massey Ferguson 9505 combines. For the RoGator sprayer, the new LiquidLogic system is a result of 25+ years experience and customer input and boasts greater spraying control. Advantages include a new plumbing system design that continually circulates product, even when the sprayer isn't spraying. The self-priming boom itself can save up to $120 of lost product per prime. The LiquidLogic technology also uses forced air to send product back to the tank or to the nozzles.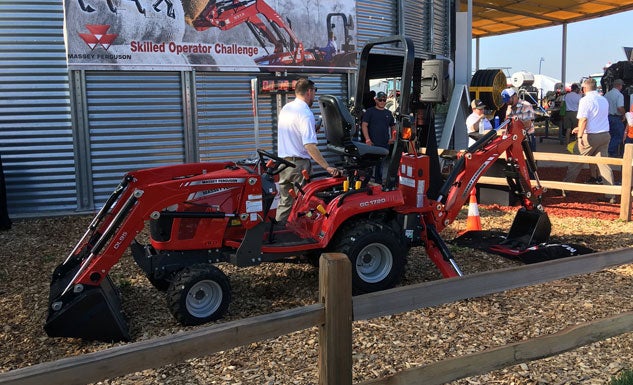 The Challenger MT700 series uses AGCO Power 9.8L engines designed to deliver maximum torque at lower speeds. Josh Keeney, Tactical Manager HHP and Track Tractors, told us that 1400 lb-ft of torque is realized at 1275 rpm and that the associated components are all designed to run at lower rpm, and perfect for operating an air seeder or planter. The HD coil spring suspension componentry along with cab suspension with 4" travel front-to-back help ensure max operator comfort and productivity. Hydraulic options include a 113 gpm two pump load sensing system that can output high pressure with low flow or low pressure with high flow. Horsepower for the three-model lineup ranges from 380 to 431.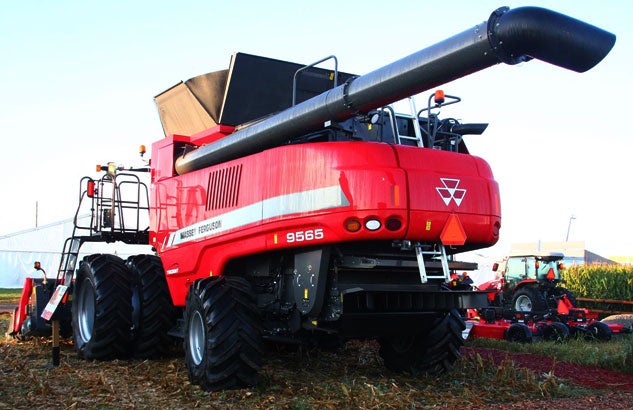 On display was the flagship Massey Ferguson 9565 combine. This is a Class 8 combine with 460 horsepower and up to 30 more ponies available on boost. Mike Nelms, Product Specialist, walked us through a number of technologies and improvements that make the 9565 one of the most versatile and productive combines available. This included the Trident processor, which combined with a new variable speed fan (100-1350 rpm) that can vary speed for different crops without the need to stop and change pulleys, increases versatility and productivity. Nelms also talked about the V-Cool system which automatically reverses every 15 minutes to clean buildup and minimizes in-season filter maintenance. With a 140" long rotor, large 31.5" tires, a segmented feed drum, springs on the concave to clear rocks, straw chopper option, easy ladder maintenance access using black tubes encircling combine, and a quiet, low-maintenance direct unload auger, the 9565 is all about versatility and productivity.
Case IH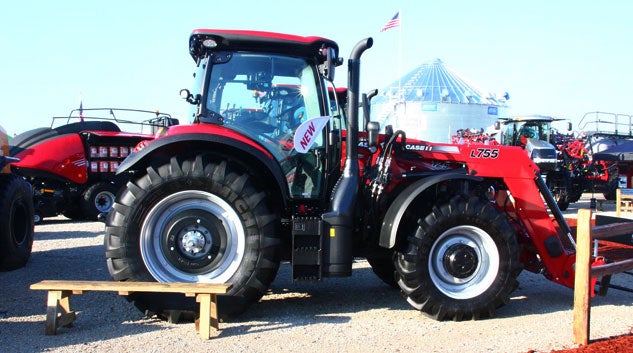 For 2017, Case IH celebrates a milestone: 175 years in the agriculture business. And as might be expected, on display was a large representation of product, including a 2000 series Early Riser Planter, info booth on AFS AccuTurn (handsfree headland turns) and AFS UAV (DroneDeploy collaboration), and an Axial-Flow Combine. When it came to tractors, the new generation Maxxum machines stood out. With five models ranging from 116 to 145 engine/95 to 125 PTO horsepower, there are now three transmission configurations available: ActiveDrive 4 semi-powershift, ActiveDrive 8 dual-clutch, and CVXDrive constant velocity transmission (CVT). With eight powershift speeds in three electrically shifted ranges built around those all-important field working speeds of 2.4 to 10.7 mph without torque interruption, the ActiveDrive 8 might just prove to be the most commonly ordered configuration. Oil change intervals are now to 600 hours.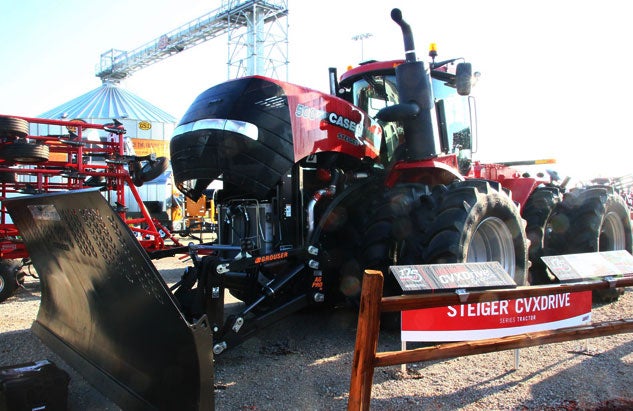 Also big news is the Steiger articulated tractors, now available in horsepower to 540 (605 max) and CVXDrive, which is a first transmission offering for high-horsepower a 4WD articulated tractor. These tractors excel at sileage packing, with reverse speeds as fast as forward travel. And with the CVT flexibility, field speeds can precisely be dialed in as slow as 3' per minute all-the-way to 25 mph.
Kubota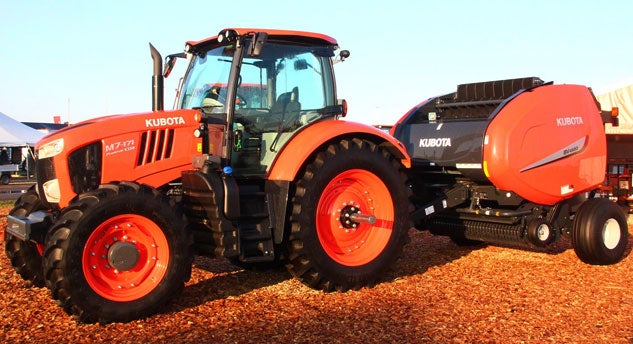 Kubota had a wide range of product on display, including its high-horsepower M7-171, with one ready to process hay with their BV4580 baler. Fresh off the news to contribute $1M to Hurricane Harvey relief efforts, and partnership with the Farmer Veteran Coalition where U.S. military veterans pursuing a future in farming receive financial support and donated Kubota equipment, the Osaka, Japan-based manufacturer continues to support a number of worthy world causes. Along with the forage into high-horsepower tractors, Kubota has entered an alliance with Smart Path Systems for precision guidance technology. This technology will initially be available at select dealers for M, L, B series tractors, F series mowers, and Kubota utility vehicles.
Woods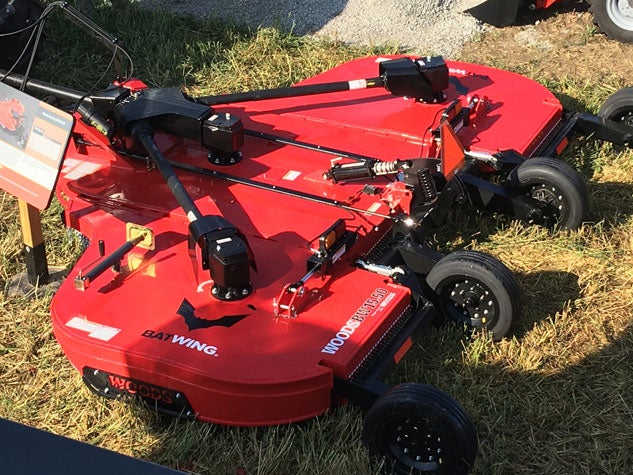 Woods may be credited with manufacturing the first successful tractor-mounted rotary cutter in 1946, and though the rotary has gone through many itinerations and improvements and is still manufactured to this day, the company has branched out to the manufacture of finish mowers, zero-turn mowers, loaders, backhoes, flail mowers, snow blowers, and landscape and construction equipment. New at FPS was the model BW15.50 batwing mower. The BW15.50 is a clean-slate design, with enough innovation to warrant several patent applications. Rob Dewey, VP Engineering, was at FPS and walked Tractor.com through what makes the BW15.50 so noteworthy. Beginning with the PTO shaft connection, the BW15.50 has a lever assist/rolling mechanism that locks and makes attaching a heavy PTO shaft a snap. Next the driveline is easy to grease with the zerks lining up. Dewey talked about the gearbox seals which are now as leakproof as possible (six-year warranty including seal) and have a magnetic drain plug and metal dipstick; the scalloped side shape, which allows operators to get close to poles etc.; and the heavy-duty construction with steel tubing wrapping the perimeter to absorb shock. And to further prevent damage, the chain shielding is also integrated into the frame. Easy to clean, with a smooth deck, the BW15.50 will be available beginning in October.
Tribine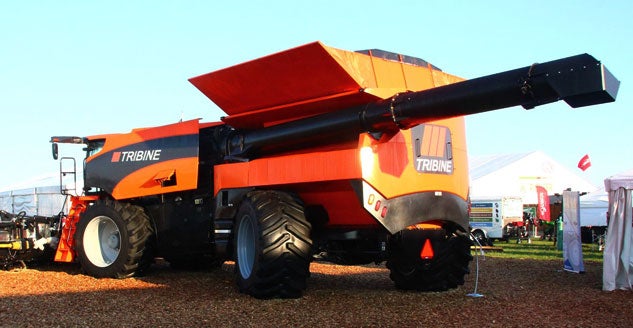 Tribine, fresh off winning the AE50 award for outstanding agricultural machinery innovation, announces that 2017 production models will be powered by twin 9.0L Cummins engines vs. the first generation which had a 9.0L Cummins powering threshing and cleaning operations and a 6.7L Cummins engine powering the hydraulic and propulsion system. This boosts power from 590 to 650 horsepower while still not requiring any addition of a diesel exhaust fluid (DEF). With 500 gallons of onboard fuel, the Tribine, which performs all the functions of a combine while incorporating a 1000-bushel grain bin, has a theoretical run time between fueling of 24 hours. Other high-performance features of the Tribine are a feeder width of 66", 38" diameter rotor, concave wrap of 270 degrees, and a total cleaning area of 13,293 square inches. The 1000-bushel grain bin, which eliminates the need for a grain cart and tractor to run parallel to the combine, can be unloaded at rates of as much as 8.5 bushels/second.
Wrap Up
Anytime over 100,000 visitors, 600+ manufacturer, organizational, food and informational displays, live field demonstrations and fun ride and drives can come together with Mother Nature in full cooperation, the only way to describe the 2017 Farm Progress Show is as a total success. Tractor.com looks forward to bringing our readers coverage in 2018 when the FPS moves north to Boone, Iowa. We can only hope Mother Nature is again cooperative.