2017 National Farm Machinery Show Report: Part 3
Tractor.com coverage of the 2016 National Farm Machinery Show continues
By Geof Fowler, Mar 10, 2017
The 2017 National Farm Machinery Show was so full of interesting new products that we spread our coverage over three articles. In Part 1 we discussed the latest from Case IH, JCB, Zetor and AGCO. In Part 2 we dug into John Deere, New Holland, Mahindra, Rhino, Krone and Claas. In this third and final installment, we look at Equipment Technologies (Apache Sprayers in particular), Kioti, Thunder Creek, Yanmar, Bush Hog, Kubota and Woods Equipment Company.

Equipment Technologies – Apache Sprayers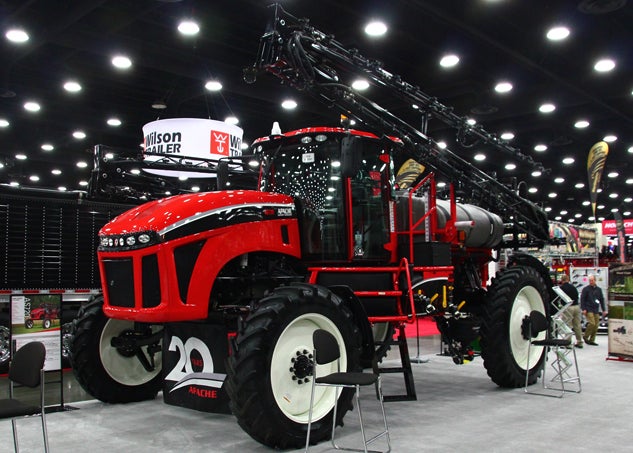 Equipment Technologies (ET) was founded in 1997 with a vision to make tough, reliable, and simple sprayers. Known for accomplishing this in a lightweight package (the Apache AS7xx series sprayers weigh up to 11,000 lbs less than some competing models), ET is the world's largest manufacturer of mechanical drive sprayers. Headquartered out of Mooresville, Ohio in a 168,000-square-foot facility, ET stands behind its sprayers with a five-year/2000-hour warranty, with two years/1000 hours being bumper-to-bumper. At NFMS, ET brought an AS720 sprayer for attendees to explore. The AS720 is an EPA Tier 3 model powered by a Cummins engine making 160 horsepower. ET still has some stock of these models which can be had at a savings of $10-15K over the AS730 EPA Final Tier 4 (FT4) model that replaces it. Want the newer model? The Cummins FT4 powerplant now makes 173 horsepower and the transport speed climbs to 30 mph (2 mph faster). Both the AS720 and AS730 come with JCB-sourced four-speed power-shift transmissions.
Kioti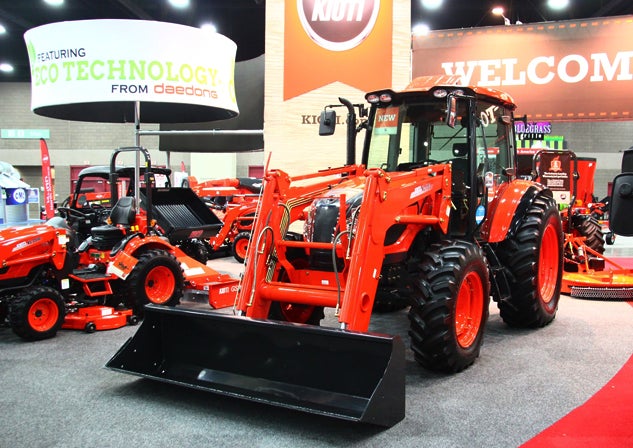 At the 2016 NFMS last year, Kioti unveiled a PX1103 prototype tractor. Specifics were sketchy, but we noted the fender three-point hitch (3PH) control buttons, quality cab with flat floor, and air ride seat. This year, Kioti brought a production model, the PX1153PC. The PX1153PC is the flagship of the PX series, which now encompasses three models ranging from 93 to 110 horsepower. Transmission across the series is a 32F x 32R power shuttle with a top transport speed of 25 mph. With a gear pump flowing 31.5 gpm giving the Cat II 3PH a lift capacity of 8,002 lbs (24" aft of hitch), position, draft and mixed 3PH control, and two standard rear remotes (up to three supported), the 9,064 lb. PX1153PC rides on a 93.3" wheelbase and is available now.
Thunder Creek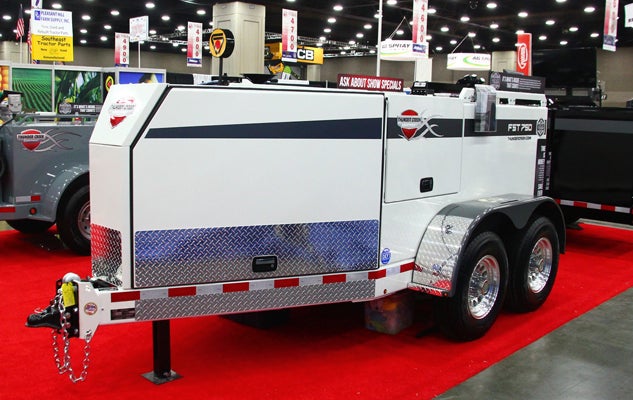 Tractor.com readers will recall our 2015 visit with Thunder Creek's Luke Van Wyk who gave us an everything you need to know about diesel exhaust fluid (DEF) handling and dispensing primer. We hope our readers have taken that advice to heart and are looking at DEF in a more serious manner. In addition to DEF trailers and dispensing systems, Thunder Creek also manufactures a wide range of fuel and service trailers. Its equipment also gets high marks for quality paint jobs that really stand out and, we're sure, make their owners want to keep clean and waxed.
Yanmar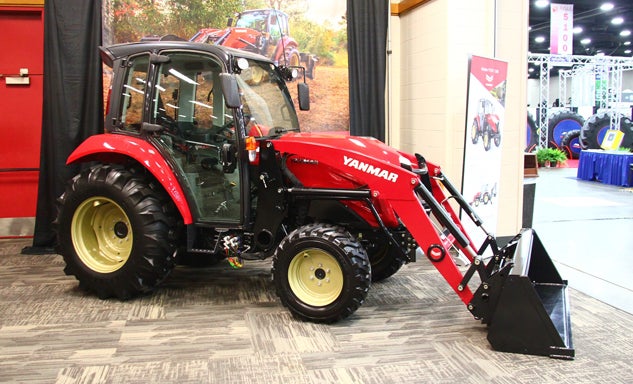 Yanmar, for 2017, again booked the same prime location, an almost private room situated between the North Wing and Freedom Hall and right off the main entry atrium. On display were a good cross section of product offerings including YT series tractors in both cab and open station, a new round baler sized for sub-30-horsepower tractors, tree- and six-seater "Bull" UTVs, and implements from front blowers to bale spears to rotary cutters. Yanmar has steadily picked up market share following its introduction of "red" 221, 324 and 424 tractors starting in 2014. With a quality reputation and products ranging from ag/utility tractors, construction machinery, UTVs, industrial and marine engines, energy systems, to remanufactured engines, the Osaka, Japan manufacturer is poised for even more North American growth in 2017.
Bush Hog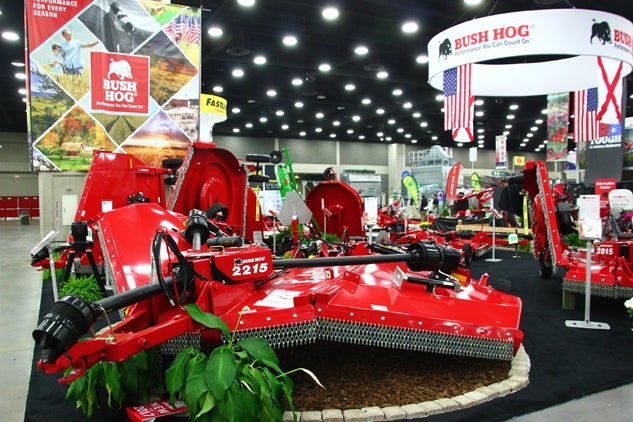 Bush Hog, the Selma, Ala. company whose name has been synonymous with field maintenance and clearing since 1951, brought several of its tough, shiny red cutters to NFMS. The new 2215 flex-wing rotary cutter on display received a lot of attention from passersby. Capable of clearing a 15' wide swath of weeds, grasses and brush up to 3-1/2" in diameter, the 10-gauge deck 2215 uses (three) 250-horsepower gearboxes, has a down 22-degree/up 25-degree float range without hydraulic input, 16,268 fps blade-tip speed, axles cushioned by springs at each arm, optional distribution panels to help eliminate windrows, and comes with a five-year gearbox warranty. Minimum tractor horsepower requirement is 60.
Kubota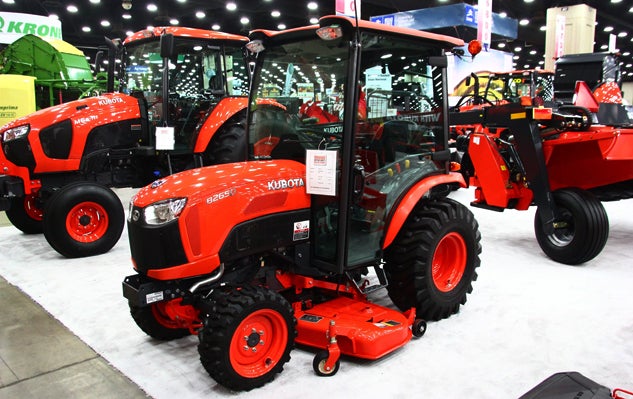 There certainly is a lot going on at the Osaka-Japan-based manufacturer. Kubota haying tools continue to be big news with two new balers, the BV4160SS and BV4180SS, with 4'W x 5'H and 4'W x 6'H bale sizes respectively, and a new disc mower conditioner, the DMC8540R with 13' cut width joining the hay tool lineup first committed to just three years ago. There is an alliance with Smart Path Systems, bringing precision guidance technology to select M, L, and B series tractors. Last week we noted the purchase of Land Pride (Great Plains Manufacturing) and the synergistic expansion of long-time partnership. As if that wasn't enough, Kubota unveiled a new compact excavator, the KX033-4, which brings new comfort, stability and style to the three-ton class.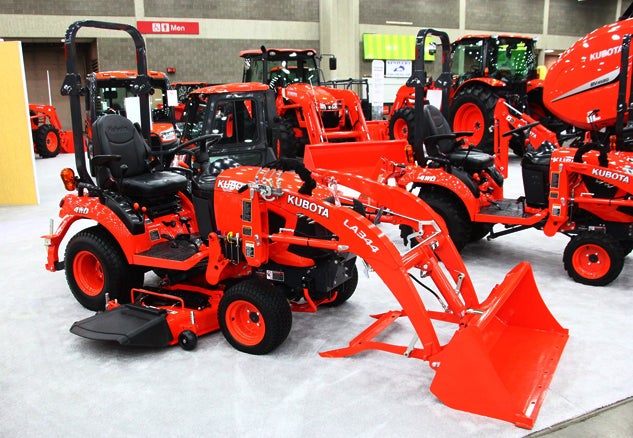 On the subcompact tractor end, we're told the new BX80 tractors are still on schedule to hit dealer stocks May/June 2017. The four-model series is expected to have an entry-level price tag under $10K, even easier/quicker attachment/detachment of implements, and improved ergonomics. The swift-tach loader and swift-connect backhoe are sure to have other manufacturers scrambling to add "no-need-to-leave-the-seat" convenience. While we were at the show, we noticed a neat universal 3PH setup that allows one hitch to be used for a variety of implements. Think box scrapers, harrows, rakes, rear blades, and rear snow blowers with just one common quick hitch. It's little wonder Kubota and Great Plains are headed towards a single corporate umbrella.
Woods Equipment Company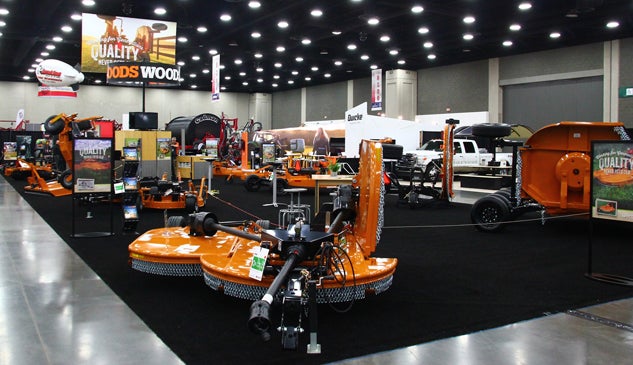 Woods has been manufacturing tractor implements since the Woods brothers introduced a tractor-mounted rotary cutter in 1946. Now a brand of Blount Equipment, the Oregon, Ill. based manufacturer now employs some 550 workers with expanded product line coverage that includes finish mowers, zero-turn mowers, loaders, backhoes, flail mowers, rotary cutters, snow blowers, landscape equipment, and skid-steer attachments. At NFMS, the Batwing Cutter lineup, which ranges from the BW12, a 12' wide cutter requiring 35 horsepower all-the-way to the BW240 monster, a 24' wide cutter requiring 70-300 horsepower, garnered a lot of attention.
Wrap Up
Fresh on the heels of the Kentucky Expo Center announcing record attendance, the Kentucky State Fair Board is launching itself as a new brand. Now to be known as Kentucky Venues, the board which manages the Kentucky Expo Center, Kentucky International Convention Center, Kentucky State Fair, NFMS, North American Livestock Expo, and the Kentucky Hoopfest, is excited at the Expo Center expansion which is planned to increase size by a third and be completed sometime mid-summer 2018. Tractor.com is planning to cover the World Ag Expo next year, so if all goes according to plan, we'll look forward to scouting the expansion when we return with NFMS coverage in 2019. Until then, if you haven't gotten NFMS attendance into your schedule, try to do so in 2018. It's worth it.
Buyers Guides
Our Partners