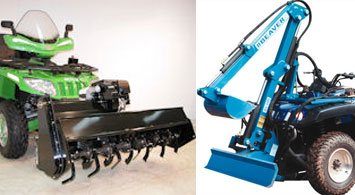 Tractor.com, in partnership with ATV.com, has been working on a series of articles about how and why ATVs and UTVs can be useful tools for farmers and landowners. In the first article, we looked at what these versatile machines could do to help ease your workload. Last week we looked at the pros and cons of choosing between an ATV and UTV. This week we'll look at some of the implements and attachments available to help get the job done around your property.

45" Rough Cut Mower
Add a ProManPTO (Pro for Property, Man for Manager and PTO for power take off) and you get a quick connect/disconnect hydraulic pump set up powerful enough to handle a family of attachments, including a 45" rough cut mower. The deck of the rough cut mower rides on 4 large caster wheels and extends in front of the ATV/UTV for good visibility. And, unlike traditional rotary cutters which run off a tractor rear-PTO and must cut grass trampled on by tractor tires, the ProMan rough cut mower cuts that grass before the vehicle rolls over it. Nice.
In addition to the rough cut mower, ProMan makes a 48" and 60" finish mower that attaches and operates in the same manner. A 45" flail mower is also available which is just what municipalities use to maintain grass on the medians and sides of highways and roads. A log splitter, leaf and debris blower round out the ProManPTO lineup, though we're told a post hole digger (PHD), snowblower and tree cutter will soon be added. Visit http://www.promanpto.com/ for more information.
Mini-Excavator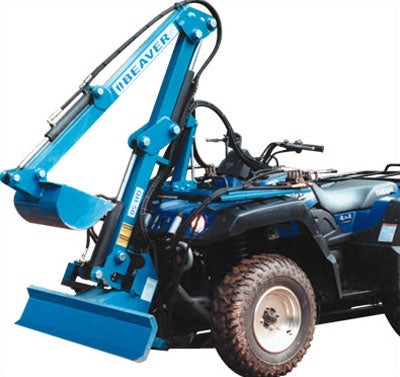 While we don't know of a backhoe attachment for your ATV or UTV or if there ever will be one available, Beaver PRO has been making a mini-excavator attachment for these machines since 2000. The QH50 excavator goes on the front of the ATV, so we'll just go ahead and call it a fronthoe. It weighs 490 lbs. and is powered by a four-horsepower Honda overhead valve engine mated to a 1.7 gpm hydraulic pump.
If you're thinking this can't possibly have any grunt to it, you would be incorrect. The QH50 using the leverage of its 46" dozer blade, can lift 500 – 1800 lbs (depending on the vehicle) with a rated breakout force of 1845 lbs! Visit http://www.beaverpro.com/ for more information.
Rotary Tiller
ATV Tracks makes a 50" rotary tiller for ATVs. Using an ATV winch to raise and lower the front-mounted attachment, a nine-horsepower motor supplies the necessary churning power. Attached in much the same way, ATV Tracks also offers 66" and 72" snowblowers for UTVs and 48" and 54" units for ATVs.
As the name suggests, ATV Tracks also manufactures a line of ATV/UTV tracks that are really cool and offer the traction of a ski mountain trail groomer. Visit http://www.atvtracks.net/ for more information.
Three-Point Hitch (3PH)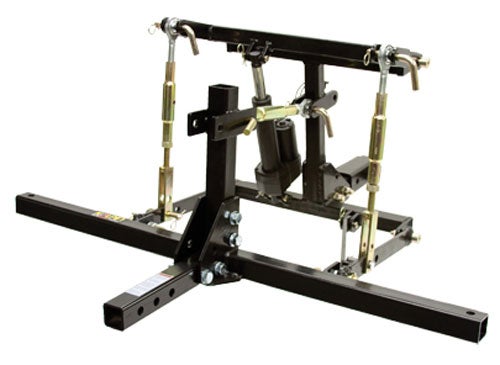 Now that we have your attention, you might be wondering if ground engaging implements such as those carried on a tractor three-point hitch (3PH) can be used on an ATV or UTV? Kolpin makes that option a reality. Using a 2" receiver hitch, Kolpin adds a category-0 3PH that has a drawbar width of 20" and uses standard 5/8" pins. Lift is by a 12V powered electric actuator. Vertical lift range is 15" with a lift capacity of 250 lbs. The system also produces something your tractor 3PH does not: downforce. Up to 300 lbs. of such force is produced, making ground-engaging implements more effective without the penalty of added weight. The Kolpin 3PH features fully adjustable lower lift arms with the top link adjustable as well.
The lineup of attachments Kolpin offers is extensive and includes: a seven-disc plow, which is perfect for getting a field ready for seed; a box scraper handy for maintaining trails or a gravel drive; a combination chisel plow/scarifier useful for loosening material and clearing away roots; a sweeper broom for routine maintenance; a landscape rake for a variety of uses including clearing trails, grooming corrals and raking sand beaches; a cultivator set for breaking up hard-packed soil; and a poly dump cart when your ATV or UTV just can't carry enough. Visit http://www.kolpinpowersports.com/ for more information.
Spraying Systems
Biologic makes a line of 25- and 40-gallon high-performance sprayers perfect for spraying a field for broadleaf weeds or to put down liquid fertilizer. Mounting to an ATV or UTV using a standard receiver hitch and using Shurflo 60 PSI pumps rated at 1.8 gpm, these sprayers can put down a mist with pin-point accuracy covering a boomless swath of 2' – 15'. The materials used are all high quality and corrosion resistant. Visit http://www.plantbiologic.com/ for more information.
Front End Loader (FEL)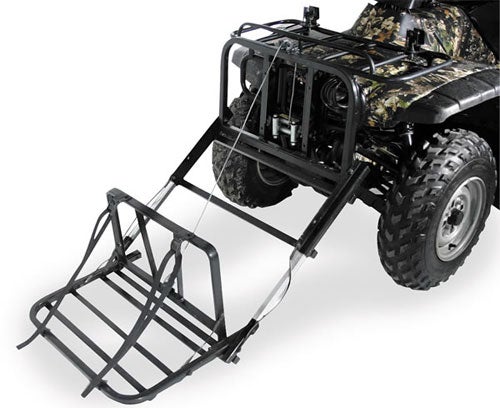 If you need more carrying capacity, or more specifically carrying and lifting capacity, a front end loader fits the bill. Though not exactly a bucket loader, Great Day makes a front-mounted Power Loader that uses an ATV or UTV mounted winch (2000 lb. capacity recommended) to raise and lower its aluminum cradle frame. It's great for carrying everything from wood, boxes, sacks of seed, to the fruits of your hunt. Weight capacity of the Power Loader is 350 lbs. Visit http://www.greatdayinc.com/ for more information.
Ready to go and purchase that ATV or UTV and start putting it to work? Hang in there for one more installment where we'll compare some specifications and get down to the nitty gritty of helping you choose that right vehicle for your needs.
Related Reading
Choosing a Work Vehicle: ATV vs. UTV
ATVs and UTVs Are Useful Tools for Farmers and Landowners
Choosing the right ATV or UTV