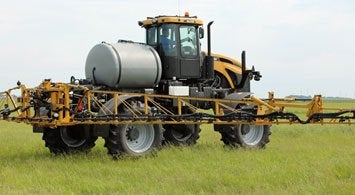 Sprayers are designed to do battle against weeds, pests, disease and even Mother Nature – all in the quest for better yields and profitability. Large sprayers can have horsepower in excess of 300 and tanks that hold more than 1000 gallons of liquid, but for professional producers with smaller fields these can be too large and excessively expensive. Enter the RoGator RG700, a 165 hp self-propelled sprayer with 700-gallon capacity.

RoGator genealogy traces back to 1963 when Ag-Chem began distributing specialized spray equipment for the agricultural industry. In 1967, Ag-Chem expanded into the manufacturing side with adjustable banders, broadcast booms and associated spraying accessories. In 1973 the Terra-Gator, a three-wheeled applicator with high floatation tires, was introduced. And in 1993 Ag-Chem broke into the row crop market with self-propelled RoGator models. Acquired by AGCO in 2001, RoGator is serviced by a dealer network of more than 2800 in over 140 countries.
2014 Farm Progress Show Report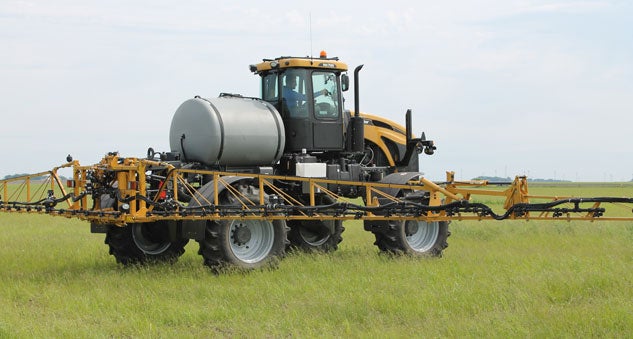 The RG700 begins with a C-Channel flex frame first pioneered by RoGator in 1993. Able to flex as much as 14" while still maintaining four-wheel ground contact, the system, combined with RoGator's Active Air Suspension, reduces wear and tear on the sprayer and operator. Engine power comes from a 4.9L AGCO four-cylinder mill that is EPA Tier 4i compliant and rated to deliver 165 hp at 2100 rpm. Torque at rated engine speed is 413 lb-ft with peak torque occurring at 1500 rpm (522 lb-ft) meaning six-cylinder performance in a four-cylinder package. Emissions compliance is through Selective Catalytic Reduction (SCR) that doesn't interfere with the engine's ability to provide power. AGCO's brand name for this technology is e3, referring to energy, economy and ecology. E3 engines inject Diesel Exhaust Fluid (DEF) into the exhaust stream and offer simpler mechanics, cooler performance and are quieter. AGCO boasts a 17% reduction in fuel consumption over comparable engine-class tractors.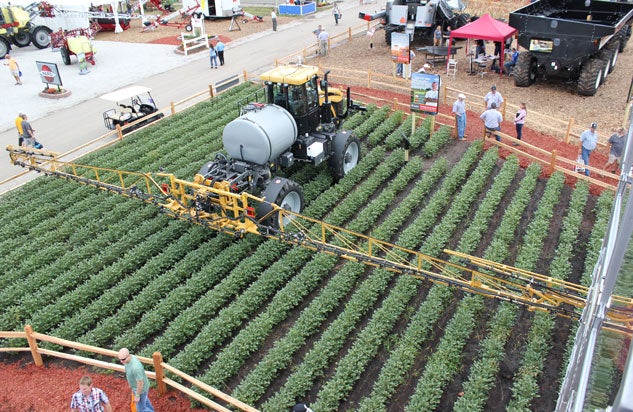 Power gets to the ground by a Bosch Rexroth system RoGator calls SmartDrive AWD. SmartDrive allows the operator to select a speed while the computer maximizes traction and maintains a constant field speed without requiring gear shifting. According to Chuck Schrader, AGCO's Application Equipment sales and marketing specialist, who gave Tractor.com the full-boat sprayer tour at the 2014 Farm Progress Show in Boone, Iowa, the system results in a better ride and more precise product application. If slippage is detected by the SmartDrive system's wheel sensors, adjustments are sent to the wheel motors. Furthermore, the system adjusts inside and outside wheel speeds so the RoGator drives through corners instead of pushes, resulting in less crop and soil disturbance. The system excels on hills, rough terrain, and soft, wet ground. Transport speed is infinite from 0-30 mph while field use is limited to 0-18 mph. And with 65 gallons of onboard fuel, the RG700 can run a full 12-hour day.
John Deere 1775NT ExactEmerge Planter Preview
Climb up into the cab and the operator is treated to spacious cab designed specifically for spraying needs with 54 square feet of glass and 9.5 square feet of floor space. The cab design is a six-post one, which affords full view of the extended booms. And when the booms are retracted, the design is such that the folded arms are below the operator's sight lines. An active air ride seat (cloth) is standard with options for semi-active heated (cloth) or semi-active heated and ventilated (leather).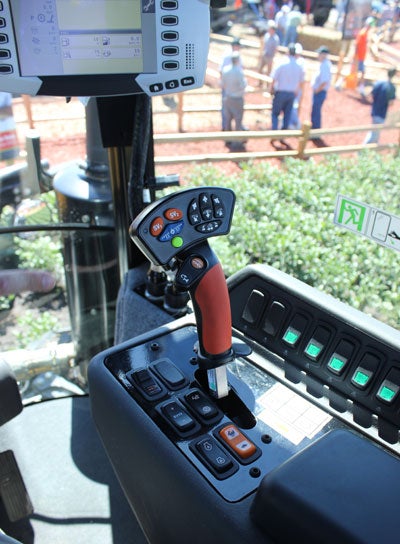 The standard RoGator Management Center (RMC) offers fingertip control sprayer operation functions such as engine and drive, liquid operation, foam marker (with standard onboard air source), boom height and time-delay lighting. Start the RoGator and release the parking brake. The stairs fold up automatically. Located on the right front cab post is the AGCONTROL color LCD display that gives clear view readouts of the two preset SV1and SV2 selections, engine rpm, mph, fluid psi, fuel, gal/hr. and temperature. A trigger on the joystick gets the show going and adjustments are just a slight jog (as fine as 0.1 mph increments) away. And for protection, there is an operator presence system as well as three air filters isolating the cabin from chemicals and dust.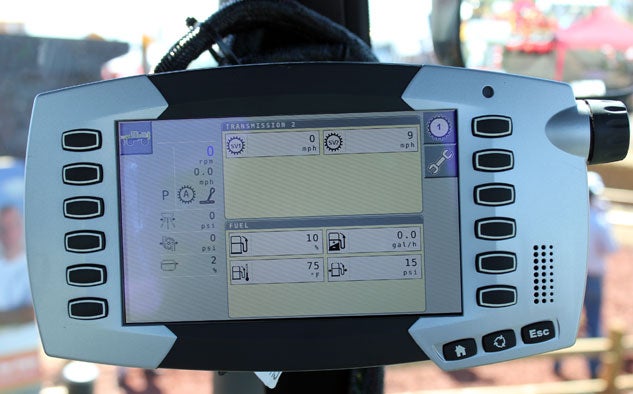 With booms extended and the 700 gallon tank ½ full, the RG700 achieves a 50/50 balance, helped in part by the 149" wheelbase. In standard configuration a 90" axle yields 54" of crop clearance and the RG700 weighs 19,500 lbs (60/80' boom). Opt for the 72" axle configuration and the crop clearance is slightly less (54") with the RG700 weighing in at 19,000 lbs. More clearance gives more flexibility to spray taller more mature crops and widens the season for better return on investment. And while the purchaser has to select an axle configuration, flexibility doesn't end there: 90" axle RoGators can be adjusted from 90" – 120" and 72" axle RoGators from 72" – 88".
Hesston by Massey Ferguson 2956A Round Baler Review
The boom system, which on the RG700 can come in 60/80' and 60/90' widths, maintains a +/- 1 psi difference along the booms for tip-to-target control and efficiency. Booms are full breakaway both in the wings and boom itself with the system detecting obstructions and swinging back and up to clear. A shock absorber system controls rebound and inertia. Nozzles can be spaced at 10", 15" and 20" while the boom height can be set to spray at heights from 19" to 92". The nozzles themselves are of a rotating design with three settings that can be changed in five minutes or less for choice of spray patterns.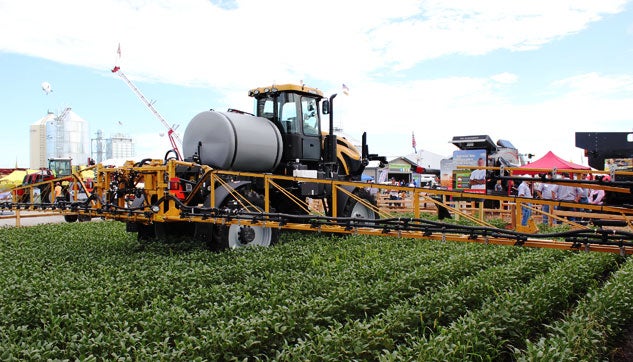 Design of the 700-gallon tank is such that liquid level can be monitored visibly by sight and by a gauge in the cab. The rinse system ensures new loads aren't contaminated with old product and the tank design is such that there are no square corners to trap unwanted residue. To keep liquid agitated, two large jets are located in the bottom of the tank, with the amount of agitation controllable by the operator.
AGCOMMAND is the standard telemetry data collection system that lets an owner or manager know exactly where the RG700 is and how its systems are performing. Other electronics options include NORAC and Raven AutoBoom for boom control, field computer (tablet) for even more control options, assisted steering control with display options that include SmarTrax from Raven which offers 3D terrain compensation and automatic system calibration, and boom control options from AGCO and Raven that allow so-equipped RoGators to control wasteful overlaps.
With a base MSRP starting at $239,800 and a host of electronic options, if you're in the market for a smaller, more nimble sprayer backed by AGCO and over forty years of experience, check out the RG700.