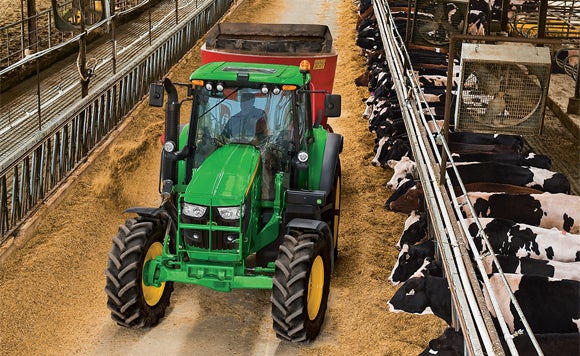 John Deere has expanded its lineup of 6M and 6R Series Tractors for model year 2015.
"Our objective is to continually expand our tractor line to meet a wide variety of customer needs, yet be able to offer the same proven performance, reliability and service standards in every 6 Family model," says Kory Ross, mid-tractor product manager for John Deere. "The new models in our 6M and 6R Series continue that tradition, with tractors ranging from 110 to 215 engine horsepower, and build commonality in horsepower and other features within the 6 Family."
Seven 6M models are now available (the three numbers following the "6" indicate engine horsepower). Small-frame models are the 6110M, 6120M and 6130M; the 6145M and 6155M are mid-frame models; and the 6175M and the new 6195M are large-frame models.
In addition to the higher power range, the 6Ms are available with mechanical cab suspension system, factory-installed AutoTrac Ready, on-the-go auto mechanical front-wheel drive and differential lock, and front hitch and front PTO options. The 6M models also have Power Fill brakes for demanding loads and hillside mowing operations and come with multiple tire options based on different applications.
The 6R Series of premium specification tractors offer additional horsepower, cab and control options, and more performance features. These features include the ComfortView cab, high-performance controls, and optimum comfort, along with panoramic visibility.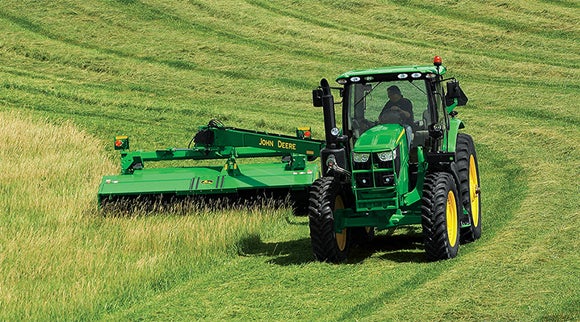 The Generation 4 CommandCenter features integrated AutoTrac to deliver guidance through the field. And PFC hydraulics, with up to six selective control valves, are designed to provide hydraulic efficiency for operating large implements, seeding tools, row-crop planters, and potato harvesters.
Customers can choose from a range of models, including small-frame 6110R, 6120R and 6130R models; mid-frame 6145R and 6155R models and large-frame 6175R, 6195R and 6215R.
"Now more than ever, producers expect to see a positive return on investment as well as superior performance," says Ross. "The new 6M and 6R models from John Deere provide both, with more horsepower options and operational features than ever to meet the needs of more customers, and at a specification and price level that's right for them."
Along with the expanded 6 Family Tractor lineup, John Deere introduced the new R-Series Front Loaders. This new loader is designed to match with all Final Tier 4 6M and 6R Series Tractors.
Features of the new R-Series Front Loaders include:
• Automatic mast latch system that makes attaching and detaching the loader much easier.
• Implement automatic latch and remote implement latch to allow operators to switch attachments faster and more conveniently than ever before.
• Side-slung leveling links that improve operator visibility and the ability of the loader to level itself through the full range of loading operations.
• An enhanced version of the industry-exclusive Return-to-Position with Electronic Self Leveling technology that makes loader work as easy as a flick of the wrist.