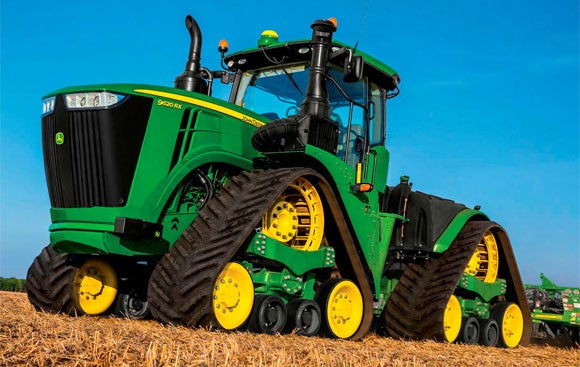 John Deere has introduced its first ever 4-track tractors. Four models are available in the new 9RX line, which range from 470 to 620 engine horsepower.
According to John Deere, 9RX models "feature a large, robust undercarriage and track system engineered to provide superior power, durability, and improved ride quality, especially when handling large implements in the field."
Read our 2016 John Deere Lineup Review
"The 9RX has a superior undercarriage with a positive-drive track system that effectively delivers power to the ground; it features the outstanding comfort of our CommandView III cab with a new cab suspension system for improved ride quality; and it is designed with integrated performance features already available on our 9 Family of tractors," says Jerry Griffith, John Deere product marketing manager, 6-9 Family Tractors.
Other features include built-in, fully integrated AutoTrac guidance and JDLink Connect information management, the e18 Transmission with Efficiency Manager, and increased hydraulic flow for optimal field performance.
"The 9RX has been designed with our customers in mind to provide the performance, maneuverability, comfort and reliability to operate large, heavy equipment under a wide variety of soil conditions and terrain," says Griffith.
All 9RX tractors feature either a John Deere PowerTech PSS 13.5L engine (9470RX and 9520RX models) or Cummins QSX15 engine (9570RX and 9620RX models). Each tractor is equipped with puncture-resistant Camso Duradrive 3500 and Camso Duradrive 6500 rubber tracks, available in 30-inch and 36-inch widths.
Like its 9R/9RT siblings, the new 4-track tractors are available with the e18 Transmission with Efficiency Manager for automated control of the engine and transmission. The tractors also feature an articulated steering system and the optional Active Command Steering.
9RX Tractors are designed with a mechanical Parallel Plane Four-Bar Linkage system with four inches of vertical travel. This is designed to help control movement and isolate the cab and operator from sudden impacts and vibration.
"We've also redesigned the hydraulic system in the new 9RX, which includes up to eight SCVs and delivers a standard 58 gallons per minute of flow, or an optional 115 gallons per minute of flow. It easily meets the speed and high hydraulic power demands of the large implements our customers often use in the field," says Griffith.
"The 9RX brings to the market John Deere's 20 years of track-tractor expertise and field knowledge gained from our popular 8RT and 9RT Tractors," he adds. "Customers tell us the 9RX has the most comfortable ride, is easier to maneuver in the field, is easier to maintain and service, and more importantly, provides the power they need to get field work done faster and more effectively."
Visit JohnDeere.com/Ag for more Information.