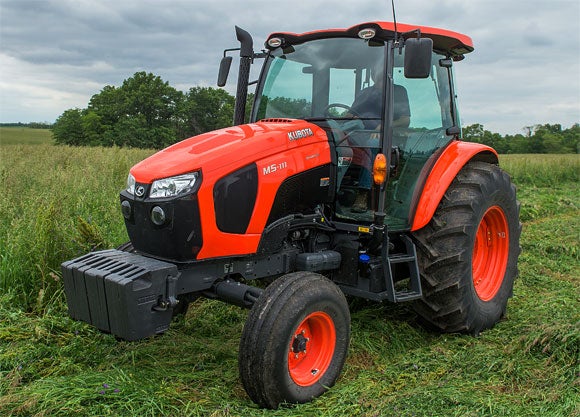 Kubota is calling its new M5-Series its "most versatile utility tractor series to-date."
Two models are available upon introduction – the M5-091 and M5-111. Both are available with two- or four-wheel-drive.
Features include an Ultra Grand Cab II, which boasts expanded space, enhanced visibility and an ergonomically designed control panel. Both the M5-091 and the M5-111 are matched with a variety of Kubota's new hay tools and other implements.
"Take a seat in the Kubota M5-Series' Ultra Grand Cab II and you'll see – and experience – why these tractors stand out against the competition," says Tyler Pittson, product manager, compact and utility tractors for Kubota. "We know our customers typically use this horsepower range for hay production and other hard-working chores on the farm or ranch, so we designed Kubota's M5-Series to be spacious, comfortable and versatile to help tackle the tasks at hand."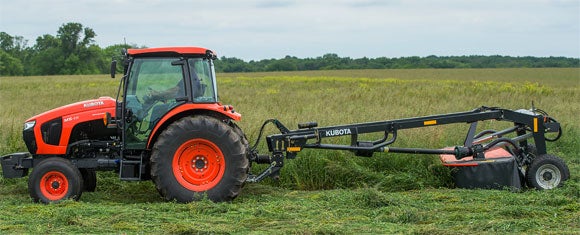 The Ultra Grand Cab II is an enclosed, air-conditioned cab complete with a sunroof and retractable shade. The cab is six inches larger than previous models, and the tilt steering angle has been increased. As well, Kubota relocated the economy PTO change lever inside the cab on the right-hand side for easier use. An optional instructor's seat can be added for training purposes.
Power for the M5-091 and M5-111 comes courtesy of four-cylinder turbocharged 76 and 89 PTO horsepower Kubota engines, respectively. These tractors combine Kubota's diesel particulate filter (DPF) with selective catalytic reduction (SCR) technologies to achieve compliance with the EPA Tier 4 final emission regulations. For the first time, both the DPF and SCR are located inside the hood, which Kubota says increases visibility around the tractor.
M5-Series tractors offer multiple transmission speeds, providing operators the flexibility to choose the best solution for their job. Transmissions are available in 8-, 12- and 24-speed options and an economy PTO is standard on the 12- and 24-speed transmissions. A hydraulic shuttle is designed to provide smooth-shifting between forward and reverse by use of a single lever, eliminating the need to engage the clutch to change directions.
From a front loader to a variety of mowers, tillers and hay tools, the M5-Series is matched with a variety of implements and attachments. Both the M5-091 and the M5-111 are equipped with a Category II three-point hitch. A floating lift rod comes standard for a smoother ride and enhanced traction while using the three-point hitch. Kubota's new M5-Series utility tractors will be available at authorized Kubota dealers nationwide starting in August 2015.