2016 Case IH Optum 300 CVT Review
300-horsepower tractor ready to work
By Geof Fowler, Photography by Case IH, Dec 30, 2015
Case IH unveiled the new Optum lineup this past September just in time for the Farm Progress Show. Situated in between the Puma and Magnum series, Optum tractors have the horsepower to handle larger tillage tools and planters with enough grunt for high-volume hay and forage operations.

Currently the lineup consists of two models: the 271 hp Optum 270, and the 300 hp Optum 300. Both models feature 6.7L NEF powerplants from FPT Industrial that are EPA Tier 4B (final) compliant. These engines use SCR aftertreatment technology and a single electronically variable geometry turbocharger (eVGT) for high torque at lower engine speeds with faster response than systems relying on twin turbos.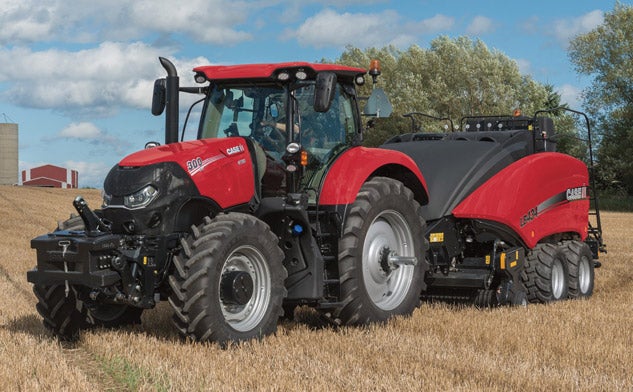 Rated horsepower for the Optum 270 comes at 2200 rpm with a max 290 horsepower developed at 1800 rpm and 240 power take-off (PTO) horsepower at 2100 rpm. For the Optum 300, rated power comes at the same engine rpm with a max horsepower rating of 313 and 270 at the PTO. In the 1200 to 1800 rpm working range, almost 1000 lb-ft of torque is available. Idle management lowers engine rpm from 850 to 650 when conditions dictate for increased fuel efficiency. An exhaust flap option allows for engine braking using built up exhaust backpressure.
COMPARISON: Read our review of the 2016 New Holland T7.315
All Optum tractors come with constant velocity transmissions (CVT) that have four forward speed ranges (two reverse) and an auto shift function. A double clutch makes for smooth power transmission and an auto mode is standard, saving fuel and increasing operator comfort. An active stop mode aids in starting and stopping especially on hilly terrain. The base transmission has a 25 mph transport speed (Eco CVT) with a 30 mph option (CVT). Both transmissions have 16.7 mph reverse speed. Creeper speeds are also built in and can allow speeds as low as 0.018 mph, or a target of 98 feet per hour.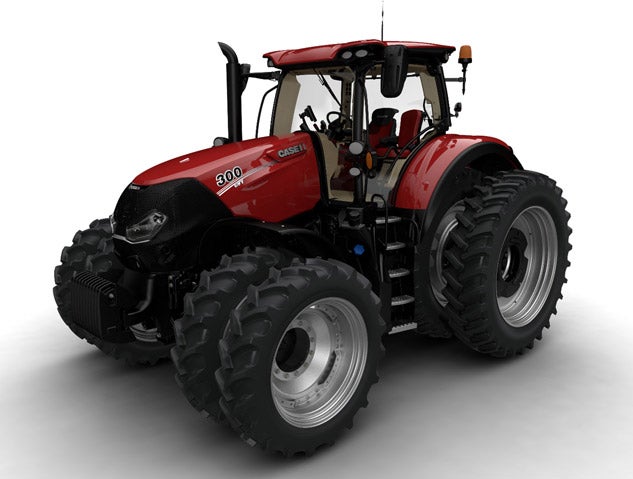 Hydraulics run through a closed center pressure flow compensating (PFC) system using a variable displacement pump that pumps from the 39-gallon reservoir only when needed. The base pump system flows 43.6 gpm to four standard rear remotes with up to five supported along with one power beyond coupler. There is a high flow 58 gpm PFC hydraulic pump option. Max flow to a single remote is 37 gpm. This gives the rear three-point hitch (3PH) a lift capacity of 19,180 lbs, and if so equipped, a front 3PH lift capacity of 9,700 lbs. Purchasers have their choice of Cat 3 or Cat 4N telescopic lower link ends. A mid-mount valve is an option. A four-speed rear PTO is standard equipment and is electronically shiftable from in-cab, supporting 540, 540E, 1000 and 1000E speeds. If so optioned, the front PTO has two speeds, supporting 1000 and 1000E speeds and is also electronically shiftable from in-cab. The interval between hydraulic system service is 1200 hours.
Optum tractors ride on heavy duty front and rear axles with the front suspended for better ride and traction and carrying a class 4.75 rating. The front axle can support dual tires. At the rear, three bar axle choices allow for several spacing options. Duals are also supported. Standard rear axle width is 119" (bar) with options for 98" or 112" (bar or flange). The axle diameter is 4.125" with a rear tread adjustability range of 60.6" to 124.8".
Climb up into the suspended SurroundVision cab where there is 85 cubic feet of space and 63 square feet of glass and the operator will find a comfortable, well laid-out cockpit. The base deluxe seat features low frequency suspension and dynamic dampening to avoid bottoming out. Option up for the active leather seat and the operator gets active suspension, dynamic dampening, and an active air pressure system that adjusts automatically with an accelerometer to sense motion. For the optional seat, the backrest also adjusts up and down and is heated and ventilated for comfort. Door closed sound ratings are a quiet 70 dBA. Standard lighting package is LED with eight fixtures with package options for 12 or 14, all of which offer greater intensity lighting with longer bulb life.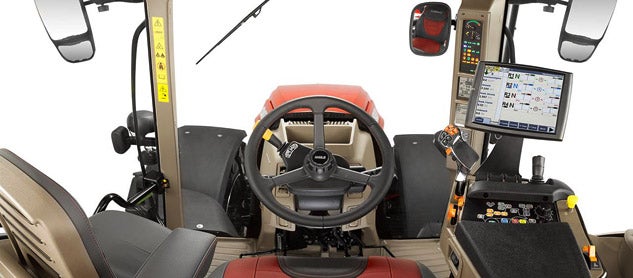 The multi-control armrest and handle puts all necessary tractor functions a toggle, click, twist or nudge away. The touchscreen AFS Pro 700 Display is easy to read day or night and offers all the operator needs to know at a glance. Optum tractors have ISOBUS Class 3 compatibility and when mated to a LB4 large square baler (2016 or later) allow the baler to send commands to the tractor, which if accepted, let the baler control forward ground speed, electrohydraulic remote flow, and rear hitch position. Expected electronics include AFS AccuGuide, which eliminates the need to steer in open field, maintains straight rows, reduces skips and overlaps, all of which can lead to decreased field compaction and improved yields. System accuracy is adjustable from 1' to sub-inch. An optional tire pressure monitoring system sends signals from up to 16 tires using valve cap transponders to the antenna located on the cab roof. Pressures are conveniently displayed on the touchscreen.
COMPARISON: Read our review of the Claas XERION 5000
MSRP for the Optum 270 is $269,685 and $283,215 for the Optum 300. Go to the Case IH website build and price section and click freely away at options and a purchaser can easily add another 20-25%. The old adage here holds: want to know the price? Just add three zeros to the horsepower rating.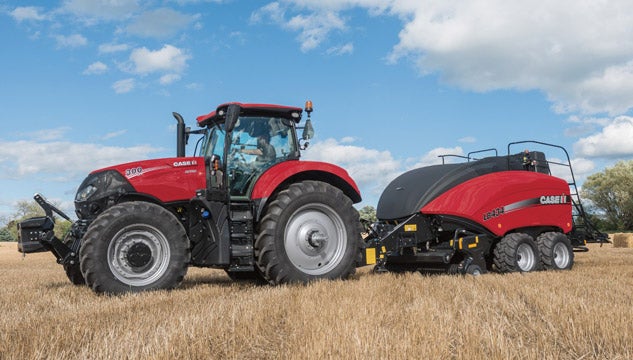 Optum tractors weigh 23,149 lbs with 18.4R50 tires and ride on a 117.3" wheelbase. Onboard fuel is 166 gallons and the diesel exhaust fluid (DEF) reservoir is 25.4 gallons. Optum tractors certainly fill that in between Case IH void where manufacturers such as John Deere and Fendt have strong offerings. In our view Optum models give potential purchasers an alternative choice from a manufacturer with more than 100 years of history serving agribusinesses' wide range of needs.
Buyers Guides
Our Partners