2016 John Deere 6130M Cab Review
A budget-conscious Utility tractor with plenty of deluxe features
By Geof Fowler, Photography by John Deere, Jan 15, 2016
John Deere's 6 Family consists of three distinctive series with "E" models signifying economy, "R" premium, and "M" mid-specification. Eighteen tractors ranging from 105 to 215 horsepower can be had in a variety of open station (some) and cab configurations. Tractor.com has reviewed models from the premium and economy spectrum, a 6195R in late 2014 and a 6120E in 2015, and this week add to those reviews with a mid-specification model, the 6130M.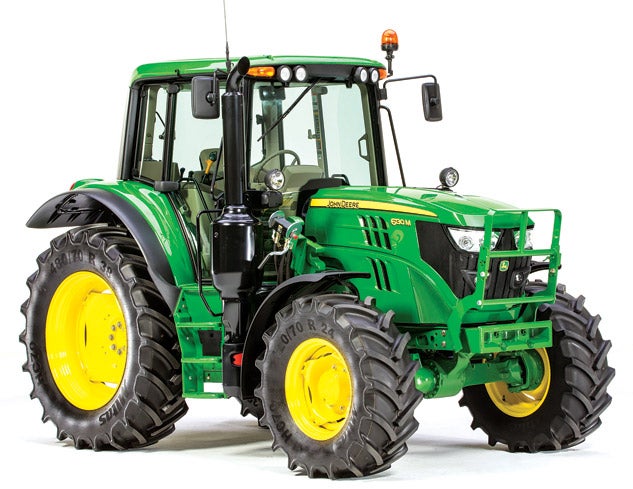 Within the 6M Series are seven models spread over three frame sizes, the 6110M, 6120M and 6130M which are small-frame tractors, the 6145M and 6155M which are mid-frame tractors, and the 6175M and 6195M which are large-frame tractors. John Deere's numbering system is quite simple with the tractor family designation followed by the horsepower and then the series letter designation. Therefore, our test 6130M is a 6 Family tractor making 130 horsepower and of the M series.
COMPARISON: Read our review of the 2016 John Deere 6120E
Powering the John Deere 6130M is a four-cylinder John Deere PSS Stage IV engine displacing 4.5L (276 ci) rated to deliver a flat torque curve of 400+ lb-ft from 1000 to 1600 RPM and 102 power take off (PTO) horsepower. These engines utilize twin turbochargers, with the first configuration a fixed geometry and the second a variable, with air-to-air after cooling. Final Tier 4 (FT4) emissions compliance comes from a combination of technologies including, high pressure common rail (HPCR) injection, and cooled exhaust gas recirculation (CEGR). The system requires diesel exhaust fluid (DEF) additions from the 3.4 gallon DEF tank, but John Deere claims overall fuel consumption is reduced. A total of 54 gallons of on-board fuel is carried.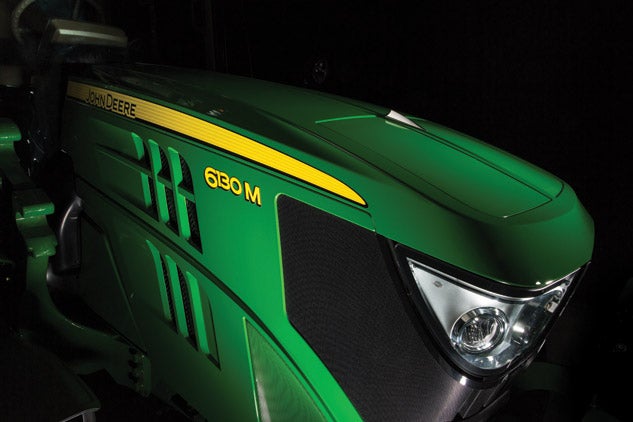 Several transmissions choices are available: 16-speed PowerQuad controlled by a mechanical left-hand steering column reverser stalk with a transport speed of 18.6 mph (30 km/h); 24-speed PowerQuad Plus controlled by an electrical left hand reverser stalk with a transport speed of 24.9 mph (40 km/h); and 24-speed AutoQuad Plus, also controlled by an electrical left hand reverser stalk and with a 24.9 mph transport speed. For each transmission a park lock is integrated as standard and an optional creeper option can be ordered, which is ideal for specialty crop work at speeds as low as 0.15 mph.
Hydraulics run through an open-center pressure compensating (PC) gear driven system. You can also choose an optional closed-center pressure and flow compensating (PFC) piston pump system. The main difference between the system types is that a PC system is based on constant oil flow regardless of demand. Pressure is varied by the pressure regulating valves but max flow is always generated by the pump, with its resultant influence on engine efficiency. A PFC system is consumption based and can work in stand-by when no hydraulic flow is needed. As demand increases, the piston pump increases flow or pressure only as needed. Both systems have load sensing functionality.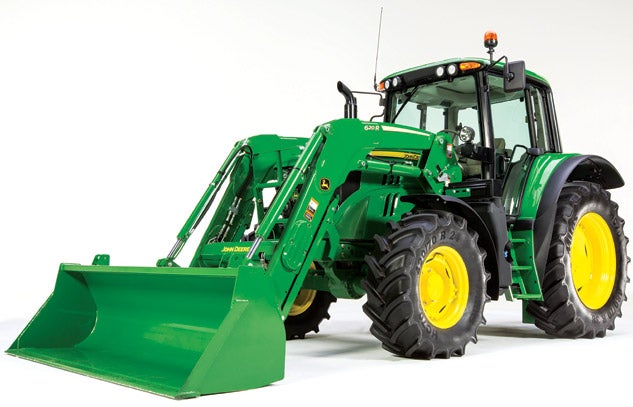 For open station 6130M tractors only, a 28cc PC pump flowing 17.17 gpm is available. For cab tractors, a 35cc PC pump flowing 21.1 gpm is the base system with a 45cc PFC pump flowing 30.1 gpm an option. A priority valve ensures hydraulic flow to essential services such as steering and brakes, even at idle. Up to three rear remotes are supported with a power beyond option useful for controlling trailered silage wagons or balers. The system can also support up to three mid-mount mechanical valves. Standard hydraulic reservoir capacity is 6.6 gallons with an option to increase that to 9.8 gallons.
COMPARISON: Read our review of the 2016 New Holland TS6.120 Open Station
At the rear, a Cat 2/3N three-point hitch (3PH) offering 6474 lbs of lift is standard with an option for increasing capacity to 8456 lbs. Either package lift capacity rating comes at the industry standard of 24" behind lift point. Lower link ends telescope for ease of attachment with options for sway control blocks or pin-adjustable outboard stabilizers to keep rear implement sway in check. A Cat 2, two-position adjustable drawbar that helps improve turning radius with trailered implements is standard. Max drawbar rating at 9.8" extension is 3527 lbs for road and 4960 field use. Field use extension of 13.8" has a 3086 lb rating and at 15.7", 2645 lbs. Fender-mounted 3PH control switches are optional (included in standard cab package) and certainly make hooking up a rear implement easier. The rear independent PTO supports both 540 and 1000 RPM via a standard reversible 1-3/8" diameter shaft.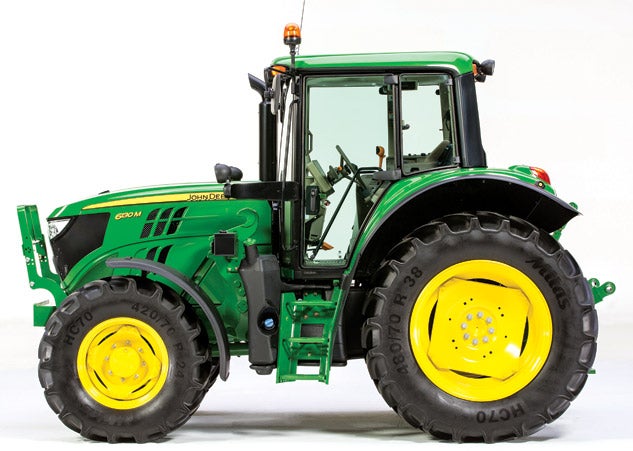 Four cab options are available: code 2071 basic, code 2072 economy, code 2073 standard and code 2074 low-profile. Our test tractor was equipped with the standard cab, which comes with almost every deluxe feature imaginable and definitely comes close to the premium environment of a 6R tractor. The list of standard features in the standard cab is long and includes front and rear washer and wiper, tilt/telescope wheel, 12V DC outlet, right and left fender 3PH controls, A/C, mechanical cab suspension, air suspension seat, front and rear roller blind, instructor seat, and basic iTEC guidance which controls on/off for the MFWD and differential lock, and 3PH lower/raise and quick pull-in functions, reducing the number of operations required during a headland turn.
COMPARISON: Read our review of the 2015 McCormick X4.70
Inside the cab, which has a panoramic windshield with a 310-degree field of view, the controls will make anyone familiar with John Deere machines feel right at home. The PowerQuad Plus transmission our test tractor was equipped with is easily controlled through a right-hand lever that includes convenient tortoise and rabbit thumb buttons. Directional changes are through the left-hand power reverser stalk with the dash display showing Forward, Reverse and Neutral. FieldCruise allows the operator to preset an upper engine limit from 1050 to 2100 RPM, which is useful in applications where a high PTO RPM is required but not a similarly high engine RPM. For tractors equipped with a loader joystick, there is a gear shifting option which places control over the four shiftable gears on the joystick and allowing an operator to keep their right hand in one place. Electronics are ISOBUS ready and include the 10.2" touchscreen GreenStar 2630 display with wireless data transfer and a USB port and compatibility with StarFire 3000 or other radar for true ground speed input.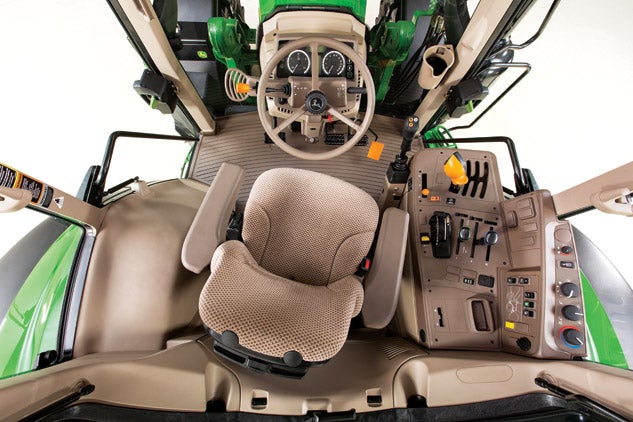 Standard tires are 380/85R28 133A8 R1W radials front and 460/85R38 149A8 RIW radials rear. Options include R2, R3 and R4 bias offerings. In MFWD trim the 11,519-pound (unballasted) 6130M rides on a 101.6" wheelbase and has a tread width range of 58.5" to 86.8". Front axle ground clearance is 23.9" with a turn radius of 23.5'. Base MSRP is $105,989 with our nicely equipped 6130M including the 24F/24R PowerQuad Plus transmission coming in around $112K.
6M tractors are well suited for haying and field work, loader, material handling and mowing. For an agribusiness or municipality requiring a 130 hp small-frame tractor with fast hydraulics, the John Deere 6130M, which sits squarely in-between offerings from the 6E and 6R Series, would be well worth considering.
Buyers Guides
Our Partners