2015 Kubota MX5800 HST Review
We get behind the wheel of the most powerful MX tractor
By Geof Fowler, Photography by Kubota, Jun 26, 2015
Kubota categorizes its lineup of MX tractors as Special Utility. Last December, Tractor.com spent some time behind the wheel of a MX4800 and came away impressed. During that test we never felt the package to be underpowered, but in the field all too often circumstances arise when more power – such as while rotary cutting in heavy brush – is called for. The MX5800, in the same sized package, comes with an additional 12.1 gross and 11.2 power take off (PTO) horsepower.

In the MX lineup, models MX4800 and MX5200, which replace the outgoing MX4700 and MX5100, can be equipped with 8F/8R synchronized shuttle gear transmissions with choice of 2WD or 4WD. If a hydrostatic transmission is desired, 2WD is no longer an option. For the MX5800, only a hydrostatic transmission is offered and in 4WD guise.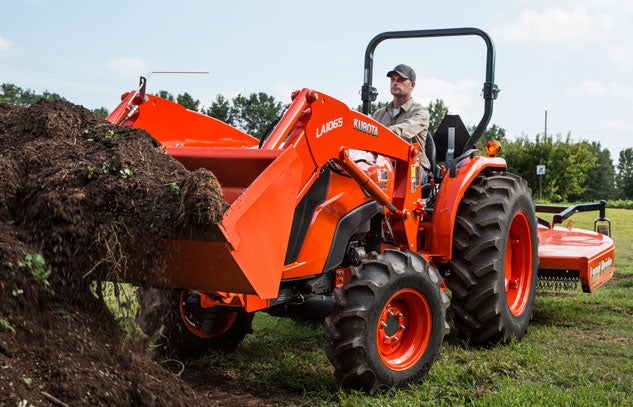 All three MX tractors share the same 148.6 cubic inch four-cylinder engine platform, but while the MX4800 is naturally aspirated, the MX5200 and MX5800 make an additional 5.2 and 12.1 horsepower respectively by strapping on exhaust driven hamster wheels, more commonly known as turbochargers. Utilizing a common rail system (CRS) of direct injection and relying on a diesel particulate filter (DPF), the V2403CR-T powerplant is EPA Final Tier IV (FT4) compliant. Power take off (PTO) horsepower rating for the MX5800 is an impressive 50.2.
As mentioned above, the only transmission available is a hydrostatic unit, which comes with three ranges. Infinitely variable travel speeds 0-3.4 mph forward and reverse (low range), 0-7.3 mph forward/0-6.6 mph reverse (middle range), and 0-16.1 mph forward/0-14.5 mph reverse (high range). Directional and speed control are through a right floorboard mounted C-shape treadle pedal that Kubota is known for. The arrangement allows for the brake pedals (split and suspended) to be mounted on the left side, which is a highly desirable and useable setup. Further enhancing the treadle modulation is a hydraulic servo system that increases pedal response while decreasing operator effort. Cruise control is standard.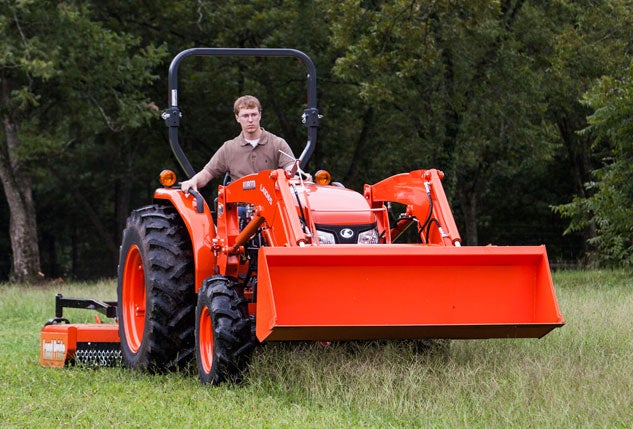 Hydraulics run through a twin pump system with 9.5 gpm flowing for implement use and 4.9 gpm to power steering needs (14.4 gpm total). This gives the Cat I/II three-point hitch (3PH) a lift capacity of 2310 lbs at the industry standard of 24" behind. Position control is standard, which allows an implement to consistently be returned to a selectable position time after time. Draft control, which adjusts the amount of implement attack to maintain a consistent load, is optional. The system can support up to three remotes (optional).
Climb up into the platform, which is flat with the exception of a small bent metal transmission tunnel, and the operator will find 30" of room between the fenders, which also are metal. Kubota outfits MX tractors with a comfortable high-back suspension seat, offering a generous amount of fore/aft travel. You'll find two grab handles, a teardrop cupholder on the right fender, and a small tool box behind the operator seat. Levers for 3PH (position), PTO, and optional draft control and rear remotes are located in the gap between the seat and right fender. Range selection and cruise control levers are between the seat and left fender. The dash panel comes with a large center located tachometer with PTO rpm (2700 engine rpm) indicated in yellow and a small LCD panel for quick reference. Gauges for fuel and temperature flank the tachometer, with indicator lights covering all the additional information required for safe operation.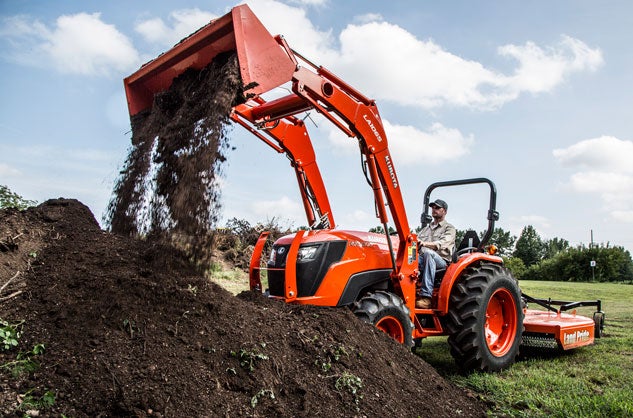 Our test tractor was equipped with Kubota's quick attach/detach LA1065 loader, which is controlled by a joystick selective control valve (SCV) attached to the right front loader stanchion. The LA1065 is rated to lift 2275 lbs to a max height of 111.2", and features 85.5" of dump clearance, so most pickup truck beds and trailers are well within its capabilities. Operating at a system pressure of 2631 psi, the LA1065 produces up to 3102 lbs of breakout force. Cycle times are accordingly quick, with full raise taking 4.4 seconds, full lower 3.0 seconds, full curl 2.4 seconds, and full dump 1.9 seconds. Kubota's 72" bucket choices are light material, square back, and heavy duty round back, all with a replaceable, bolt on cutter edge available. The system uses a two-lever skid-steer locking/unlocking mechanism with Kubota offering pallet forks and a bale spear as compatible options.
For those requiring a backhoe, Kubota matches model BH92 to MX tractors. The BH92 is a curved boom, full sub-frame design with hidden (protected) hoses, separate seat, easily accessible grease fittings, and options for a six-position mechanical or full hydraulic thumb. Dig depth is 109.8" with 150.4 inches of reach and the swing arc is a full 180 degrees.
Throttle up the V2403CR-T and the power on tap will quickly have your attention. While the MX4800 never felt sluggish, after driving the MX5800, we'd be loath to go back to the lesser powered machine. While hydraulic flow is unchanged across MX models, the MX5800 felt as if it achieved the same loader performance at lower engine RPM levels. Forward and reverse travel response is also enhanced, and though we didn't have access to a 6' or larger rotary cutter that the MX5800 is well capable of handling, we have no doubt the 50.2 PTO horsepower would be up to any challenge that combo would throw its way.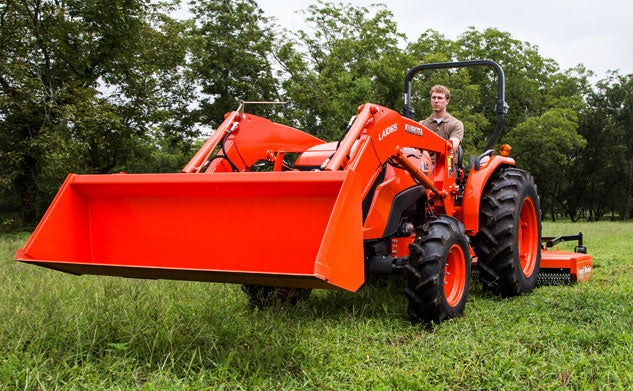 Kubota competitively compares MX tractors to John Deere 5055 E and D models, New Holland Workmaster 45, and the Mahindra 5010.
Weighing 3734 pounds (tractor only), the MX5800 measures 125.2" long by 69.7" wide and is 95.7" tall to the top of the foldable ROPS. Our test tractor was equipped with R1 Ag tires size 9.5-16 front and 14.9-26 rear riding on a 74.6" wheelbase. Turn radius with brakes applied measured 8'-10".
MSRP for an MX5800 as our test tractor was equipped is $37,139. Kubota warrants MX tractors for 24 months/2000 hours bumper-to-bumper with powertrain coverage extended to 36 months/3000 hours. Currently there are incentives, including a $3000 instant rebate for MX tractors purchased with a loader.
Any hobby farm, agribusiness, or municipality in the market for a 50 PTO horsepower tractor with deluxe features would do well to include the MX5800 in their short list.
Buyers Guides
Our Partners