Ventrac 3400Y Review
A true Swiss Army knife for your garage
By Geof Fowler, Nov 19, 2015
The Ventrac 3400 Series, updated in February of 2015, includes two models utilizing the same chassis/frame and running gear, but gives the prospective purchaser the choice of gasoline or diesel power.

The gasoline variant, the 3400L, comes with a Briggs & Stratton M38 Vanguard V-Twin engine that is air cooled and makes 20 horsepower, while the diesel variant, the 3400Y, comes with a Kubota D902 liquid-cooled three-cylinder making 22 horsepower. Both models feature hydrostatic all-wheel drive and a center articulating frame that results in superb maneuverability and the ability to handle slopes other machines cannot.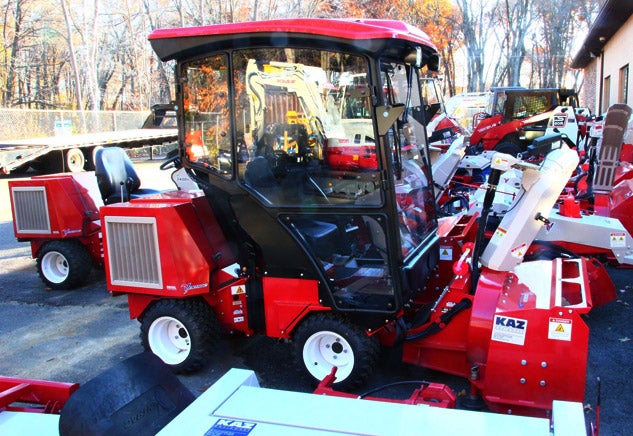 Tractor.com visited the Orville, Ohio Ventrac manufacturing facility last July and came away impressed and ready to get additional seat time. Scheduling conflicts brought us to the late fall, where here in the Northeast thoughts are beginning to turn towards the inevitable winter and how to best handle whatever Mother Nature might bring. When we received word that KAZ Equipment in South Windsor, Conn. had snow-ready 3400 models if we were interested, that was all we had to hear.
All 3400 Series models are built around heavy-duty welded steel frames with commercial-grade components, such as Hydro-Gear GT1700 hydrostatic transmissions, completely sealed fuse boxes and electronics, Ogura GT2.5 electric PTO clutches, and a control lever unique enough to warrant a patent. That patent is for the SDLA control lever, which stands for Speed, Direction, Lift and Auxiliary. The SDLA lever puts control of every Ventrac machine and implement motion, with the exception of steering, in an operator's single hand.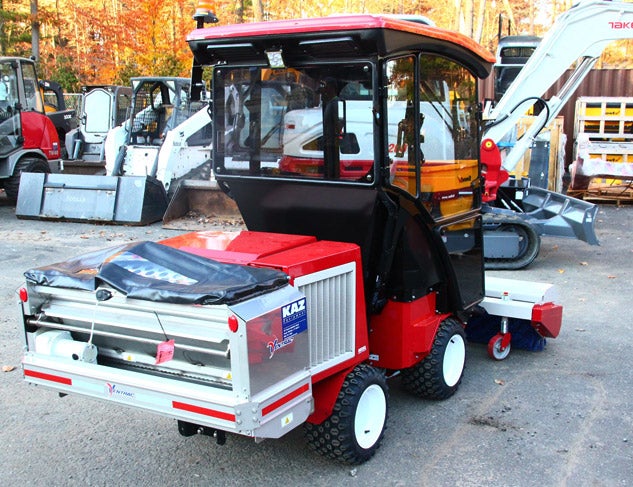 Standard features on 3400 Series machines include a folding ROPS, deluxe comfort seat, 2" rear receiver hitch, front hydraulic couplers, five-gallon fuel tank, power steering, tilt wheel/column, 55W halogen headlamp/LED rear, and on-board diagnostic panel. A treadle pedal is also standard equipment, but really isn't necessary, as the SDLA control lever does it all.
When we arrived at KAZ Equipment, a full service dealership specializing in construction, landscaping and excavation equipment, two 3400Y models were prepped and ready to go. Both featured cabs with one set up for snowblowing and the other with a rotary broom and Ventrac's SA-250 drop spreader. The cabs used are made by Jodale Perry (now TerraCab) and that should be all you need to know. These are first rate enclosures with automotive-quality construction, doors that click to close, plenty of glass area, windows that open, and for 3400Y models, can be equipped with a heater/defroster. Climbing inside the 3400Y is aided by the low-to-the-ground stance and wide opening doors.
Firing up the Kubota diesel results in a dBA reading of 86. While that may seem a bit on the noisy side, it is about the same as outside the cab, and hovers around the NIOSH workplace recommendation of 85 dBA/8 hrs.
Operating a Ventrac is a simple proposition, though the controls are unique to the manufacturer. Once familiar with the SDLA lever, everything becomes quite intuitive. Set the seat, steering column and interior climate to preference, raise the implement and nudge the SDLA lever forward. Speed range forward is 0-7 mph, while the reverse range is 0-4 mph. The tight 28" turning radius is amazing for an all-wheel drive machine. Backing up, though, takes some getting used to, as this is an articulating design with the rear quite sensitive to input. But a couple of overcorrections is all it takes to get the hang of it.
The parking brake located on the right side of the steering column can be set to three positions: brake on, return to neutral, and easy shift. Return to neutral allows the SDLA (or treadle) to return to neutral when released, while easy shift is akin to cruise control. Other controls on the right side console include the SDLA lever, throttle, PTO engagement, headlamps, and a 12V outlet. The dashboard gauge cluster is minimal, but Ventrac found plenty of room for a tachometer, speedometer, hour meter, engine temp (diesel only), fuel level, park brake, and warnings for high engine and hydraulic oil temp, low voltage, and low oil pressure.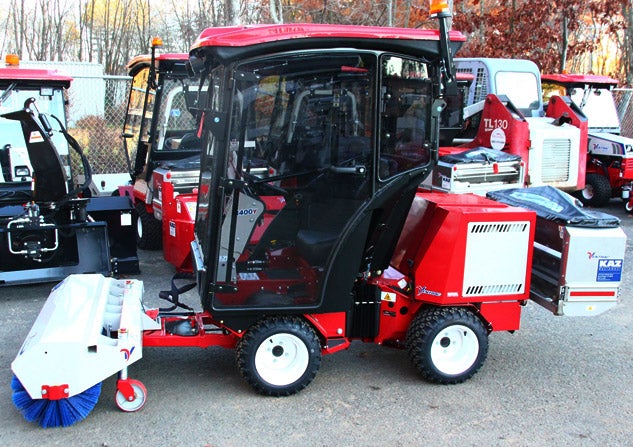 Standard equipment on diesel models (optional on gasoline) is an adjustable weight transfer system. The four-position system transfers weight from the front attachment to the front wheels. This has several advantages, including increasing traction and hillside maneuverability and reduced steering effort.
Two snow blowers are available for 3400 machines, the KX523 which is 52" wide and the KX423 which is 42" wide. The KX423 is an obvious choice for narrower applications such as sidewalks and other tight areas, while the KX523 would be well suited for wider open spaces such as driveways or parking lots. Both models are two-stage with 16" diameter augers and 20" diameter fans and ride on cast iron shoes. The 52" blower can move 4500 lbs of snow per minute at distances up to 40', while the 42" blower can move 2500 lbs per minute to the same distances. Control over lift/lower and the 180-degrees of spout rotation are from the SDLA lever, with an option for electric control over chute deflection.
For lighter snow removal as well as the removal of leaves and materials such as dirt and light gravel, a rotary broom can be an excellent choice. Matched to the 3400 Series models is the LB450, which features a working width of 54" and can be angled right or left, which makes it suitable for sidewalk use. The replaceable HD nylon bristles are durable, yet are gentle on the ground below.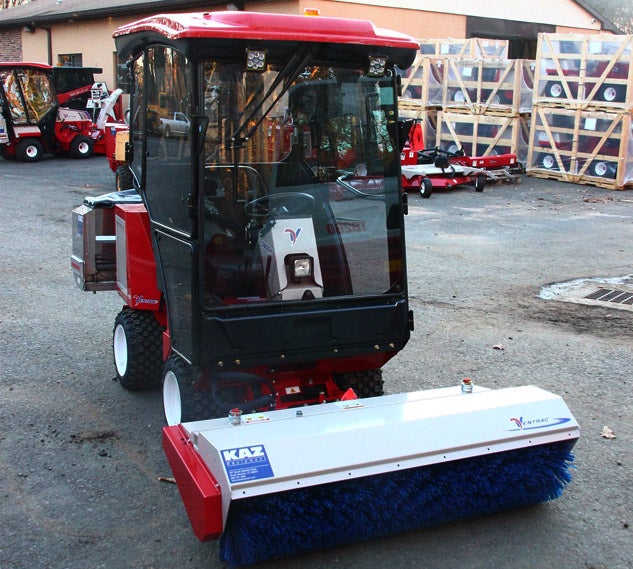 The second 3400Y was equipped with Ventrac's SA250 drop spreader, which is a highly efficient system for dispensing materials such as sand or salt. Using all-stainless steel construction, a chevron roller that pinches product for consistent flow, and an agitation system to keep product from bridging in the hopper, the SA250 has five drop settings (plus reverse for unjamming) and can be run at speeds of up to 10 mph. Filling the 200 lb hopper and matching the flow rate to ground speed using the easy remote, a commercial concern can expect to cover three miles of sidewalk before refilling the hopper.
3400 Series machines measure 76" long by 72" to the top of cab and are 40-1/2" wide. Running on all terrain (18x11-10) or turf tires (18x10.5-10), ground clearance is 4-1/2". While Ventrac tractors excel in the commercial, landscape, and construction marketplace, they are also good fits for estates or homeowners with above average size properties. With an easy to attach/detach system that with a little practice takes less than a minute, over 20 attachments, a commercial warranty of two years (homeowner three years), and slope handling and maneuverability only an articulating machine can offer, a 3400 Series machine just might be that perfect Swiss Army Knife addition to your shed, stable, or garage. For those in the vicinity of South Windsor, Conn., we highly recommend you stop in and meet the friendly and knowledgeable folks at KAZ Equipment.

Buyers Guides
Our Partners