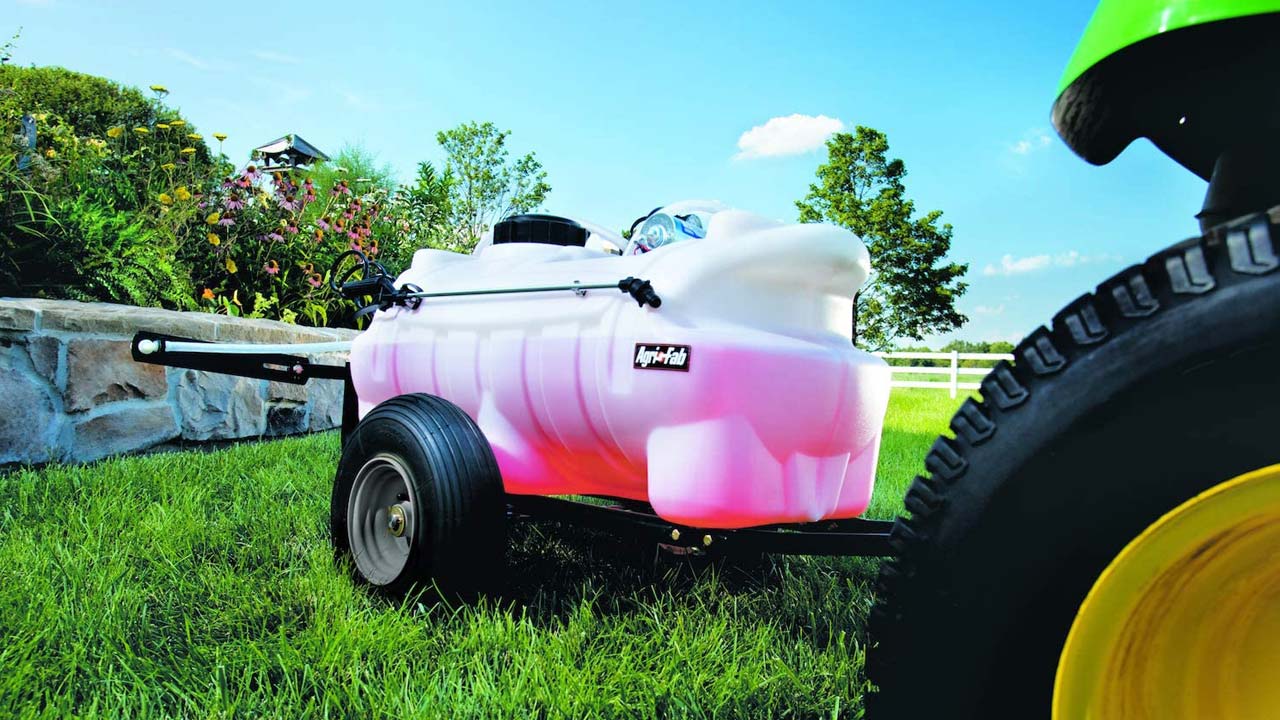 Whether spraying ground sized big or small, producers and home-owners alike need the right tractor sprayer for the job. Tractor sprayers are complete systems designed to generate pressure and spread a variety of liquids across ground. This equipment can vary in nozzle quantities, maximum PSI pressure, and GPM flow rates. Typically associated with either water, insecticides, fertilizer, or pesticides, prices can actually start quite low and move up depending on what features you need.
The most common varieties found on the market range from backpack sprayers and spot sprayers, to ATV and UTV, 3-point hitch types, those with booms, those without, and mist. Factors to consider when selecting a tractor sprayer include the overall area to be targeted, what kind of ground is being targeted, the spray material and its level of toxicity, gallon capacity, and both the frequency of application and the duration of the application process.
Check out our complete spec analysis below of the best tractor sprayer options for home-owners and producers across a broad spectrum. Key points to consider in addition to price include tank capacity and materials involved.
1. NorthStar Tow-Behind Trailer Boom Broadcast and Spot Sprayer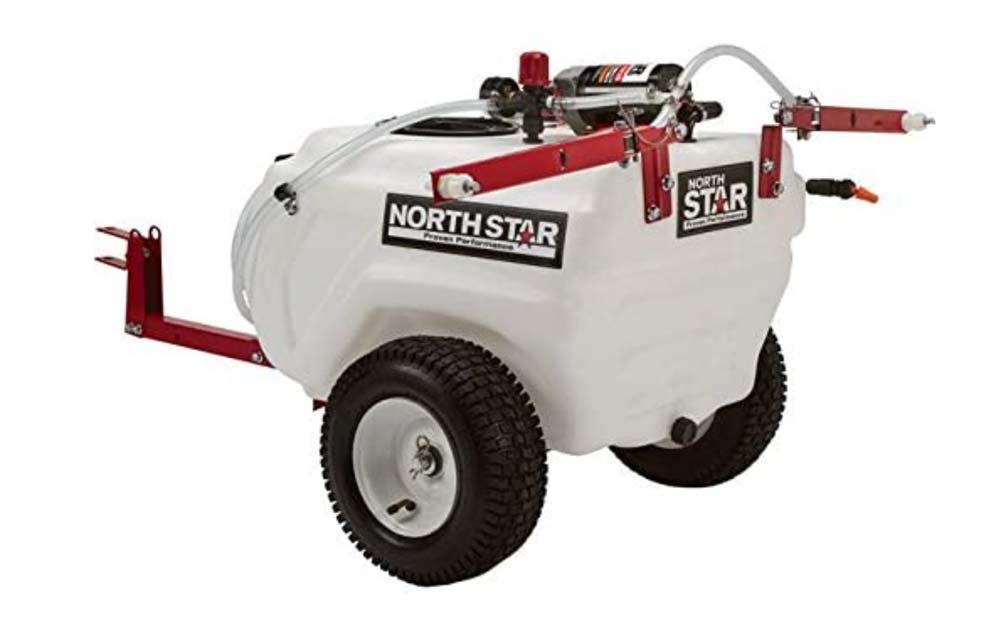 A 21-gallon sprayer, with 2.2 GMP (Gallon Per Minute) and a 12-volt DC battery, the NorthStar unit offers an open flow design as part of its NSQ series, with an on-demand pump. Rated at 100% continuous duty, the sprayer has a 70 PSI max, and is built with a Honeywell micro switch for efficiency. The spot spray gun nozzle adjusts from cone to stream and shoots 19 feet vertically, and 30 feet horizontally. The large capacity tank features extra thick, UV-resistant walls and is compatible with most commercial pesticides. The Santoprene diaphragm and Viton valves offer chemical resistance. Included in the purchase is a tow-behind trailer boom broadcast and spot sprayer, as well as a remote switch. Built to handle 10-foot swaths of ground and attach to ATVs or lawn tractors, making it good for driveways, gardens, and smaller operations.
Check Price
2. Fimco LG-65-BL-UTV Boomless Sprayer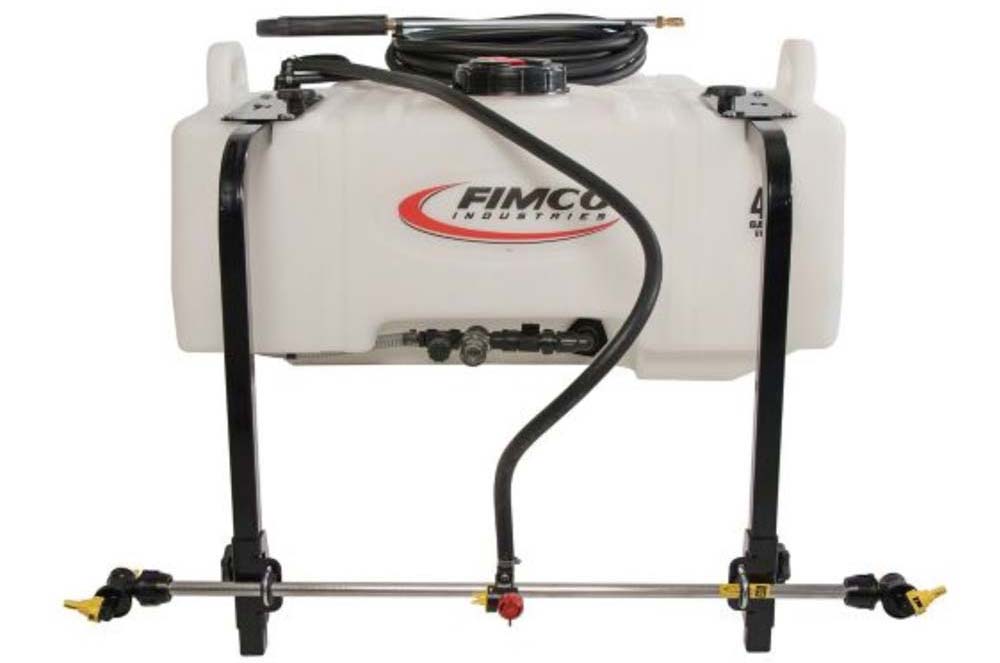 A 65-gallon boomless sprayer that provides up to 50 feet of spray diameter, the 3-point unit features a quick-connect fitting, built-in ball valves, and a pressure gauge port. The Fimco unit offers a 4.5 GMP with 60 PSI and an automatic demand diaphragm pump at 12-volt. The tractor sprayer is designed to deliver a pattern up to 40 feet horizontally and 28 feet vertically. The polyethylene tank works with most commercial sprays. Product weight is 72 pounds, length at 47 inches, width of 35 inches, and height of 19 inches. Built to handle small to mid-size farms at 100 acres-plus at a time, the unit fits into the back of an ATV and is compatible with most tractor systems.
Check Price
3. Guide Gear ATV Broadcast Spot Sprayer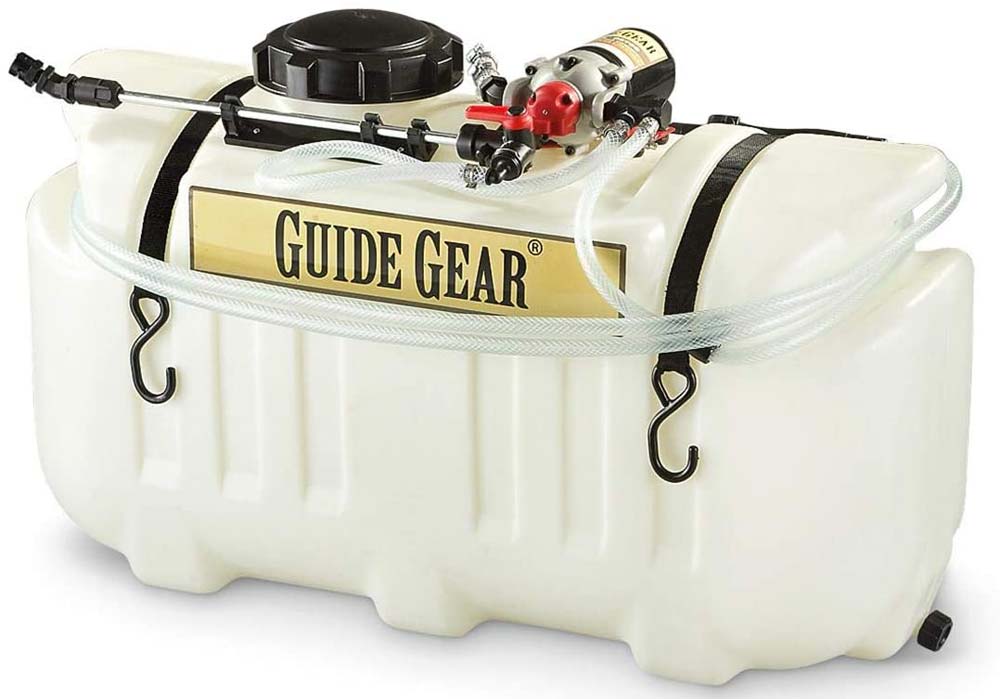 A 26-gallon tank tractor sprayer, the Guide Gear ATV Broadcast Spot Sprayer features 2.2 GPM and works off a 12-volt battery. Ideal for large gardens or fruit and vegetable operations, the unit is designed to work with an ATV and has a spray gun nozzle capable of firing 30 feet horizontally, 19 feet vertically, with a PSI of 70. A 26-pound unit, the Guide Gear sprayer is constructed of extra-thick walls and features a UV-resistant polymer, and a bottom tank drain for easy emptying. The sprayer itself is 34.5 inches by 14.75 inches by 21 inches in total size.
Check Price
4. John Deere 25-gallon Mounted Sprayer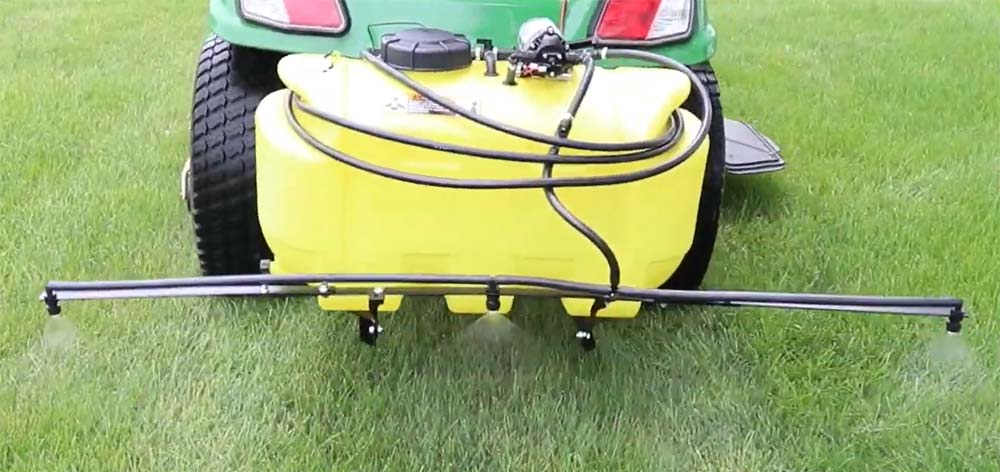 This John Deere 25-gallon, tractor-mounted sprayer is compatible with all tractors previously equipped with the Click-n-Go brackets. John Deere lawn tractors in the Series 400s, 500s, and all X700s most likely qualify. The adjustable brass spray wand tip streams up to 30 feet. With a 60-foot folding boom that sprays a 90-foot swatch, it brings a 19-foot hose. The 100 PSI diaphragm-type pump is built for high-hour commercial applications. Measuring 22 inches, by 22 inches, by 22 inches, the sprayer weighs 35 pounds.
Check Price
5. Agri-Fab 45-0292 15-Gallon Professional Tow Sprayer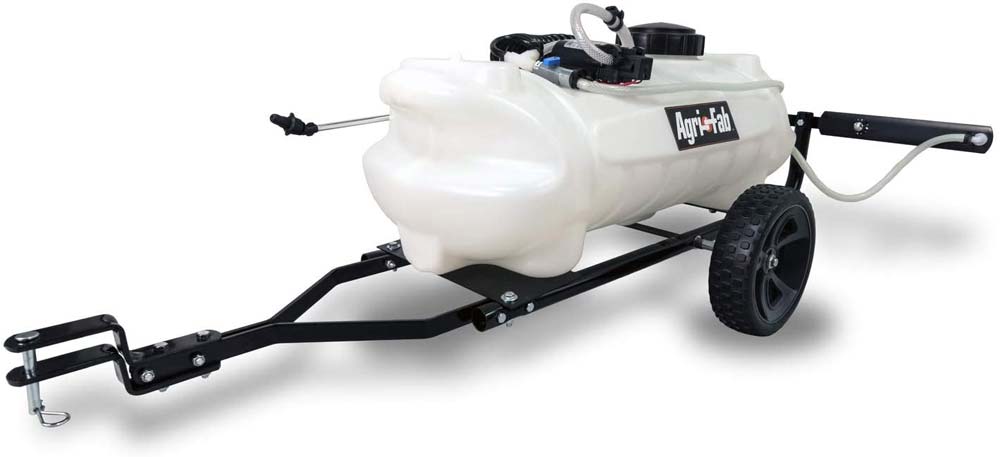 The Agri-Fab sprayer brings a 15-gallon tank in a towable in design. A 12-volt battery connects easily to the vehicle's electric source, and the unit offers a 7-foot spray coverage when its booms are extended. The tractor sprayer's 15-foot hand-held spray hose with attached wand sprays up to 30 feet, with a two-tip sprayer boom covering up to 80 inches in spread width. Purchase includes the towable steel cart that rides on 10-inch flat wheels and an easily connectable universal hitch for the vehicle's electric source.
Check Price
Irrespective of the type of tractor sprayer being used, proper safety practices and procedures should always be employed. Be sure to read all applicable manuals and instructions before assembling. Particularly when any type of chemical is being used, make sure to wear proper clothing, perhaps rubber gloves and a mask. Most tractor sprayers are used to spread pesticides, herbicides, insecticides, or fertilizers, all of which can be harmful to human and animals alike.
Too little pesticide results in failure, while too much damages the organisms involved. Both are a waste of money, time, and can result in pollution or perhaps even death. Make sure to properly identify the target in question and select the correct chemical. Local extension offices can be great resources to this regard. As a rule, seek out the least toxic chemical necessary, and then aim for the best weather possible. Wind and rain are enemies of chemical application. Finally, proper calibration of the equipment is a must when dealing with sprays.
We are committed to finding, researching, and recommending the best products. We earn commissions from purchases you make using the retail links in our product reviews. Learn more about how this works.