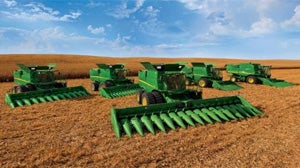 John Deere has completed the public unveiling of its new ag equipment for 2012 as part of what the manufacturer is calling the largest, most significant product introduction in the company's 174-year history.
John Deere boasts significant improvements in power, comfort, and performance are the hallmarks of the new machines including the S-Series Combines with larger corn heads and platforms; high-horsepower 4WD and track 9R/9RT Tractors; 6R Series row-crop tractors and 5 Series utility and specialty tractors.
According to Barry Nelson, manager of media relations for John Deere Ag and Turf Division, these products greatly extend the company's broad portfolio of equipment products for use in all types of farming, livestock and specialty crop operations, as well as for commercial and property maintenance businesses.
"Across the board, we've increased the power and added many features to our new equipment that will make customers even more productive, wherever these machines are used," says Nelson. "This is the strongest lineup of new ag products ever from John Deere."
In addition to new John Deere combines, headers and tractors, the company recently introduced its new 7R Series Tractors for the row-crop market; its largest, most advanced self-propelled 4940 Sprayer with 1,200-gal. solution tank, 120-ft. booms, and advanced loading and application technologies; and revolutionary Triple-Mounted Mower-Conditioner that cuts a swath more than 28 feet wide.
"These are the most innovative, technologically integrated and productive farm machines we've ever designed," says Nelson. "Plus, all John Deere products are built for years of reliable, dependable service and backed by our extensive dealer network for professional in-field service and maintenance."