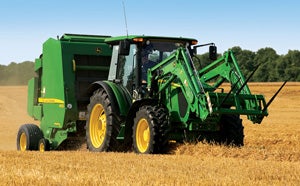 John Deere's 5 Series Utility Tractors have been given a redesign for the 2012 model year.
With more horsepower options ranging from 65 to 115, John Deere says its 5M Series models and 5E Limited Series Tractors can handle a wider variety of attachments and jobs for customers in the farming, equine, livestock, specialty crop production, property maintenance and landscape business segments.
The 5E Limited Tractors include the 5083E Limited with 83 engine horsepower; 5093E Limited with 93 engine horsepower; and the 5101E Limited with 101 engine horsepower. Changes to the new 5E Limited Series start with a new cab designed with easier-to-reach hitch, hydraulic and PTO controls on the right side and a cleaner, more comfortable cab with an optional push-button air-suspension seat for a better ride.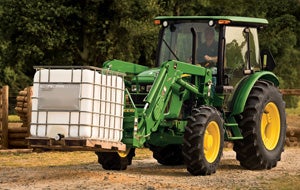 The 5E Limited Tractors also come standard with a MFWD engagement feature that activates two- or four-wheel drive with the shift of a lever and a new MFWD indicator light; new hydraulic system with optional triple deluxe SCV stack that can handle more demanding attachments; and the popular Economy PTO setting that saves fuel and engine wear and reduces noise and emissions when operating PTO-driven equipment.
"In addition to the cab, we've redesigned the transmissions and added oil-cooled, self-adjusting wet traction and PTO clutches that aren't typically found on other utility tractors," says Matt Blaylock, John Deere product marketing manager for 5 Series Tractors. "These highly durable and reliable utility tractors now have more heavy-duty components, as well as increased hydraulic functionality, comfort and convenience options to help customers use them in a wide variety of applications.
"These 5E Limited Tractors provide customers with the high levels of comfort and performance they deserve at an affordable price."
For the expanded 5M Series lineup, John Deere has updated the three highest horsepower models: the 5085M with 85 engine horsepower; the 5100M with 100 engine horsepower; and the 115 horsepower model 5115M, the most powerful 5 Series Tractor available. These tractors join the existing 5M models that include the 5065M and the 5075M, but offer customers significant improvements in power, hitch-lift capacity, and comfort and configuration options.
New features of these 85 to 115 horsepower 5M models include a five-inch longer wheelbase; 25 percent increased lift capacity; electronic engine control with common rail fuel injection for smoother, more efficient power across all RPM ranges; increased fuel capacity; and Economy PTO. In addition, John Deere offers a new Deluxe Cab option that includes Bluetooth and satellite radio connectivity and auxiliary audio inputs; visibility-improving cornerpost exhaust stack; loader window; brighter instrumentation and easier-to-access controls.
"The 5M Deluxe Cab is designed to keep customers in touch with the rest of the world, such as allowing them to make hands-free phone calls or listen to news or music on satellite radio, while working in their tractors," says Blaylock. "This cab is for those people who don't want to settle for less than the premium comfort features like those found in many automobiles today."
Like the new E Limited Series, the 5M Tractors have updated heavy-duty transmissions with increased synchronization in the ranges for easier shifting and self-adjusting, oil-cooled wet traction and PTO clutches for smoother operation and extended service life. All five 5M Series models are available in two-wheel or four-wheel drive; with open station or Deluxe Cab; and with different transmission offerings and many other optional features.
The 5M Tractors also come in specialty models such as a high-crop tractor (5100MH) with 24 inches of crop clearance and a low-profile (5115ML) configuration that's less than 70 inches tall with folded ROPS.
"The 5100MH and 5115ML are specifically designed to meet the needs of producers of specialty crops like vegetables, fruit and tree nuts, straight from our factory in Augusta, Georgia," says Blaylock.
He notes that John Deere loaders and Frontier attachments are an integrated solution to help customers get more work done more efficiently with their 5M or 5E-Limited Tractors.
"Take our loader window, for example, which was designed into the tractor cab along with our John Deere loaders to provide optimal visibility to the operator when using the loaders," says Blaylock.
The new John Deere 5E Limited Utility Tractors will be available at your local John Deere dealer later this fall and the 5M Series will be available early in 2012.