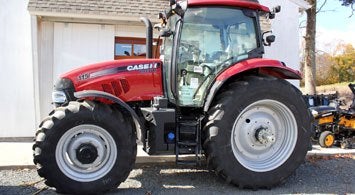 The Case IH Maxxum lineup consists of six models; the 4.5L 4-cylinder 110, 120 and 130 and the 6.7L 6-cylinder 115, 125 and 140. Consistent with the numbering system used, gross horsepower ratings range from 110 to 140. During a chance late fall road trip that took us into rural Connecticut, we stopped by Woodbury Tractor in Litchfield. To our delight, we found a newly arrived Maxxum 115 parked out front.

Owner Robert Wolff hadn't yet arrived so we took a few minutes to bone up on Maxxum 115 specifications, which are impressive. Beginning with the 6.7L powerplant developed through a partnership with FPT Industrial that achieve EPA Final Tier 4 (FT4) using a range of advanced technologies such as Selective Catalyst Reduction (SCR), cross flow aspiration/turbocharging, and high-pressure common rail injection, these quiet, efficient engines have plenty of torque in reserve for when that job gets just a little tougher.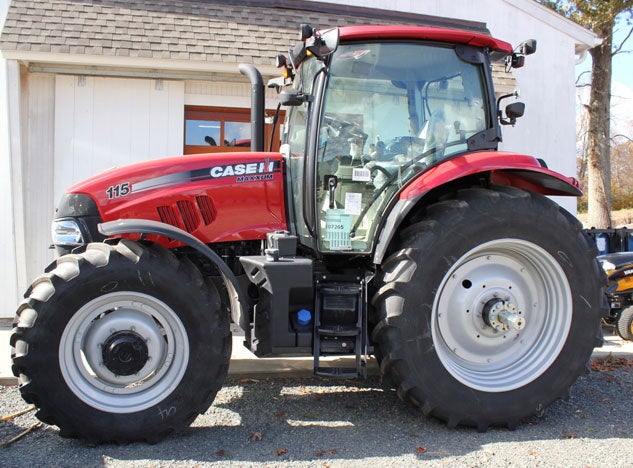 In the case of the Maxxum 115, the engine is rated at 116 gross horsepower at 2200 rpm with a few more ponies (127) at 1900 rpm. And Engine Power Boost available during mobile PTO and transport operation can add up to 25 additional horsepower. Power take off (PTO) horsepower is 95 and for transport and hydraulic work occurs at 2200 rpm (2100 rpm for PTO work and low gear ranges).
COMPARISON: Read our review of the Case IH Farmall 120A 4WD Open Station
Our test tractor was equipped with the optional 17F x 16R 25 MPH semi Powershift transmission. Standard is a 24F x 24R Hi/Low Powershift transmission, while there is also an optional 16F x 16R 25 mph Semi Powershift transmission with a 528 feet per hour minimum target speed creeper. Controlled by a joystick throttle (a foot throttle is also standard) with a thumb switch for gear +/-, a second lever to the right for range selection and a left hand shuttle stalk at ten o'clock, near infinite control over tractor speed is easily achieved. PTO output is switchable 540/1000 using a reversible 1-38" shaft.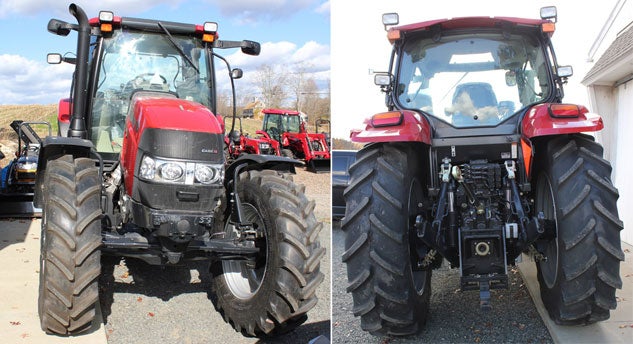 Hydraulics run through a fixed displacement pressure flow compensating system that allocates 18.7 gpm to the main implement pump and 10.5 gpm to the power steering/secondary pump (29.2 gpm total). Not surprisingly, the Cat II three-point hitch (3PH) has a lift capacity of 6,200 lbs with 80mm and 6,900 lbs with 90mm cylinders. Select the Multicontroller option and hydraulics get a bump to 26.5 gpm main and 17.1 gpm power steering/secondary pump. 3PH lift capacity goes up to 6,900 lbs with 80mm and 7,700 lbs with 90mm cylinders. In standard configuration two mechanical rear remotes are standard with three or four optional. Multicontroller outfitted tractors get three rear electro-hydraulics valves as standard with an optional max to go to four. Our test tractor came with a unique control set up. Instead of three levers controlling the three rear remotes, there was only one lever. When questioned, Robert Wolf explained that the joystick normally used to control a loader (our test tractor did not have one installed) controlled the second and third rear remotes.
Inside the cab, the operator platform is uncluttered, spacious and offers great visibility (over 63 square feet of glass). And though our test tractor wasn't outfitted with the bevy of switches required by the Multicontroller option, base electronics are plenty and positioned within easy ergonomic range.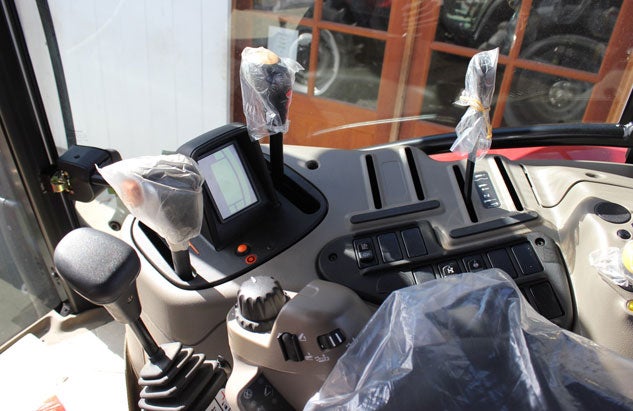 On the right console are the abovementioned joystick throttle and range selector, LCD readout for transmission status, controls for the 3PH which includes position and draft control, 2WD/4WD engagement, PTO engagement, and the single rear remote lever. The loader joystick, piped to control the two other rear remotes, can be adjusted/moved to fit operator preference. And for operators familiar with Steiger, Puma and Magnum tractors, the Maxxum control setup is laid out in the same manner.
COMPARISON: Read our review of the New Holland T6.140
The dashboard is all business; a left mounted tachometer, fuel and temperature to the right, digital readouts for functions such as MPH, and indicator lights for other functions and warnings. Below the abovementioned 10 o'clock shuttle stalk is a stalk with horn and light functions and on the other side of the steering wheel is another with wiper/washer controls. Pedals are suspended from the cowl, with the clutch left, split brakes in the middle and the foot throttle on the right. Another nice addition to the cabin is the front skylight that opens for ventilation, has a pullover screen to block the sun and adds improved visibility at high lift time such as when dumping a bucket load into a tall trailer.
And while we're talking about adjustability for operator preference, the operator's air seat gets high marks in all areas. Operator weight, fore/aft location, height, seatback rake, armrest height are all adjustable while the seat swivels for comfort and visibility. Even the trainer seat, though lacking the adjustability, is a comfortable place to spend long hours, thanks in part to the ride buffered by the optional cab suspension and its construction. Both doors extend to the rear ROPS post for easy access from either side and both are fully glassed for excellent visibility.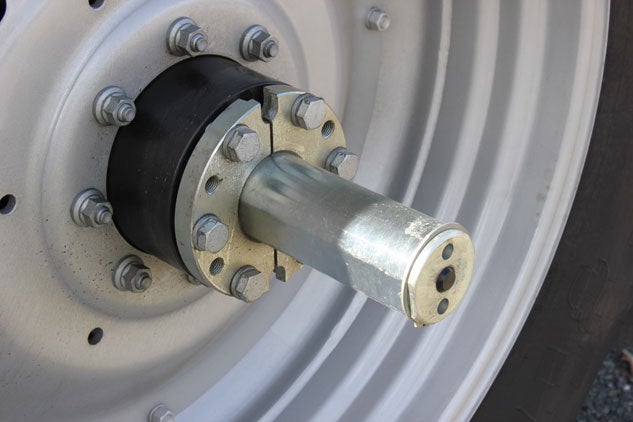 Our test tractor was outfitted with the optional 3-5/8" x 98" bar axle (standard equipment is a flange axle), which adds versatility but the added width of the Ben-Hur hubs requires caution around posts and doors. Standard at the front is a Class 3 non-suspended axle with a Class 4 non-suspended option. Multicontroller optioned tractors get the Class 4 non-suspended axle as standard equipment with a Class 4 suspended option.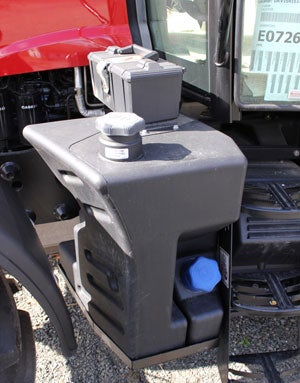 On the ground, the service points (such as the engine oil dipstick and transmission fluid levels) are all easily accessible, as is access to the combination 60-gallon fuel/9.7-gallon diesel exhaust fluid (DEF) tanks, which include a convenient toolbox mounted on top. Riding on Firestone 460/85R42 rear R1 Ag and 380/85R30 front R1 Ag tires, the 12,500 lb. Maxxum 115 has a 103.4" wheelbase. At the rear, we were impressed at the heftiness of the componentry and are sure features such as flow control at the rear of the tractor and 3PH/PTO switches built into the fenders will be appreciated.
So, how does it all work? Quite well. Firing up the 6.7L powerplant on a chilly 50-degree day and our dBA meter registered 72.8, settling down to 70.2 a few minutes later when everything warmed up. Pulling out onto Main Street North and getting up to transport speed, the highest reading even momentarily never went higher than 107 dBA and never was the road noise loud enough to cause two to converse in anything other than normal talking levels. Shift functions with the +/- thumb switches are silky smooth and the shift from 9F to 10F is the only time the second range needs to be shifted – and vice versa. Turning radius is excellent with the redesigned hood; its sculpted sides allow the tires to turn so sharp front fender-equipped tractors will need proper dealer adjustment and alignment.
COMPARISON: Read our review of the John Deere 6125R
With an MSRP beginning around $87,550, FT4 power and efficiency and options to fit every farm, ranch or municipality's requirements, if you're in the market for a 115-horsepower row-crop tractor, check out the Maxxum 115. And if you're in the vicinity of Litchfield, CT, check out the customer service-driven Woodbury Tractor team. You'll be impressed.