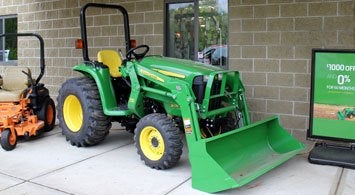 The John Deere 3000 Series lineup consists of six models, beginning with the 3005 tractor – which delivers time-tested performance to those who don't mind or prefer a manual-gear transmission – and is capped off by the super nice 3720 – which we tested outfitted in cab flavor last February. In between are the 3032E and the 3038E we tested.

Powering the 3038E is a 37.1-horsepower Yanmar 3TNV84T three-cylinder diesel that through the modern technologies of turbocharging and direct injection sends 30 horsepower to the power take off (PTO). With deep torque reserves (the 3TNV84T is rated at 62.7 foot pounds) and a two-speed hydrostatic transmission powered by a Sauer-Danfoss pump and motor, this is a combination that screams "put me to work."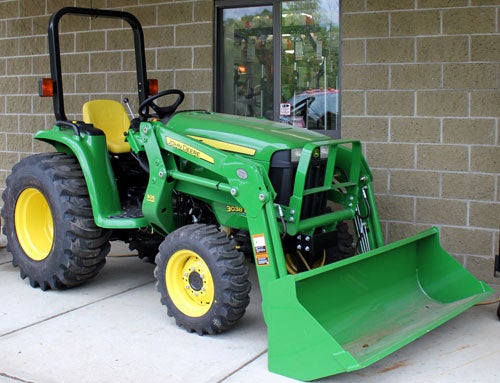 Climbing into the driver's seat, the 3038E has an uncluttered platform with color coded levers and controls that Deere engineers have clearly designed and placed with ergonomics in mind. Control over the hydrostat is through a twin side-by-side pedal arrangement that gets universal praise by our testers. Modulation is refined and intuitive – this tractor just goes where you point it to. Tight quarters? No problem, the controls almost read your mind. The foot brake is located on the left side so nudging into tight areas or making that brake-aided tight turn are easily accomplished. Differential lock is incorporated into the brake pedal (you just push the pedal half way down) and can be engaged on the go.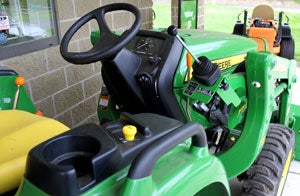 Power steering is standard and with 4.0 gpm from a separate pump flowing to this function is never taxed, even in the most demanding of conditions. The PTO is fully independent and is actuated by a conveniently placed push/pull button on the right fender consol. On the same consol was a switch for the optional cruise control our test tractor was equipped with, along with a cup holder. The seat is a mid-back style that makes it easy to turn and view implements, yet still provides good support. Adjustment is fore and aft, and the suspension – though lacking weight adjustment – is quite acceptable. The seatbelt is of a retractable design and a critical component of the rollover protection system (ROPS) which is fixed but engineered to clear standard 7' high garage doors yet provide sufficient protection. Dominating the dashboard is a large analog tachometer with a mark at 2500 rpm indicating PTO rpm (540) has been reached. Indicator lights for low oil pressure, battery, PTO, parking brake and signal/hazard surround the tachometer, along with an LCD hour meter.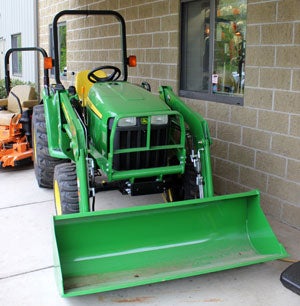 Our test tractor was equipped with the model 305 loader, which is a non-removable design. Rated to lift 1168 lbs to full lift height, the 305 is engineered so that the forward boom legs are close to the tractor front, making the footprint smaller and taking up less space as well as allowing the extra lift capacity. And the bucket is of a quick-tach design, requiring less than a minute to remove or reinstall and needing no tools. The base 3038E does not come with a selective control valve (SCV) so the loader joystick control is built into the loader stanchion – not our favorite location from a styling standpoint, but still functional and ergonomically acceptable. Hydraulic flow to implement functions is 5.3 gpm, bringing the total output from the two pumps to 9.3 gpm.
The three-point hitch (3PH) is full Category 1 and rated to lift 1356 lbs at the industry standard 24" behind link arms. Position control is standard, which anyone operating implements such as a box blade or rotary cutter is sure to appreciate. And the optional two-spool remote kit our test tractor was equipped with, which operates independently of the loader joystick, is perfect for a top and tilt hydraulic top link or to control hydraulic scarifiers on a so-equipped box blade or even a hydraulic chute on a rear-mounted snowblower. The dealer we spoke with said the remote can be easily installed in about an hour and a half, so this is an option that can be added after the initial tractor purchase. Another sure-to-be-appreciated feature of this remote is float on the first spool. Nice. Stabilizers are of a turnbuckle design but are conveniently located outside the lower links. Another option that our test tractor did not have is a drawbar, which when ordered comes with an 882 lb. capacity.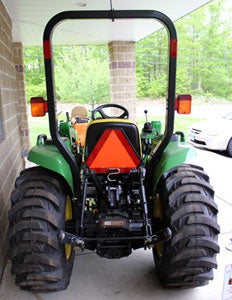 Walking around the 3038E we noticed several not-economy-minded design features that are sure to be appreciated by owners: the hood is durable plastic to resist damage from the inevitable stick or rock that falls out of the loader bucket yet will rattle less than a metal hood will as the years go by; the steering tie rods are positioned behind the front axle in a protected manner so they won't snag; the engine dipstick can be accessed without removing the tool-free side panels; the transmission dipstick and fill point are also easily accessible; the twin 55 watt halogen headlamps provide good nighttime illumination; and should you absentmindedly run out of fuel, the injectors are self-bleeding.
So what are the areas where cost cutting makes the 3038E an "economy" model? For one, the loader isn't removable – or at least easily so. The transmission is a 2-range hydro instead of the 3-range units in the 3×20 tractors. There is no mid PTO option, so if the 3038E is to be used to cut grass, then it will be with a rear-mounted rotary cutter. There is also no Deere backhoe available, though the aftermarket is sure to develop models soon. And the fuel gauge isn't electronic and dash mounted, instead being of a mechanical indicator design mounted on the hood. The non-foldable ROPS might also be a place where cost cutting could be a problem – if you're considering the 3038E, you'd better make sure your garage or shed clears 82.9" (tractors equipped with R3 industrial tires) or 83.3" (tractors with R1 Ag tires). Lastly, if you like the finished look of the 3×20 hydro pedals and under the seat, the 3038E doesn't have that deluxe appearance.
The 3038E is fully compatible with John Deere's iMatch hitch system, including the newest iMatch auto hitch where even the PTO shaft connects by just backing into place. With a three-year, 2000-hour warranty and a tractor-loader MSRP just over $17,000, the 3038E just might be that economy tractor your property could really use. Check it out. We think you'll be glad you did.
Related Reading
2012 John Deere 3720 HST Cab Tractor Review
2011 John Deere 2305 4WD Compact Tractor Review
2012 Kubota Grand L4240 HST Tractor Review
2011 New Holland Boomer 3045 Cab Tractor Review