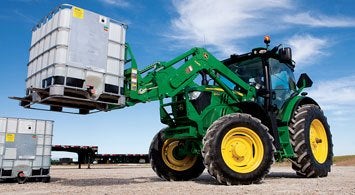 While the numbering for the John Deere 6 Series Utility Tractors (UT) can at first be a bit confusing with its series-within-series designations, 6030, 6M, 6D and 6R, one thing that isn't confusing is power – lots of it. With more than 14 models ranging from 95 to 210 horsepower, 2WD or 4WD, cab or open station, high-capacity loaders, Premium models that can even have heated seats and max payloads up to 28,660 lbs, there is a model for every conceivable need.

We originally were encouraged by BCS Thinktank, John Deere's communication arm, to review the all-new 6030 Series Premium tractors, but when we came across a brand-new "pretty well equipped" shiny green 6125R at a local dealer, we decided to make it the subject of this week's review. You can expect those 6030 reviews in the coming weeks.
6R tractors are available in eight configurations ranging from 105 to 210 horsepower. John Deere markets the R suffix machines as Ready – with the ready meaning ready to tackle heavy-duty tasks such as lifting silage bales, pulling loaded planters and drills, rotary cutting, drive maintenance, and municipal duties like roadside mowing, salt spreading and snow removal.
6125Rs come with John Deere PowerTech PVX engines that are EPA Tier IVi compliant, can run on B20 biodiesel and have Intelligent Power Management (IPM) adding an additional 20 engine horsepower when needed (125+20). These 4.5L powerplants use high-pressure common-rail injection, variable geometry turbocharging, air-to-air aftercooling and cooled exhaust gas recirculation (EGR) to deliver 102 power take off (PTO) horsepower at 2100 rpm.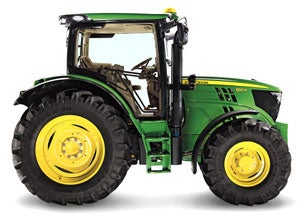 Power from the PowerTech PVX can be sent through several transmission choices and options. A 24-speed AutoQuad PLUS ECO transmission is standard and comes with a 26 mph top speed (a 16-speed AutoQuad PLUS transmission is a deduct option). AutoQuad transmissions have four power shiftable gears within each range and a de-clutch button that allows range changes without having to use the foot clutch. Require more transport speed? A 31 mph option for the 24-speed is available, but requires the addition of a Triple Link Suspension (TLS) with brakes (more on this later on).
One of the latest technologies making tractor news is the IVT (infinitely variable transmission). Our test tractor was equipped with this option that makes the most of the available power using a single lever control (IVT transmissions can be equipped with the 31 mph option). Like the ease of use of the IVT but the efficiency and simplicity of an all-mechanical drive? John Deere offers a DirectDrive option that uses a single lever to +/- manually shift through the eight gears in each range. Ranges are selected using three push buttons. If the operator so selects, the Automatic position leaves the gear selection to the electronic gods (range selection still requires manual input). Directional control is through a left-hand PowrReverser lever that functions in an "H" pattern. Keep the lever to the right side of the "H" and forward and reverse are selected by moving the lever forward or backward. Position the lever to the left of the "H" and the forward position selects Neutral and the rearward position Park.
The 6125R comes with a closed-center pressure and flow compensated hydraulic system. Using two 450 series mechanical selective control valves (SCVs) and with options up to four 450 series electronic SCVs, the standard 45cc pumps flow 26.4 gpm at 2900 psi. If that isn't enough, check off the 60cc pump option and get flows up to 30.1 gpm. The Cat 2/3N three-point hitch (3PH) is rated to lift 6,475 lbs in standard configuration (8,475 lbs optional) and has electrohydraulic sensing for improved ride stability. Drawbar capacity is dependant on position selected but ranges from 3,085 to 5,400 lbs. The independent PTO uses a 1-3/8" shaft and in standard configuration offers 540 and 1000 rpm using a reversible shaft. A 540/540E/1000 or 540E/1000/1000E economy option is available. Engagement is through the touch of a button.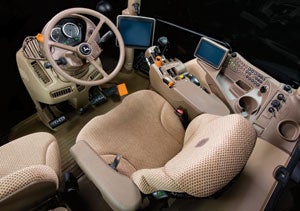 As mentioned earlier, our test tractor was a "pretty well equipped" model and to cover just the cab, controls and electronics would fill many web pages. We'll cover the main features of note here, adding that if you purchase 6125R, plan on a few late nights reading the epic novel-sized owner's manual.
John Deere's ComfortView cab is among the nicest in the business and offers plenty of room to stretch out in. It comes with an adaptive hydraulic suspension that automatically levels when load changes or braking forces are sensed. The operator can select three ride comfort levels: Soft – Medium – Max. Inside the cab, controls for tractor functions are separated into three categories with different colors for each. Motion (throttle and transmission) controls are all orange. MFWD and hydraulics (hitch and SCVs) are all black. PTO engagement is yellow.
The seat in our test tractor was the optional air ride model with automatic weight adjustment, adjustable armrests, electric height adjustment, adjustable ride firmness, electric lumbar adjustment, +/- 15-degree swivel, adjustable backrest and extendable headrest. Wow, it is nice! The right-hand CommandArm puts most used functions at the operator's fingertips and depending on the type of SCVs selected – mechanical valves get lever controls and electronic valves get fingertip paddle pods – leaves plenty of room for the hand throttle, transmission controls, MFWD, 3PH position, draft and load controls, SCV, and PTO. Clutch, brake and foot throttle pedals are all suspended and give the operator additional legroom and the steering wheel tilts and telescopes for that perfect position.
If the PremiumPlus package is selected, the cab comes with electrically adjustable outside mirrors (they also have built in defrosters to shed off ice and snow), automatic climate control over the HVAC system, front and rear wipers and washers, a bottle holder, electric SCVs and a roller blind. Air from the climate control system gets routed through the ROPS posts and the fans are housed below the cab floor for quiet operation. Expect a cab this luxurious to have Bluetooth compatibility built in? You bet. The mic is located in the cab roof and when a call comes in, the system automatically mutes the radio or CD until the call is completed. PremiumPlus package also adds a 7″ LCD touch screen for CommandCenter functions.
The CommandCenter is the central information center of the 6125R. It allows the operator to program settings and tailor the readout to his or her specific needs. The right-side readout is programmable with shortcut keys and the left can be tailored to monitor up to three functions. Fuel use/hour, fuel use/area covered, distance traveled, area covered or traveled, slip percentage (requires optional radar sensor) and area covered/hour are just some of the functions covered by the CommandCenter. Maintenance history and system status are also monitored. The CommandCenter is also camera compatible.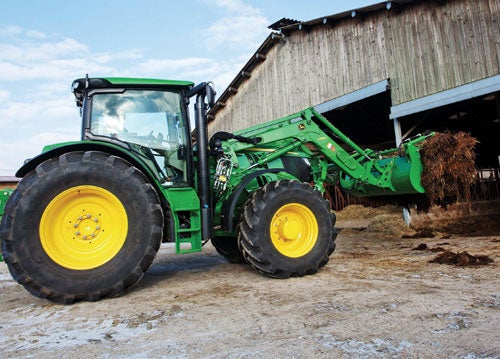 Our test tractor was equipped with a H340 loader (replaces the 673) with a Return-to-Position option that allows the operator to set two boom and bucket positions so a fork, bucket or spear will return the same position time after time. The CommandCenter screen shows the loader position graphically, and in true form is displayed in green. Hydraulic hookup is easy, using a single-point connection that also incorporates electric fittings and produces virtually no oil loss when attaching or detaching the loader. Stands are built in to park the loader when not needed. Lift capacity of the H340 is 5,201 lbs to a max height of 162″. Dump clearance is 154″ with the bucket level and 121″ with it in full dump position. Response times are quite fast, with full raise taking 3.7 seconds, full lower 2.5, full dump 2.2 and full curl 1.5. Our test tractor was also equipped with the optional panoramic roof with its fixed skylight offering a better view over that 154″ lift height.
Taking the 6125R out into the field, we found the IVT functioned as touted and the ride quality was pretty lush for an 11,990 lb. tractor. The hydrostatic power steering operated effortlessly and the load-sensing feature kept that effort from creeping up with even a full bucket of gravel. Brake modulation was confidence inspiring, with the extra discs in the TLS (triple link suspension) option required by the 31 mph package doing most of the work. The TLS allows the front axle to travel +/- 50 mm and operates in three modes: Auto, Max and Manual.
A nifty feature of the IVT is the ability to sense load changes and react to them in a variety of user-selectable ways. In setting 0, electronic management is disabled. If setting 1 is selected, the PTO gets priority, maintaining 540/1000 PTO rpm at 1950 engine rpm. If an increase in load is sensed, the PTO gets more power to the point where the CVT will slow ground speed as necessary to maintain PTO rpm. Setting 2 is perfect for heavy draft or tilling applications where the PTO isn't used. Priority goes to maintaining ground speed at a reduced rpm for efficiency and fuel savings. Setting 3 is for transport or light usage and allows the engine rpm to drop to 1700 rpm while still maintaining the 31 mph transport speed.
Options our test tractor did not have? Xenon headlamps – though the HB3 halogens (high/low at the hood and single setting at the hood sides and cab roof) provided plenty of illumination in the early evening light; iTEC electronics which among other abilities reduces operator fatigue through the automatic sequencing of tractor functions associated with headland turns; right-hand panorama door; GreenStar 3 GPS guidance; Vandal Protection Package which comes with locking engine side shields, hood, transmission oil and fuel caps and high-security door locks that uses a different key than the ignition; and the Field Office package, a suitcase-sized place with enough room for your laptop and important papers. With a flat top, it also serves as a work desk yet is removable at the end of the day.
The 6125R is recommended for all-around farm or municipal work. If the requirements were more row crop associated or if big bale hay making and handling were the primary use, we might be looking more at the 170-horsepower 6170, the 190-horsepower 6190 or the 210-horsepower 6210. If you're looking for a 125 horsepower utility tractor with living room comfort and quiet, the latest electronics and Tier IVi compliance, the 6125R might just have the right combination of advantages for your specific needs.
Related Reading
2013 John Deere 3320 Open Station PowrReverser Review
2012 John Deere 4720 HSTC Review
2012 John Deere 5105M Cab Tractor Review