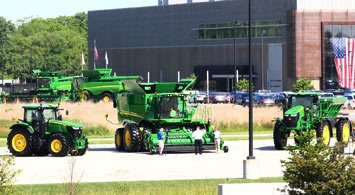 The John Deere New Product Reveal for 2017 was held in Moline, Ill. and began with a networking reception at the corporate headquarters. Our travel itinerary routed through Chicago O'Hare Airport with a drive to Moline on the East-West Tollway. Along the way, farm machinery – tillage and planters were out in force. Not surprisingly, a lot of that equipment was green and yellow. We also noticed a lot of standing water, especially in low-lying field sections, and knew a number of those farmers were in the process of replanting due to excessive rainfall amounts. Farming is a tough business and there is no better illustration of the need to get fields prepped and planted in narrow time windows than the conditions currently being experienced in the Corn Belt.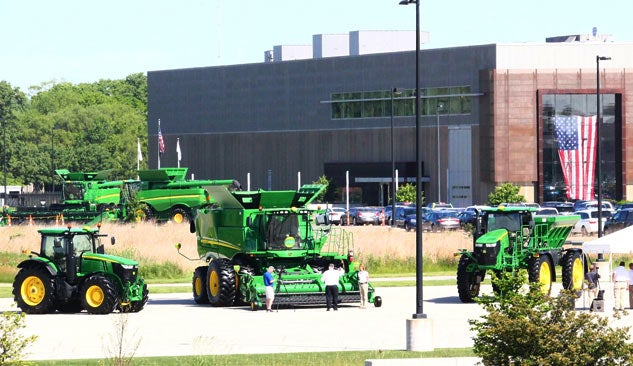 The next morning, after an early start, media congregated at the Harvester Works facility in East Moline, each receiving a media kit, virtual reality (VR) goggles, listening devices, link to the phone-appropriate app store, and a John Deere guest wireless password. After a 30-minute overview, attendees headed out in two groups to stations where product specialists spoke of the latest equipment and technology developments and improvements. With the Corn Belt conditions mentioned above, talk was timely and began with the need to prepare a good seedbed.
2230 Field Cultivator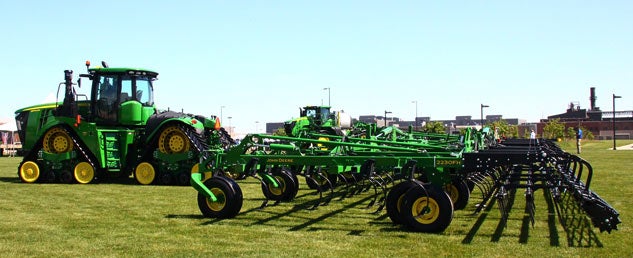 The 2230 Field Cultivator comes in a number of configurations and widths designed to create a level, consistent seedbed ready for the planter or seeder and conducive for uniform crop emergence. In Level-lift (LL) configuration, the three- or five-section cultivator can be ordered in 15 different sizes ranging from 23.5' to 60.5'. In Floating Hitch (FH) configuration, the cultivator can be ordered in 14 different sizes ranging from 25' 6" to 69' 6". TruSet down pressure and depth control (1/10" precision) are operator-controlled from the cab where tillage pass data is also collected. With stubble resistant radial tires, no daily maintenance points, true 6" split-the-middle shank spacing with 200-pound trip force, individual section leveling control, and a working speed of 10 mph, the 2230 is designed for good soil and residue mixing on and below the surface and capable of keeping ahead of that high-speed planter. And for field finish preferences, there are six rear harrow options, all with hydraulically adjustable rolling baskets: three-bar coil-tine with flat rolling basket; three-bar coil-tine with round rolling basket; four-bar spike-tooth with flat rolling basket; four-bar spike-tooth with round rolling basket; five-bar coil-tine; and six-bar spike-tooth. In the widest configuration, the 2230 can cover up to 733 acres/day (10-hr. day).
2330 Mulch Finisher
The 2330 Mulch Finisher comes in nine different sizes ranging from 21' 9" to 56' 3" and through aggressive cutting action has excellent residue handling capabilities. As with 2230 cultivators, on-the-go depth and downforce adjustments are made from the cab with 1/10" precision. True 9" spacing allows for ample residue flow space while minimizing plugging potential. In the widest configuration, the 2330 can cover up to 682 acres/day (10-hr. day). 2230 cultivator and 2330 finishers are available today.
MaxEmerge 5e and ExactEmerge Updates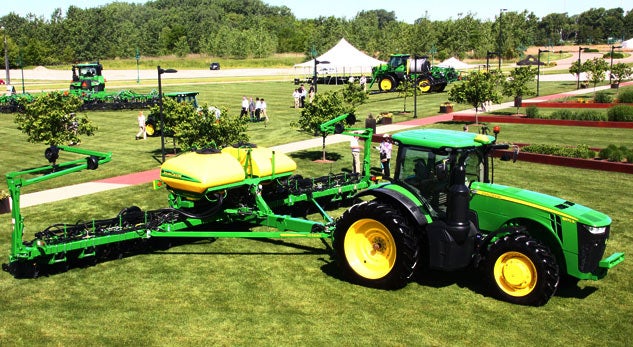 Updates to John Deere planters improve in-cab monitoring, reduce learning/training time, and increase planting productivity. SeedStar 4HP improves on in-cab monitoring by allowing quick manual adjustments all-the-way-to memorizing settings. The touchscreen display monitors functions such as population settings, seed spacing, singulation, gauge wheel downforce, and row cleaner settings. At-a-glance, an operator can view bar charts of multiple planters, detailed row-by-row information, and save settings from one season to the next. On compatible two-point hitch planters, Easy Fold replaces manual frame-folding with automated selective control valve (SCV) control which reduces the time to learn/train folding/unfolding functions. And lastly, for all 2017 MaxEmerge 5e- and ExactEmerge-equipped planters, Mobile Row-Unit Runoff can improve planting productivity by completing diagnostic checks prior and during the planting season, make needed adjustments, validate metering accuracy, and benefit operator from best row-settings for each plant variety. SeedStar 4HP updates can be ordered beginning June 2017 for spring 2018 use.
C850 Air Cart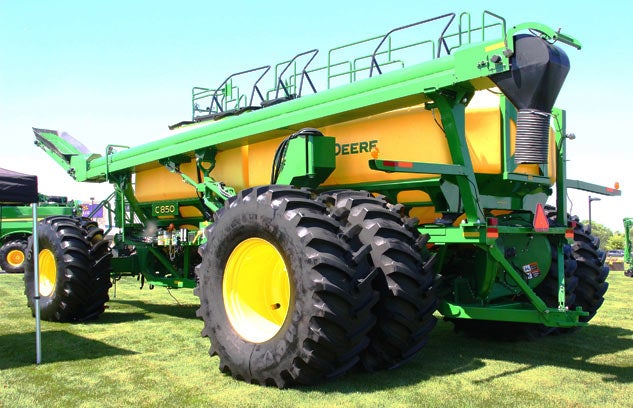 The C850 is John Deere's largest air cart yet. With 850-bushel carrying capacity, small-grain producers (wheat, rye, canola, lentils etc.) can cover up to 170 acres per fill. Four pressurized tanks (50, 260, 130, and 410-bushel) are utilized and all can be quickly filled in less than 10-minutes. Special Mitas 800/75R38 SFT dual rear and 800/70R38 SFT single front tires reduce compaction and improve wet condition performance. Firestone 850/75R42 CFO dual rear and 900/75R32 CFO single front tires are optional. And for improved functionality, calibration has been moved to left side of cart, so an operator doesn't need to climb back and forth to the tractor cab. Two high capacity fans are utilized with the right side fan having a 3/4" hydraulic line and higher capacity for product such as fertilizer while the left fan would be used for seed. The C850 is capable of delivering 550 lbs per acre evenly over the entire drill width and accurate to 15-degrees of slope. Model 1890 no-till air drill in 50' and 60' widths or model 1870 air hoe drill in 76' width are the drill choices available. Another nice feature is the power-up stair (wide for ease of carrying seed up to 50-bushel bin) feature that automatically raises the stair when left down.
4 Series Sprayers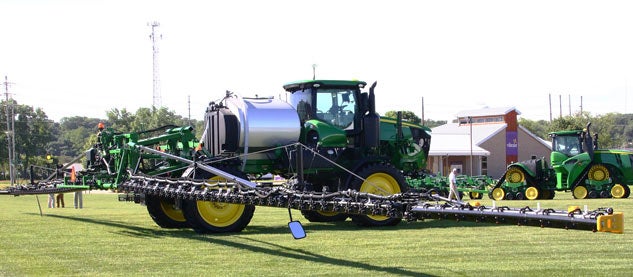 The John Deere Sprayer 4 Series consists of four models ranging from the 173 hp R4023 with a 600-gallon main tank and steel boom widths of 60', 80' and 90' to the 346 hp R4045 with a 1,200-gallon main tank and steel boom widths of 90', 100', and 120' (or 120' and 132' in carbon-fiber). Retail prices range from $230,053 to $454,492 depending on model and options. Advantages include a 30Hz pulsing system which delivers a more consistent spray than conventional 10Hz systems, individual nozzle control, and turn compensation. ExactApply nozzle technology offers in addition to the 30Hz benefits, nozzle switching which is becoming more important with tightening regulations surrounding products such as dicamba and 2,-4D, wide speed and rate range, and 3D nozzles which have 50-75% less drift potential over flat nozzles. Carbon-fiber booms which are available on the larger sprayers reduce weight as much as 35% over the same-sized steel boom.
With so much news to bring to our readers, we decided to make this a two-part piece. Next week, look for coverage of the new John Deere S700 Series combines, Frontier VT17 vertical tillage tool, Frontier LS1130 sprayer, and the new 5R tractors along highlights of the Harvester Works factory tour.