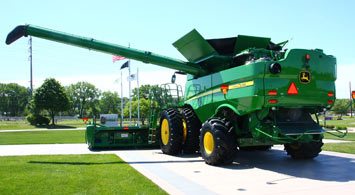 Following on last weeks' article where we brought Tractor.com readers coverage of the new 2230 Field Cultivator, 2330 Mulch Finisher, Upgrades to the MaxEmerge and ExactEmerge Planters, C850 Air Cart, and 4-Series Sprayers, the second part of our 2017 John Deere New Product Reveal continues with more new products.

S700 Series Combines
The all-new S700 Series combines build on the successes of the S600 Series, first introduced in 2012. Four models are available, the S760, S770, S780, and S790. Models S760 and S770 are powered by John Deere 9.0L EPA Final Tier 4 (FT4) engines producing 333 and 391 horsepower respectively at 2200 rpm and both with 34 horsepower power boost. Onboard fuel is 250 gallons. Feeding is through a 55" wide by 68" cast iron conveyor with stone trap and reverser. For threshing/separating, a 30" diameter rotor that is 123" long and running at 210-1000 rpm acts in conjunction with a 1705 sq. in. concave and 2390 sq. in. separating areas. The cleaning system uses an 801 sq. in. front chaffer along with a 3824 sq. in. chaffer, and 3255 sq. in. sieve for a total cleaning area of 7905 sq. in. Grain storage/handling is by a 300-bushel tank with a 22.5' or 26' long auger able to unload at a rate of 3.3 bushels a second.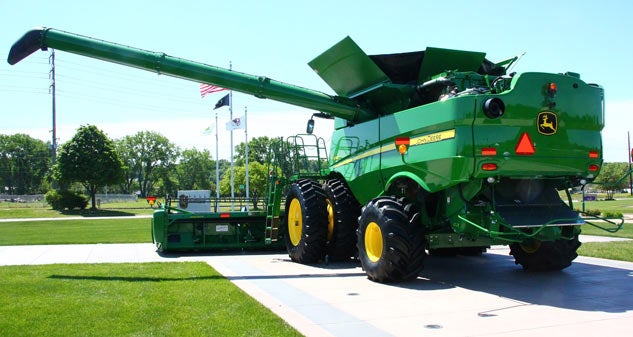 Models S780 and S790 are powered by 13.5L engines producing 473 and 543 horsepower respectively, both with 50 horsepower power boost. Onboard fuel is 330 gallons. Feeding, threshing/separating sizes are the same as the S760 and S770, but the cleaning system increases via a 1224 sq. in. front chaffer extension and a 3255 sq. in. sieve, for a total cleaning area of 9145 sq. in. Grain storage/handling is by 400-bushel tanks with unloading rates of 3.8 bushels a second.
Incorporation of technology marches forward with CombineAdvisor, ActiveVision and ActiveYield. CombineAdvisor is an optional suite of technologies which help the operator set, optimize and automate for the most effective performance based on their crop and field conditions. Compatible crops include corn, soybean, wheat, canola and barley. ActiveVision cameras provide a clean view to tailings and clean elevators and can detect broken and un-threshed grain. ActiveYield automatically calibrates mass flow sensor, saving time and increasing accuracy over manual calibrations. ActiveYield also senses weight of grain in tank as it fills.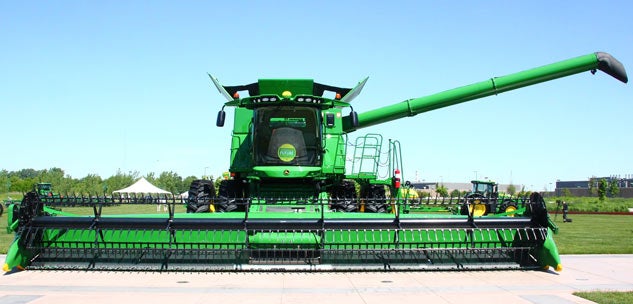 The cab might just be one of the biggest physical differences, and now shares commonality with John Deere's larger tractors and sprayers, including the new CommandCenter, Gen 4 interface and 10" monitor with 4600 processor, and multi-function control lever with programmable buttons. For added comfort and improved visibility, the leather or cloth seat swivels 7.5 degrees left and 15 degrees right, and has better ventilation for those long days behind the wheel.
New corn heads match the improved capabilities of S700 combines. The 700C (fixed) and 700FC (folding) corn heads offer improved performance, reduced wear and maintenance, and can save the producer up to $20K over five years vs. previous generation combines. 700C/FC heads are available in 6- to 18-row models with 20, 22, and 30" row widths. For stalk chopping, there is a StalkMaster option which is available for all models. Folding head models are available in 8- and 12-row configurations. Folding heads improve productivity in field-to-field operations by not having to be disconnected, trailered and reconnected. For tough conditions, the 700D rigid draper head improves productivity using an 18" top auger with HD drive knives, high-performance gauge wheels, and a new center section seal kit which reduces grain loss, especially in crops such as canola. Combine pricing was not available, but the S600 Series for 2017 ranged from $373K to $500K. John Deere dealers will start accepting orders in August for manufacturing that will begin in November and for deliveries in 2018.
Frontier V17 Vertical Tillage Tool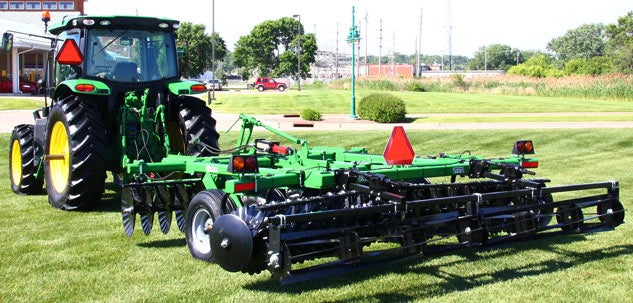 For producers with tractors ranging from 85-150 horsepower and looking for an affordable 6-10 mph vertical tillage tool that sizes and buries residue in the fall and prepares smooth seedbeds in the spring, the VT17 is an economical option. Available in four widths, 10.5', 12', 13' and 15', the VT17 adjusts to field conditions in three easy steps. First the operator selects a working depth from 1-3". Second, the operator selects the gang angle from 0-12-degrees in three-degree increments using a simple wrench stored on the frame and a hairpin clip. The greater the gang angle, the more aggressive the cut. Lastly, the operator levels the tillage tool from front-to-rear using a crank handle. Turn the crank clockwise to lower tool rear, turn it counterclockwise to raise tool rear. Downforce is adjustable using a jam nut and hex nut, requiring just a crescent wrench. Two blade options are available, a 20" straight fluted blade for less aggressive cutting action or a 22" shallow concave fluted blade for more aggressive action. Options include scraper kit (shallow blade), furrow fillers, middle breakers and sealed or greaseable bearings.
Frontier LS11 Sprayers

For producers with smaller, irregular fields and/or tight spots, the John Deere Frontier lineup now includes the LS Sprayer Series, which has many features of the larger pull-type sprayers but are three-point hitch (3PH) mounted. Two tank sizes are available, 250 or 300 gallon, and are of an efficient teardrop shape designed for better drainage. Four boom sizes are available, 25', 30', 30' boomless, and 40', all with single nozzles, with the exception of the 40' boom which can have triple nozzles. Pump can be system hydraulic or power take-off (PTO) powered with the option for a foam marking setup. Standard is a handheld spray wand for those tough to-get-to spots. Sprayer handling is enhanced by the integrated parking stand and forklift pockets. LS11 Sprayers are compatible with John Deere 5- and 6-Series tractors with Cat 2 or Cat 3 hitches. 2017 availability.
5R Tractors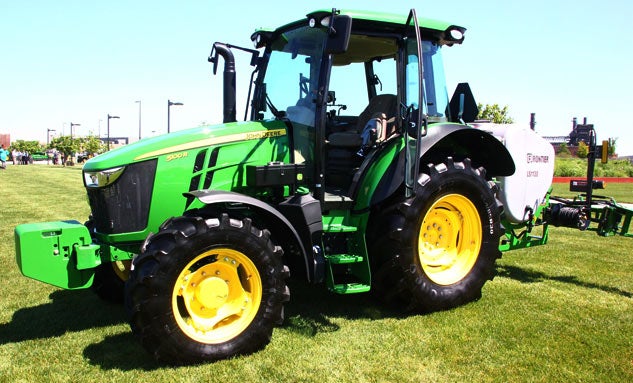 Any John Deere R-series tractors are known as deluxe with features some competitors option-on and others don't offer at all. The 5R Series, though, is where big tractor technologies get leveraged in an easy-to-use, operator-friendly package that is highly maneuverable. There are four models in the new 5R Series, the 90-horsepower 5090R, the 100-horsepower 5100R, the 115-horsepower 5115R, and the 125-horsepower 5125R. All are powered by John Deere 4.5L four-cylinder engines that are EPA FT4 compliant. Two fully-electronic transmissions are available, the CommandQuad Manual, and the Command8. The CommandQuad Manual is a four-range, four-speed transmission (16F x 16R) that utilizes the same time-tested and proven componentry (final drives, rear axle, differential) used on the 5M PowrReverser tractors. No clutching is required, and just stepping on the brake disengages the clutch. Shifting from B to C to D range is electronic and operator-controlled. There is no auto-shift function. Speed range is from 1.18 to 25 mph.
Moving up to the Command8 transmission, the purchaser gets the added functionality of four ranges over eight speeds (32F x 16R), the same speed range of the CommandQuad Manual, but with added electronic niceties such as auto-shift, foot pedal cruise (similar to setting cruise speed in an automobile), speed matching, PowrReverser modulation, and start gear selection. Command8 tractors come with pressure flow compensation (PFC) hydraulics, while CommandQuad Manual tractors have that as an option.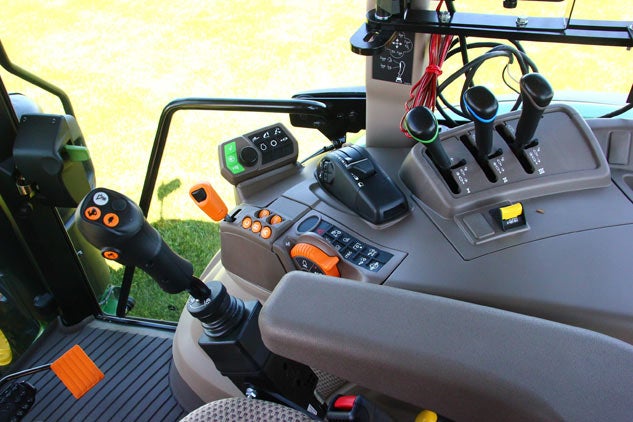 Other niceties include the optional premium panorama cab roof, six halogen lights (LED option), customizable, interactive display on right corner post, hi-back swivel seat, optional mechanical cab suspension, and seat-integrated mechanical (cable to SCVs) or fully electrohydraulic joysticks. 5R tractors have a 7.4' wheelbase and 60-degree steer angle which equates to a tight 12.1' turn radius. MSRP begins at $96K with orders being taken today and shipping in June. Tractor.com especially looks forward to getting behind the wheel of a 5R in the field and bringing our readers a full review.
Factory Tour Highlights
After spending the day with the new product managers and their new products, a tour of the Harvester Works factory was offered. No pictures were allowed, but many industry-leading technologies were pointed out. Tractor.com was told the Harvester Works facility was the world's largest combine factory and has been in operation for more than 100 years. Currently employing more than 2000 workers, the plant buildings were a mix of old and new, with much new construction and factory floor changes underway. In-house laser cutters, both CO2 and fiber-optic, are tasked with shaping more than a million parts per month. Laser cutters are up to 2X faster than CO2.
Field conditions, sunlight, moisture, chemicals, and dirt can be extremely hard on metallic surfaces so John Deere uses a 13-tank paint system with the first 10 tanks doing cleaning/prep duties and the last three tanks doing the actual coating. The paint is a two-part PPG waterbase e-coat applied in a seven-hour cycle. We saw major combine sections cleaned, coated, and then touched up, though the corn heads, also made in Moline, were painted off-line. Assembly of S700 combines was accomplished in a neat, orderly and efficient manner. There was even accommodation for combine purchasers to see their machines be assembled from beginning-to-end. Before shipping, each combine goes through a 45-minute test rack run, followed by a 74-point inspection. All through the plant banners displayed John Deere core values: Integrity-Quality-Commitment-Innovation, and from all we saw, the work being done backed those core values up.
Wrap Up
Last stop after the plant tour was to a harvester cab simulation, using an actual cab that would be used in S700 combines. We were told John Deere sells simulator cabs for operator training, but that they ran somewhere around $30K – don't show you kids one or gaming could get even more expensive. The short, two-minute video that follows will leave those who have never spent time in a combine a taste of work on a harvest day.