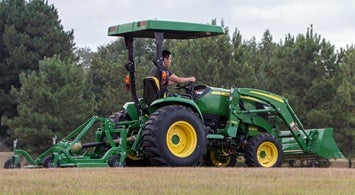 John Deere's 3 Series consists of five tractors ranging from 31.1 to 45.3 horsepower, including two economy models (3032E and 3038E) and three deluxe models (3033R, 3039R and 3046R). We previously tested the 3038E and came away impressed, but wondered how the R models with their wider range of deluxe features might fare. To find out, we secured a 3039R to put through its paces.

Like all of the 3 Series machines, the 3039R is powered by a Yanmar three-cylinder diesel. Powering the tractor is the turbocharged Yanmar 3TNV86CT CR engine, which displaces 1.57L and makes 38.7 gross horsepower at 2600 rpm. The engine is equipped with common rail direct injection, electronic engine management, and a diesel particulate filter (DPF) to achieve EPA final tier four (FT4) emissions compliance.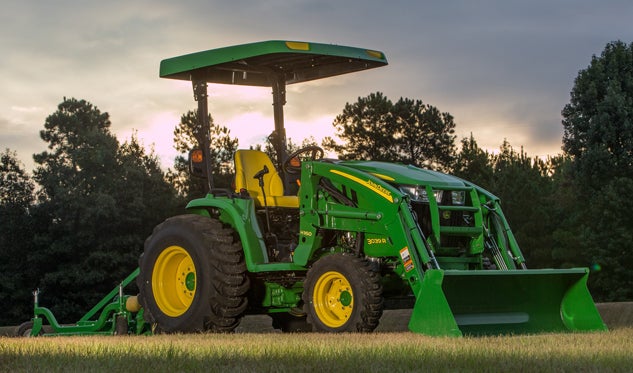 The DPF system is a natural cleaning process where most of the particulate matter (PM) is eliminated through the heat of the exhaust stream. This system operates in one of three modes: Passive, Active and Parked. In normal operation, this cleaning process operates behind the scenes without operator interaction or knowledge. In situations of low use where the temperatures aren't sufficient to accomplish cleaning, an Active cycle will take place, injecting a small amount of fuel into the diesel oxidation catalyst (DOC) during the exhaust stroke. In rare situations, most likely after long hours of use where the operator has disabled the cleaning cycle, a Parked cleaning can take place. And though the system is basically maintenance free, after many hours of use, the exhaust filter may require an ash removal service.
COMPARISON: Read our review of the 2015 Mahindra 2540 Shuttle
Power from the Yanmar is sent to a 12F x 12R PowrReverser transmission, or in the case of our test tractor, a three-range eHydro hydrostatic transmission. If the PowrReverser transmission is chosen, a left hand turn stalk-like lever is used to control directional change, with no clutching required to go from forward to reverse or reverse to forward. Range shifts, though, are not synchronized and do require the use of the clutch. Both hand and foot throttle control comes standard. As nice and simple the PowrReverser is to use, eHydro takes that ease to another level. The user interface with eHydro is John Deere's excellent twin pedal set up (left forward, right reverse) that gives well-modulated control over the infinite speed range. Along with the twin pedal interface are task-devouring electronic niceties that we could devote an entire article to.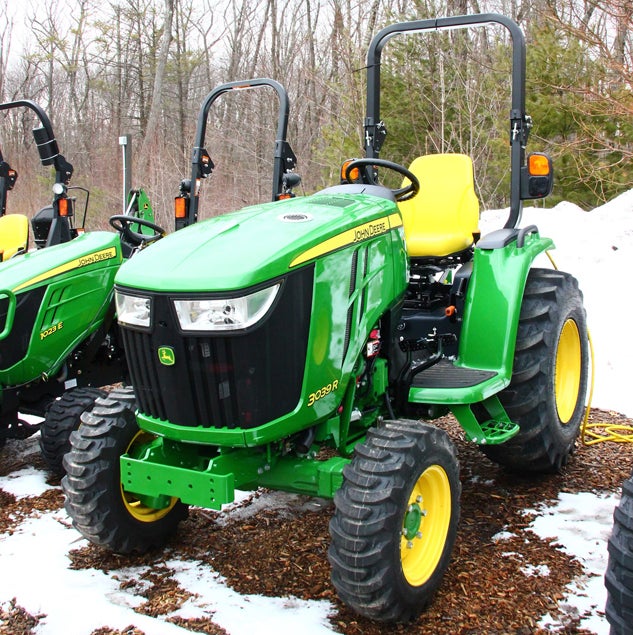 eHydro controls are located in a pod located at the front of the right fender console and include eThrottle, LoadMatch, MotionMatch, and Speed Match, as-well-as an automotive-style cruise control. eThrottle is turned on or off with a single switch. When on, as the hydro pedal is depressed, the engine revs upward to match the speed demand and then decreases as the pedal is released. This is a really nice feature that reduces operator fatigue by doing away with the need to fuss with the throttle and as a result also saves fuel.
LoadMatch is especially handy during times of high-load demand where stalling can take place. Turn on LoadMatch and travel speed is automatically reduced as the load increases, maintaining full power to the implement. MotionMatch gives operator-selectable control over roll-out. A dial selects the degree of control ranging from short to long. Twist the dial to short and the stop when the hydro pedal is released becomes abrupt and perfect for loader use. Select long, and the tractor more gradually comes to a halt. Landscapers and homeowners operating on turf will appreciate the buffering as the tractor is less likely to skid and damage the ground.
COMPARISON: Read our review of the 2015 Kubota BX2670-1
SpeedMatch offers the ability to limit the travel speed even when the hydro pedal is fully depressed and is great for rotary tilling or spraying use. Lastly, cruise control will maintain the selected speed no matter if the tractor is going up or down a hill. SET/- and RES/- controls are just like we find in our automobiles.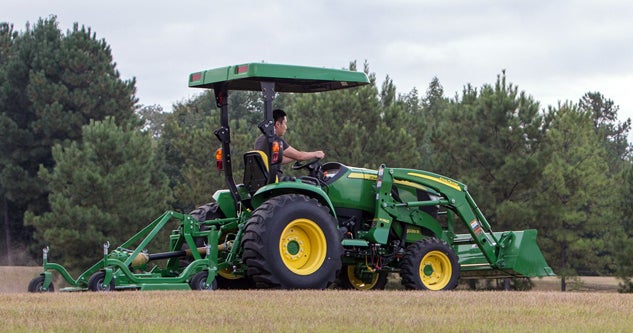 Hydraulics run through a twin pump arrangement that flows 10.2 gpm to implement needs and 5.7 gpm to power steering requirements (15.9 gpm total) at 2500 psi. This gives the Cat I three-point hitch (3PH) a lift capacity of 2200 lbs at the industry standard of 24" behind center (2530 lbs at lift link ends). Position control is standard, so an implement can be returned to an operator-adjustable point time after time. Lower link arms are fixed, though the outboard stabilizers telescope for ease of adjustment.
For anyone requiring more flexibility in attaching implements, John Deere suggests its iMatch hitch system. Unlike the E "value" tractors, a three-position drawbar is standard (two operating, one storage). A 540 rpm rear power take off (PTO) is also standard with the 3039R delivering 31.3 horsepower at the PTO. And for those requiring an implement such as a mid-mount mower or front snowblower, a mid PTO is a field-installed option.
The front axle is driven by bevel gears and allows up to a 62-degree turn angle. This gives the 3039R a turn radius of 8.8' with brakes applied. We also liked the positioning of the power steering hydraulic cylinder, which is located up and behind the axle for protection.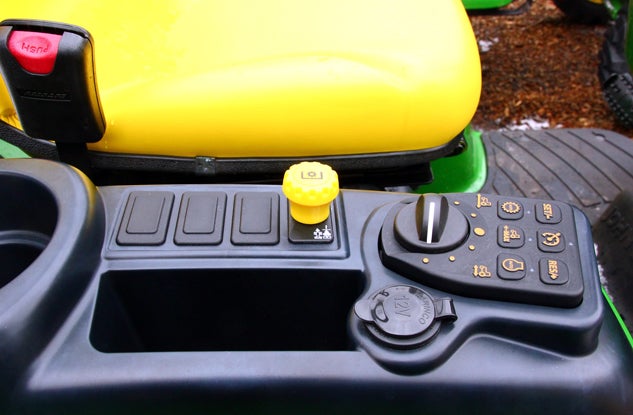 Climb up onto the operator platform (left steps only) and you'll find the deck flat with all the controls and user interfaces neatly laid out. The steering wheel tilts with more positive locking than the previous 3 Series, while the seat is a high back design with scalloped side bolsters and adjustable for operator weight. A backlit dash houses a large tachometer in the center with a digital panel below that includes a digital speedometer, hour meter, PTO hour meter, low fuel light, and regenerative function tracking. To the right of the dash panel is a mini-pod with switches for the turn signals, hi/lo beams, and flashers. The rest of the controls are color coded, with yellow for PTO functions, black for mechanical functions, and orange for engine. We found the controls intuitive, ergonomic, and comfortably spaced.
COMPARISON: Read our review of the 2015 Yanmar 424 TLB
Firing up the Yanmar, our dBA meter averaged a quiet 78 at idle. Being a FT4 engine, no smoke or soot was evident. The 3039R can be started with the hydro pedals depressed, but to initiate travel, the pedals must first be returned to neutral. Likewise, the tractor will come to a stop if the operator leaves the seat, but the engine won't shut off unless the PTO was engaged. You can run the PTO without an operator in the seat – think an implement such as a post hole digger – so long as the parking brake is engaged. These are sensible safeties and we laud John Deere for making them available. What we can't laud is the reverse implement option (RIO) that's required to be engaged before backing up while the PTO is running. This is something one might do while operating a front blower or mid-mount mower with the theory that it requires the operator to first look. To us, pulling up the PTO switch before pressing the reverse pedal to prevent the engine from stalling is just a pesky intrusion that in no way means the operator has looked behind before doing so. Oh well, such is that state of our litigation-happy world.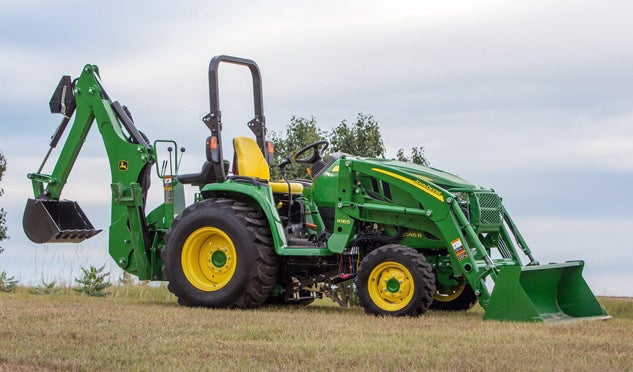 John Deere has matched H165 loaders to the 3039R tractor, which offers quick change buckets and pallet fork options (not skid steer compatible) and a lift capacity of 1598 lbs. Compatible attachments range from drive over, auto-connect mid-mount mowers to box blades, rakes, tillers, and everything in between.
With an MSRP of $26,980 (eHydro tractor only) and a laundry list of deluxe options that make long days shorter, the 3039R is well worth checking out. And if you're in the vicinity of Farmington, Conn., stop in at Farmington Valley Equipment, which graciously furnished our test tractor. If you do, ask for Brian or any of their courteous staff – you won't go wrong.