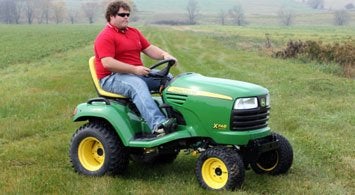 The John Deere X700 select series tractor can be used for a number of different jobs with tons of attachments, heavy duty steel frame, and 4WD with Four wheel steering. We found ourselves wondering where the X748 would work best for someone, whether on a farm or residential property, and we came up with some interesting insights for both.

The X748 that we tested really gave us the impression that it was a bigger tractor on a smaller frame. It really felt like a heavyweight lawn tractor or like a little guy who's got something to prove.
This feeling starts with the triple cylinder 24 horsepower Yanmar motor. At start up the engine has that real "tractor" sound with its cyclical diesel rumbling – a sound which tells you it's time to work.
When you first hop in you'll get a feeling for the unit's comfortable padded seat. The deluxe high-back seat was comfortable with arm rests and lumbar support – Our 60 acre grass cutting operation didn't seem so daunting from that throne.
To compliment the upright seating position the steering wheel angle is adjustable. The quick release and lock clamp makes moving the wheel up or down to get on and off the unit simple.
Behind this wheel are most of the X700's basic control levers and knobs. The instrument panel gives you the unit's important information with a fuel gauge, Tachometer, coolant temperature, and hour meter. Around the dash are a number of indicator lights which illuminate for things like oil pressure, low battery voltage, Power take-off (PTO) engagement, cold starting aid (diesel only), and parking brake activation.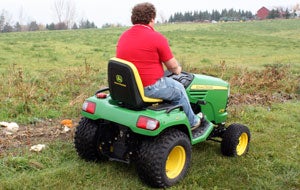 That parking brake is operated by pressing in on the brake and engaging the handle into the "locked" position. This handle was a little hard to reach though. Sometimes we needed to release the steering wheel before we could engage the brake – that got kind of aggravating.
We found the operation of the other controls quite simple though. The locking rear differential was activated using a foot pedal near the operator's foot. The pedal automatically releases when you take your foot off it and can be engaged on the fly. This was great when we were working on inclines when the ground was wet.
The X700 series tractors use Hydrostatic transmissions. Forward and reverse pedals at your right foot give the driver infinite speed options. Whether creeping along or traveling at the rated top speed of 8.5 mph we found that the slightest input on the pedal could be felt with a speed increase.
The transmission oil runs through its own automotive-style radiator to keep it cool. This is great when working in an area requiring a lot of backward and forward motions – more strain on the transmission means more heat.
Next to the forward and reverse pedals is the brake. This pedal is mounted higher than the drives so there is very little chance of hitting either by accident (or both at the same time).
There was very little need to use the brake with the very delicate throttle control. Slight adjustments of RPM either up or down was very simple and made speed selection easy.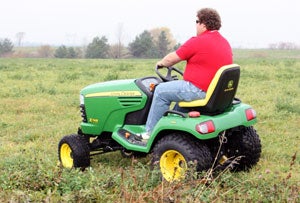 These minor changes were most noticeable when we were cutting grass in some very tight areas around our vegetable garden. Long, straight sections followed by 90-degree bends let the unit's drive and power system show us how well they work when we'd speed up and slow down constantly.
Speaking of turning this unit in tight circles the X700 has a turning radius of only 25 inches. This is great for people working in tight areas or when you're trying to do a precision job.
The X700 features a very unique steering system. This tractor series uses Hydraulic steering to turn the front and back wheels. That's right, Four-wheel steering. This system cuts the unit's turning radius by four inches.
People who mow a lot of grass will be familiar with this number – The uncut circle radius. The four-wheel steering system cuts the X700's radius down from 28 inches to only six inches (with a 62-inch deck). That means you can get in closer around those pesky trees and the number of passes is cut down; saving you time and fuel.
Once the Lawn is trimmed you're X700 tractor can take on any number of other jobs with attachable implements. Detaching the mower deck is as simple as removing a couple of pins and PTO hook-ups while backing up and over the mower deck. Reattachment is equally as simple.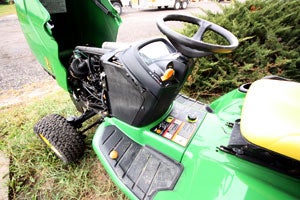 The three-point hitch on our test unit gave us a really good idea of the types of jobs this tractor is capable of performing. John Deere offers a number of attachments for its select series tractors including box scrapers, PTO rotary tillers, and various blade sizes. The full size all-welded steel frame also lets you put all kinds of tools on the front of your unit. From the factory these include rotary brooms, dual-stage snowblowers, manual lift dump buckets and an optional Hydraulic arm lift system. When the rear of the machine is not fixed with a three-point hitch you can still hook up other attachments to the heavy duty steel connecting plate.
Moving those implements around is the tractor's full-time 4WD system. This means that there are no levers to operate and no buttons to press so you're always ready for the terrain at hand. The system even calculates and adjusts wheel rotation speed when making turns.
This system worked great for us when we were cutting grass. In the tight corners we expected to feel the gears scuffing, but much to our pleasure they didn't. The system had cut back input to the inside wheel almost entirely in order to prevent this from happening.
When the work day is done and you've got your tractor back in the garage it's time to do some maintenance. The X700 has a fully detachable hood which makes getting at parts below simple and fast.
Glorified lawn-mower or awesome little Tractor? Either way you look at it we we're quite impressed with John Deer's X748 select series Tractor.