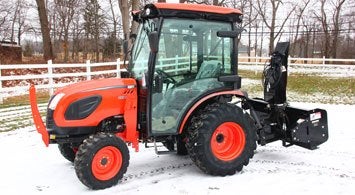 The Kioti CK10 series consists of four models ranging from 25 to 40 horsepower (24.5 to 39.6 actual). Those four models, CK2510, CK2610, CK3510 and CK4010, can come with gear or hydrostatic transmissions. For the CK2510, the choices are a 6F x 2R gear or two-range hydrostatic transmission. For the CK2610, the choices are a 9F x 3R gear or two-range hydrostatic transmission. And for the CK3510 and CK4010, the choices are a 9F x 3R gear or three-range hydrostatic transmission. For all models, a factory-made, field-installed cab is available. Tractor.com tested a CK3510 last August and a CK2510 in November, both so-equipped with field-installed cabs.

Those combinations were ready-made for New England winter work, but we knew Kioti was also producing special edition (SE) factory installed-only cab models (HC) and couldn't wait to get behind the wheel of one. We also knew the SE HC models were coming standard with a number of features optional or not available on base CK10 machines. When we received a call from the good folks at Lock Stock & Barrel, in nearby Bethany, Conn., letting us know a CK4010SE HC had arrived and was available for us to review, we promptly rearranged our test queue.
COMPARISON: Read our review of the 2016 Mahindra 1538 TLB Long Term Review
The CK4010SE is powered by the same naturally aspirated Daedong 3F-TH4-U three-cylinder diesel engine as non-SE models, making 39.6 gross and 31.9 power take-off (PTO) horsepower. In the case of the SE cab model, the PTO horsepower is slightly less than on open station tractors, which are rated at 33.5, owing to the added weight and the addition of air conditioning, the latter a nicety the field-install cabs are not able to offer. Rated output from the 111.4-cubic-inch 3F-TH4-U powerplant comes at 2600 rpm. EPA Final Tier 4 (FT4) emissions compliance is achieved using common rail direct injection (CRDI), cooled exhaust gas recirculation (CEGR) and a diesel particulate filter (DPF). Additions of a second urea-based fluid (DEF) are not required.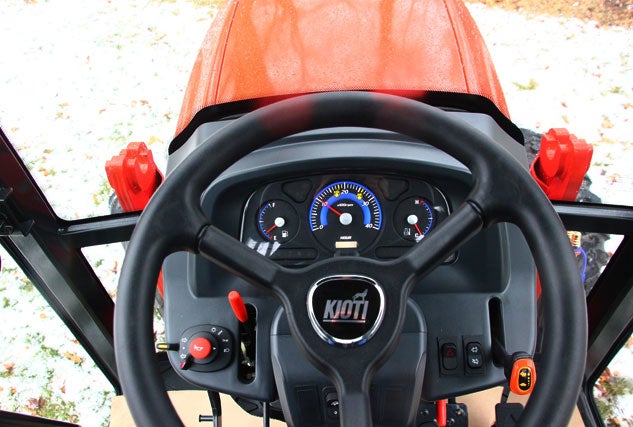 Unlike the open station CK10 tractors, both the CK3510SE and CK4010SE can be had with only one transmission, a three-range hydrostatic unit, controlled by side-by-side pedals. An added nicety of SE tractors (optional on base CK10 machines) is the link pedal feature, which adjusts the engine rpm to pedal position without requiring the operator to fuss with the dash-mounted hand throttle. It's a feature that saves fuel by only revving up when needed, adds convenience for the operator, and is just big-tractor cool. Modulation over the 0-14.86 mph speed range with the twin pedal setup is excellent.
COMPARISON: Read our review of the 2016 Massey Ferguson 1739E
Hydraulics run through a tandem pump flowing 11.7 gpm. Kioti literature doesn't separate the flow rate between the two pumps, but looking at the KL4020 loader specs which list a 7.1 gpm requirement, we can assume 4.6 gpm is available for the power steering system. Implement output is sufficient to give the Cat I three-point hitch (3PH) a lift capacity of 1631 lbs at the industry standard of 24" aft of hitch. For SE tractors, the lower link arms telescope for ease of implement attachment as do the outboard stabilizers to cinch up sway slack. Position control is standard, so an operator can expect to accurately return an implement to a selectable point. A single rear remote is standard on SE models, with the option to add a second circuit. An independent 540 rpm rear PTO is also standard with a 2000 rpm mid PTO available as an option. All the castings associated with the driveline exude heavy-duty, so outfitting the CK4010SE with a beefy 1-3/4" drawbar should come with no surprise.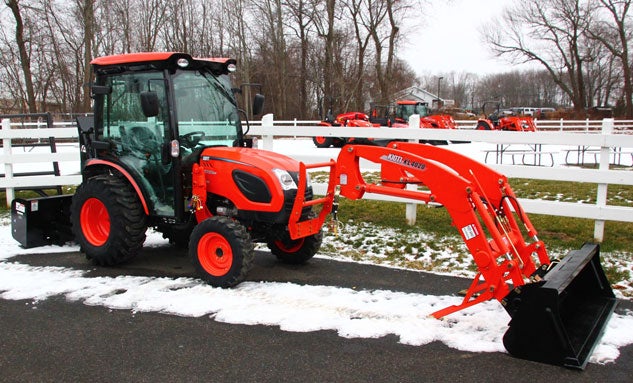 Two loaders for CK10 models are available, but SE models specifically get the KL4020, which gives up a little range (over the KL4010) and cycle speed for added lift capacity. The KL4020 is skid-steer compatible and comes with either a 60" or 66" bucket. Max lift capacity is 1930 lbs to a max height of 98.4". Dump clearance is 74", with a dig depth of 4.8". Breakout force is 3473 lbs at a system pressure of 2567 psi. Cycle times are rated by Kioti at 5.3 seconds full lift, 3.7 seconds full lower, 3.7 seconds full dump, and 2.7 seconds full curl. Hydraulics function so that movement in two directions at the same time (raise/curl or lower/dump) are easily accommodated.
COMPARISON: Read our review of the 2016 New Holland Workmaster 33
Pull at either of the automotive-nice cab door handles and the doors open wide on gas struts. Access to the cab interior is from either side, but there is just a single step on the left. The CK4010 is the same size as the CK3510, but the difference between the factory-install cab vs. the field-install seems to add a lot of interior space, not to mention an even better fit. Settle into the deluxe seat with full weight adjustability and the interior cabin feels spacious with near 360 degrees of glassed visibility. Pull the door shut, locking in place with an automotive precise click, and the cabin becomes eerily silent. Firing up the engine resulted in a quiet 70/80 dBA sound reading. What that is quiet in its own right, it seemed as muted across the rpm range as a cab in a larger tractor costing many times more.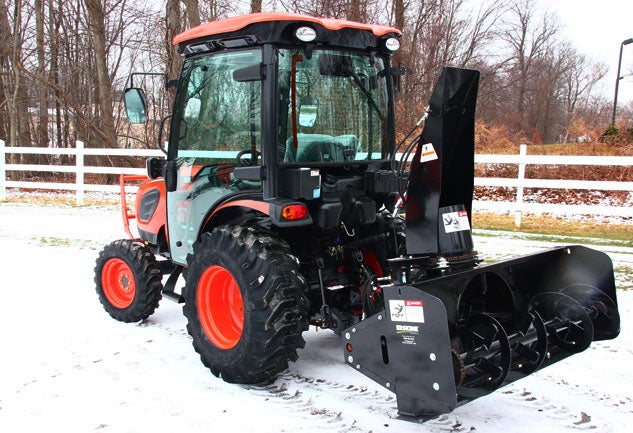 We found the placement of the controls, the loader joystick, clutch pedal, hydro pedals, 3PH lever, rear remotes, range lever, 2WD/4WD lever, differential lock pedal and PTO selector all fell exactly where we expected them to be. Added niceties were the cup holders on both sides, storage tray perfect for a smart phone, and nice integration of a switch panel specific to cab tractors on the right side. This switch panel controls the front wiper/washer, the rear wiper/washer, the upper outside cab lights (front and rear), and the rear defroster, which is automotive styled with imbedded electric wires. The headliner houses the HVAC controls and optional radio. Temperatures were in the low 30s with rain changing over to sleet and back and forth, so we didn't get to test the cooling efficiency, but can say the heating/defrosting componentry work quite well. The digital dash also gets high marks for readability and visibility.
Ease of maintenance is also built into CK machines with a one-piece hood with mesh screens for airflow that opens high, allowing easy access to the fuel and oil filters, dipstick, air filter, coolant expansion tank, and battery. The 3307-pound (tractor only) CK4010SE HC measures 120.9" long by 54.5" wide and is 91.7" to the top of the ROPS certified cab. Riding on a 65.7" wheelbase with 13.4" of ground clearance, R1 Ag, R3 turf and R4 industrial tires are available, though our test tractor was outfitted with 27×8.5-15 front and 15-19.5 rear R4 tires. Kioti warrants its CK10 tractors with four years of coverage.
For an agribusiness, landscaper, or homeowner with acreage looking for a 40-horsepower tractor and who wishes to work in a nice climate-controlled environment, the CK4010SE HC would be well worth considering. And if you're in the vicinity of Bethany, Conn., Lock Stock & Barrel would be a good place to start.