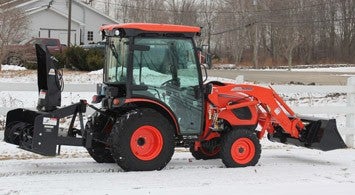 The Kioti CK lineup consists of four open station tractors under the CK10 designation ranging from 25 to 40 horsepower and available with gear or hydrostatic (HST) transmissions, and two tractors under the CK SE designation in cab/HST configuration only ranging from 35 to 40 horsepower. Kioti calls the CK lineup "value" tractors. Tractor.com found that out after spending a chilly winter morning sheltered from the elements inside the comfortable cab of a CK4010SE and were surprised at the "value" moniker as the package felt deluxe all the way to us.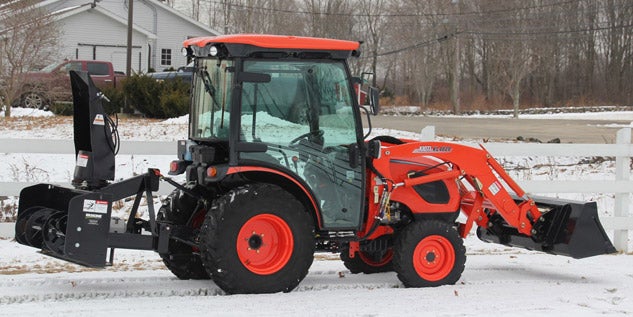 The Kioti CK4010SE for this review was provided by Lock Stock and Barrel in Bethany, Conn., and was outfitted with the KL4010 loader, a couple of nice-to-have options, and an Erskine snowblower.
COMPARISON: Read our review of the John Deere 3033R TLB
Power for the CK4010SE is by a Daedong 3F-TM4-U three-cylinder naturally aspirated diesel engine displacing 111.4 cubic inches. ECO Tech technologies including common rail injection and a diesel particulate filter (DPF) to achieve EPA Final Tier 4 (FT4) compliance without the need of diesel exhaust fluid (DEF) additions. Output at 2600 rpm is 39.6 gross and 33.5 horsepower at the power take-off (PTO).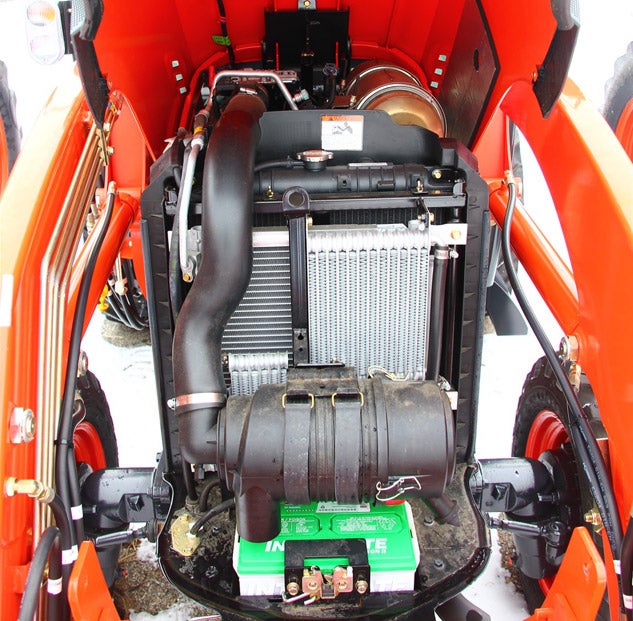 And though the non-SE CK4010 is available with a 9 x 3 gear transmission, the SE variant is only available with a three-range HST transmission that is controlled by a side-by-side pedal arrangement. This ergonomically friendly setup offers good modulation over the infinite 0–15.53 mph speed range. Our test tractor was also outfitted with a nice feature Kioti calls linked pedal option. Engaging this ~$300 optional feature is by a dash-mounted lever, which when activated matches engine rpm to pedal position, saving fuel and operator time and effort fussing with the throttle.
Hydraulic output through a tandem pump arrangement flows 4.6 gpm to the power steering circuit and 7.1 gpm to implement demand. This gives the Cat I three-point hitch (3PH) a lift capacity of 1,631 lbs measured 24" aft. Position control is standard, so an implement can be returned to a preset position time after time. Lower link ends telescope for ease of attachment as do the outboard pin adjustable stabilizers. Up to two rear remotes are supported (optional). A heavy-duty 1-3/4" thick drawbar is standard.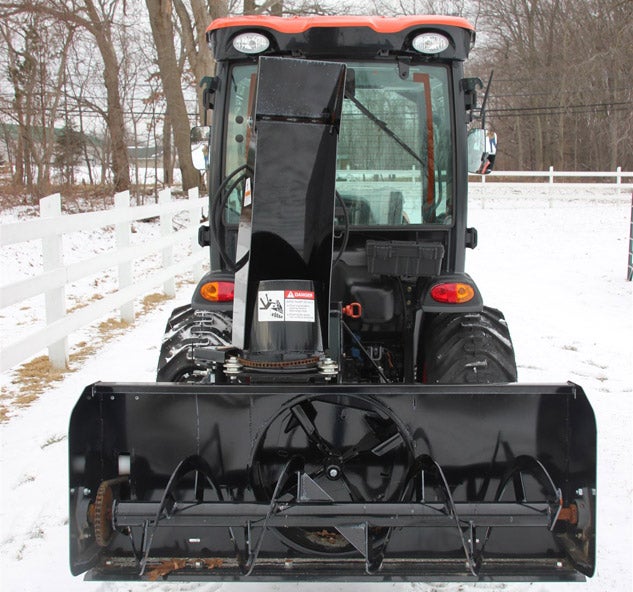 Open up the hood and service points such as the oil and fuel filters are all easily accessible. The battery sits in front with the two-stage Donaldson-type air filter right above it. Cooling fins for the engine and hydraulics are just behind for easy visual inspection and cleaning when necessary. The hood is one-piece and raises on a gas strut.
COMPARISON: Read our review of the Kubota B3350SU
Climb into the cab of the Kioti CK4010 (the door lock operates with automotive precision) and the operator is treated to a panoramic view with minimal posts and plenty of high-quality glass. The high-back seat is adjustable for operator weight and comes standard with armrests that fold up out of the way when so-desired. The steering wheel tilts for operator comfort and the floor is fully flat with clutch and brake pedals suspended and only the HST pedals through the floor. A/C and heat are standard with automobile-like controls in the headliner. With temperatures in the 20s, we didn't operate the A/C, but the heat as soon as the tractor warmed up was plenty sufficient, even on fan position one. The cab was remarkably quiet, with an idle reading of 73/74 dBA, rising only to 85/86 dBA at 540E rpm, and 86/87 dBA at full 540 rpm.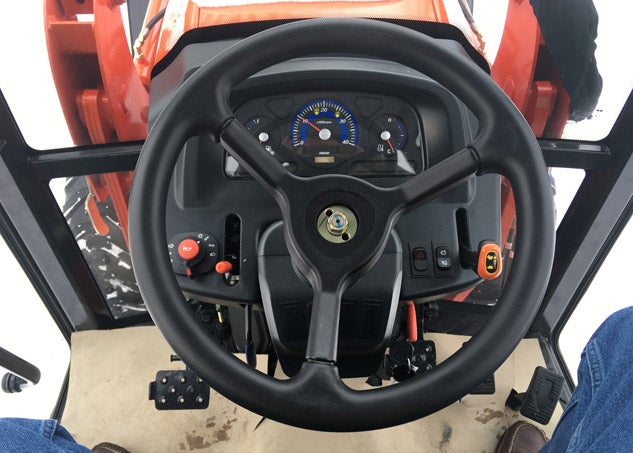 Controls are color coded, ergonomically placed, and intelligently labeled. The dash display is large, bright colored and backlit with a tachometer occupying center stage flanked by a temperature gauge to the right, a fuel gauge to the left, and a digital hourmeter just below. The tachometer includes indications for 540E (1800 rpm) and full 540 PTO operation (2600 rpm). In-cab options our test tractor was equipped with included the linked pedal lever, horn, and rubber floormat.
The KL4010 loader has a lift capacity of 1835 lbs to a max height of 98.4". Dump clearance is 79.1" so most pickup/trailer combinations would easily be cleared. Dig depth is 5.3" with a break-out force rating of 3464 lbs at a system pressure of 2560 psi. A 60" or 66" bucket is sized to the KL4010. Our test tractor was outfitted with the 66" and it seemed a good fit, covering the tractor width nicely. The attachment system is two-lever and skid-steer compatible. All grease fittings are through-the-pin like found on commercial-grade construction equipment. Cycle times at 2600 rpm are 3.9 seconds full raise, 2.3 seconds full lower, 3.2 seconds full dump, and 1.9 seconds full curl.
The Erskine 620RM is a heavy-duty unit, weighing some 660 lbs. Measuring 62" wide (60" work width) and running a 20" diameter four-blade fan, the unit can throw snow up to 30'. There wasn't enough snow on the ground to test the blower, but we're aware of the Erskine reputation and have no doubt the combination would be a snow-clearing monster.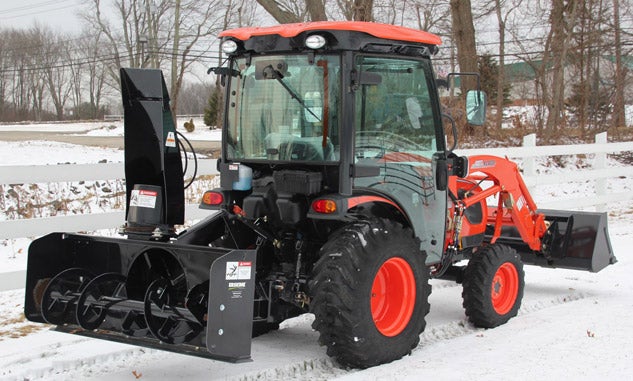 The 3307-pound Kioti CK4010SE measures 120.9" long by 54.5" wide and is 91.7" to the top of the cab. Ground clearance is 13.4" and the turn radius is 8' using brakes. Ag (R1), Turf (R3) and Industrial (R4) tires are all offered. Our test tractor was equipped with 27×8.5-15 front and 15-19 rear R4 tires riding on a 65.7" wheelbase. MSRP for the CK4010SE with the KL4010 loader and as optioned as our test tractor is $31,309. Lock Stock and Barrel didn't yet have the final pricing on the Erskine blower, but estimate it would run in the vicinity of $6K.
COMPARISON: Read our review of the Mahindra 4540
Kioti warrants its tractors for 24 months bumper-to-bumper with extended powertrain coverage to 48 months. A current promotion through June 2018 extends powertrain coverage for an additional 24 months (six years). Other incentives include a hero discount for active, retired, reserve and disabled veterans, firefighters, law-enforcement, and EMT personal, as-well-as a free loader program that runs through March 2018.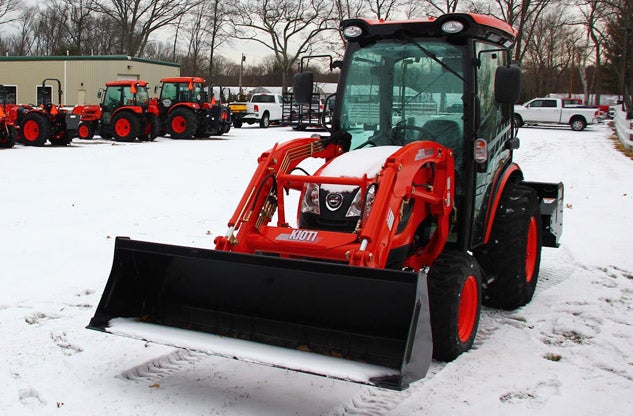 For an agribusiness, landscaper, homeowner with acreage, hobby farmer, or rural lifestyler in need of a capable 40-horsepower compact utility cab tractor, the Kioti CK4010SE would be well worth consideration. And, for those in the vicinity of Bethany, Conn., the friendly folks at Lock Stock and Barrel would be a good place to start.