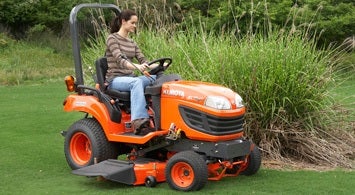 Yard maintenance making you tired? Snowblowing a chore? Thinking of trading the homestead for a condo? Maybe it's not the great outdoors intruding on your time but the way you're tackling those duties that's really in the way. Maybe it's time to retire that old mower and move up to a new class of heavy-duty lawn and garden tractor. If so, the Kubota BX 1860 has what it takes to turn the everyday grind into fun.

Powered by a Kubota 3-cylinder diesel making 18 horsepower and a hydraulic pump flowing 6.3 gal/min to the power steering and implement(s), the BX 1860 is up to the challenge, whether it be mowing, blowing, plowing, sweeping, or lifting.
Settling behind the wheel in a seat that is well-sprung and with plenty of adjustment travel to accommodate even a 6'2" operator, we found everything right where you wanted it to be. The flat operator's platform is wide and accessible from either side (joystick equipped tractors get a little tighter from the right), the instrument panel is well laid out with large gauges that contrast well in even bright sunlight, and the levers clearly marked and even trimmed perhaps a little more nicely than the competition.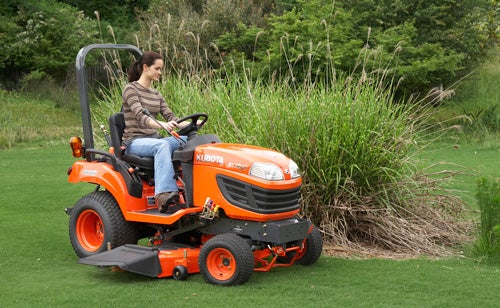 On the right fenderwell are the controls for the Three Point Hitch (3PH), 2WD or 4WD, and High and Low transmission ranges. On the left fenderwell are the controls for the Power Take Off (PTO), and it is especially nice to note the operator has the choice of Front/Mid, Neutral and Rear, as-well-as Front/Mid and Rear, so an implement such as a front blower could be used at the same time as rear spreader. The hydrostatic drive is controlled by a treadle pedal, and although we generally prefer the side-by-side arrangement of some of Kubota's competitors, it is a comfortable, well-modulated system that safely controls the tractor under all conditions. Differential lock is standard and actuated by the operator's left heel.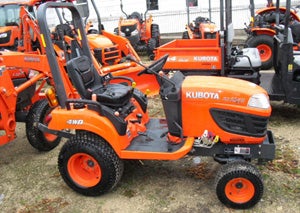 The mower deck on our test tractor was a three-blade 54-in. standard model (a fine cut option is available) and the BX 1860 had plenty of power to mow even hilly terrain in high-range (max 7.8 mph speed). A 48-in. deck is available to those needing to navigate through narrow gates etc, but we always recommend purchasing the widest deck possible, as it reduces the uncut circle, makes for better edging around flower or mulch beds, and effectively pushes the ROPS further away from tree branches and other low hanging obstacles. The cut height is hydraulically controlled while a well-marked dial with unlimited gradations from one to four inches allows the operator to return to settings of his or her choice.
The Category-1 3PH is rated to lift 670 lbs 24 in. behind the link arms but there is no position control, so the operator has to finesse the return to work height. A small sacrifice, but no doubt one that keeps the BX 1860 affordable. And though the cost-reduction gods are always at play, Kubota has seen fit to outfit the BX 1860 with a metal hood, 6.6-gallon fuel tank, halogen headlights, and full flashers with turn signals.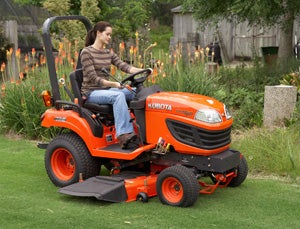 Sized just below a Sub Compact Utility Tractor (SCUT), the BX 1860 measures 92.1 in. long, 44.5 in. wide and 69.4 in. to the top of the Roll Over Protection System (ROPS) and weighs 1255 lbs. Our only complaint was that the ROPS did not fold, so buyer beware: measure that shed door height first.
An LA203 Front End Loader (FEL) is available, and properly ballasted, will lift 613 lbs to its rated 71-in. height.
Pricing is always regional, but we were quoted $13,800 for the BX 1860, 54-in. deck, and 50-in. quick attach snow blower. With 0% down 60-month financing available to well-qualified buyers, this may just be the time to put a smile on that lucky homeowner as they turn tasks into fun.
Related Reading
2011 Kubota B2620 Review
2012 Simplicity Legacy XL 27 4WD Diesel Review
2011 John Deere Select Series X500 Review
2011 John Deere X748 Review