Bienvenue New Hampshire. Welcome. So the road signs proclaim as one crosses the Granite State line. And New Hampshire was where the closest mPower 85 tractor Mahindra could find for us to test was located.

Gary's Power Equipment in Winchester, NH is a hopping busy dealership that carries powerhouse brands such as Timberwolf, Echo, Exmark, Stihl and Mahindra. Despite the last minute fall craziness, Gary Rokes and his staff were friendly and patient to all – even gratefully finding time for an unexpected visitor from Tractor.com.
Following on the Dec. 2012 test of Mahindra's 8560 cab tractor, we wondered what effect the new EPA Tier 4 regulations would have on its flagship offering. In short, our opinion is that there is little effect, at least for now. But read on to grasp what we mean.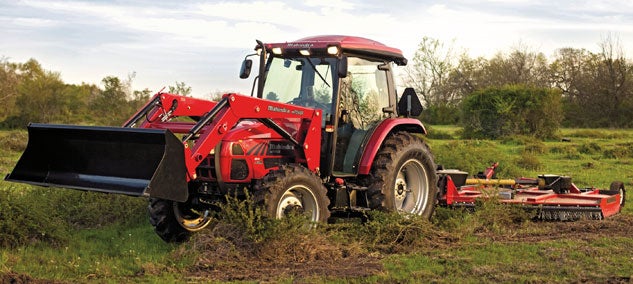 The Mahindra mPower 85 is a full size utility tractor and is available in open station or cab form. Power is provided by a 215.4 ci turbocharged four-stroke diesel that is intercooled and uses high pressure common rail technology, positive crankcase ventilation (PCV), and diesel oxidation catalyst (DOC) to meet the stringent requirements of EPA Tier 4i. This means no regenerative after-treatment, which saves the purchaser that added cost and complexity. The mPower 85 mill delivers 83 gross horsepower at 2300 rpm with the power take off (PTO) rating at 70 horsepower. Coupled to a 12F x 12R synchro shuttle transmission with full synchromech, the time tested and proven driveline offers the right gear and range for the task at hand, whether it be mucking a stable, hauling hay bales or tilling a field.
COMPARISON: 2013 Massey Ferguson 4608 Power Shuttle Cab Tractor Review
Hydraulics are open center, full live, with 17 gpm flowing to implement use and 5.2 gpm for power steering needs. Not surprising, the Cat II three-point hitch (3PH) is rated to lift a whopping 5,500 lbs with draft and position control standard fare. Lower link arms telescope for ease of attachment (as do the outboard stabilizers) and the top link comes with three mounting points for better implement positioning. Standard are two rear remotes (a third is optional), which come with detents in raise, lower and float positions and kickback in raise and lower. The rear independent PTO is switchable from 540 rpm to 1000 rpm, the former coming at 2187 engine rpm and the latter at 2180 engine rpm.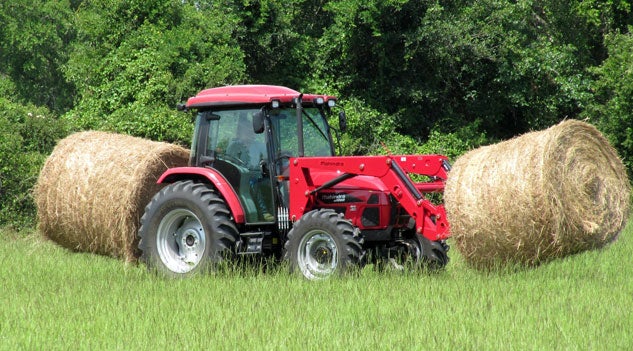 Our test tractor came in P form, meaning it was a cab version, and just fine with us on a chilly 35F New Hampshire morning. Climbing up into the cab (access steps and wide opening doors are located on both sides) and the operator is treated to a spacious cockpit with plenty of headroom and controls positioned exactly where you would expect. Suspended from the main cowl are a left foot clutch pedal (12" dual dry ceremetal composition), steering wheel tilt pedal in the middle, split brakes to the right and a foot throttle (there is also a hand throttle on the right hand console). Dash gauges are very similar to that of the 8560 we tested with gold faces, black markings/indicators and red warning areas for the center tachometer, left side fuel and right side temperature. LED indicators ring the gauge cluster for all other functions and warnings. A large steering wheel, much bigger in diameter than most competitor designs, works the hydrostatic power steering with a long-throw left hand shuttle stalk getting duty for F – R directional control. Front glass is laminated for quietness and all windows are tinted for UV protection. Other niceties include a 12V power outlet, cupholders, sun visor, illuminated entry and front and rear wiper/washers.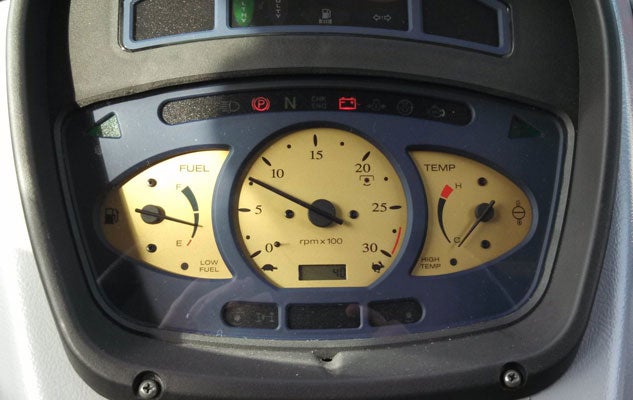 The adjustable pneumatic suspension seat gets high praise as well as the ergonomic control layout. The exception is the 2WD/4WD lever, which is located in the left back cab corner about even with the seatback – it's a little awkward to reach. The loader joystick, though, is thoroughly incorporated into the right hand console and can be operated with little wrist flicks without having to move your arm. Rear remote levers, 3PH position and draft controls are easily accessed with plenty of room between so you don't have to worry about accidently hitting the wrong control.a
COMPARISON: 2014 Kubota M7060 Open Station Review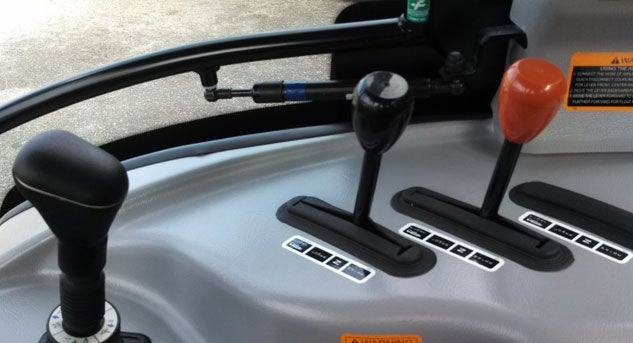 Firing up the mPower 85 and our dBA meter reading was 88.8, not quite as quiet as we expected from a Tier IV powerplant, but very acceptable. After letting things warm up a bit, we measured a steady 89 dBA at 1500 RPM, an engine speed where we expect a lot of loader work might be done. Our test tractor was outfitted with Mahindra's ML285 loader which is rated to lift 4,100 lbs to a height of 134". Dump clearance is 102.5" so this combo will clear just about any trailer or pickup bed used. Dig depth is 4.4" and breakout force is rated at 5,830 lbs. Mahindra rates performance times at 6.2 seconds raise, 4.1 seconds lower, 3.2 seconds dump and 2.5 seconds curl (all at 2300 rpm and with the 84"/21-cubic-foot bucket), but we didn't discern much difference at lower engine speeds – meaning the setup is quite responsive. Open station tractors can be outfitted with Mahindra's model 511 backhoe, but cab purchasers will have to look to the aftermarket if a backhoe is needed.
Our test tractor came with Titan 12.4-24 front and 18.4-30 rear R1 Ag tires which are standard, though there is a R4 industrial option. The mPower 85 measures 165.9" long and is 108.2" to the top of the cab. The wheelbase is 81.4" and the 8,177 lb. tractor has a 13.9' turn radius. Onboard fuel capacity is 21.7 gallons (19.3 gallons in open station form).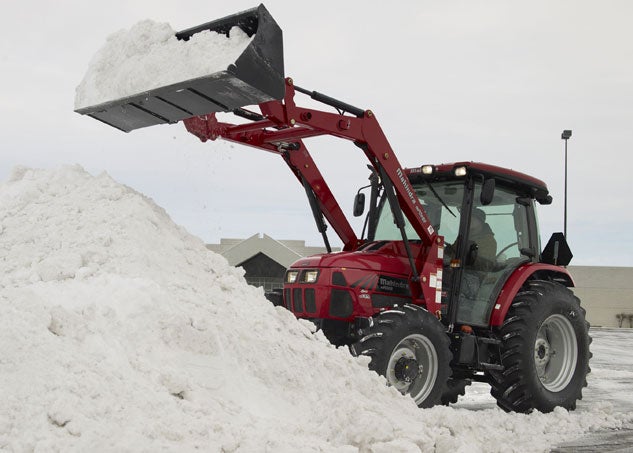 MSRP for the mPower 85P is $46,875 and Mahindra is currently offering incentives, including 0% up to 72 months, 4.25% for 84 months, and cash back packages up to $2,000. With class leading 3PH and loader lift capacities, competitive pricing, five-year warranty, the mPower 85 just might be that perfect addition to the stable or barn.
COMPARISON: 2012 John Deere 4720 HSTC Review
All this brings us to our opined "little effect" from meeting EPA Tier IV requirements. Current mPower 85 tractors meet Tier 4 interim standards. To achieve Final Tier 4 (FT4) requirements, most manufacturers have gone to some type of diesel particulate filter (DPF) with the system consuming diesel exhaust fluid. How Mahindra will choose to meet those standards is not yet known, and with the August 16, 2013 EPA partial withdrawal of direct final rule, there may be more manufacturer flexibility. We'll just have to wait and see how it all plays out.