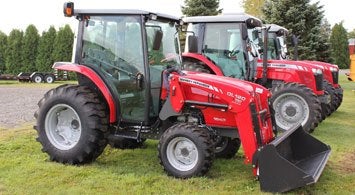 It was back in June when we first discussed the possibility of reviewing a Massey Ferguson 1600 Series tractor with Broadhead Company, Massey Ferguson's marketing arm. At long last we received word that Northwood Power Equipment in Whately, Mass. had a tractor ready for us to test. A day later we found ourselves driving into the dealer's parking lot, still not knowing exactly what model we would be reviewing. But as we parked, we noticed a 1643 cab tractor at the far end of the lot and one of our reviewers commented that he wouldn't be upset at all if it was the tractor made available for us. It was, and at the end of the day, all were enthused at the turn of events.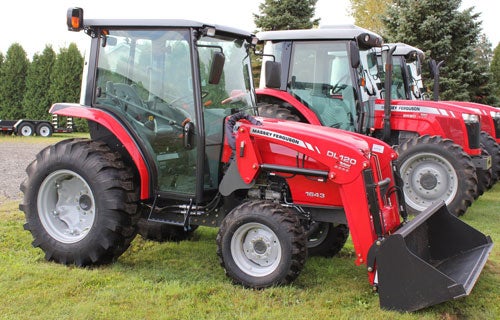 The 1600 Series is manufactured in Japan by Iseki to Massey Ferguson specifications. The series is compromised of six tractors ranging from 35.7 to 60 gross horsepower. As with the 1500 series (1529) we reviewed in January, Massey affixes a size/class rating ranging from I to IV. And as was the case with the 1529, we found the 1643 straddles classes, so Massey has given it an III+ designation. Later, we'll give it our own classification.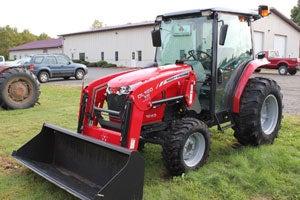 The 1643 gets a Tier 4i compliant 2.2L four-cylinder powerplant that makes 43.5 gross horsepower at 2500 rpm and when equipped with the optional Power Shuttle 12 x 12 transmission as our test tractor was so equipped, is rated to deliver 34.1 horsepower to the power take off (PTO). Other transmission options include a 9 x 3 gear, 8 x 8 Syncro Shuttle, 12 x 12 Dyna QPS Reverser, as well as a Hydrostatic system. The 12 x 12 Power Shuttle allows clutchless shifting between forward and reverse (you do need to come to a stop before shuttling the turn signal stalk lever for the sake of clutchpak life) with a full five speeds below 1 mph, which is perfect for seeding and other tasks requiring precise control.
The PTO is fully independent (Rear 540 rpm standard with mid 200 rpm optional) and the rate of engagement can be controlled to protect the drive system while using high inertia implements such as a rotary cutter. Dual pumps flowing 11.6 gpm to the implement and 4.6 gpm to the power steering (16.2 gpm total) give the three-point hitch (3PH) a lift capacity of 2800 lbs (rated at the hitch point). Lower links are telescoping as are the outside stabilizers. And the right hand lower link is crank adjustable for precise angling or leveling. Draft control is an option as are up to three spools of auxiliary hydraulics. Our test tractor came with one spool and we noted the convenient location of the outlet right next to the top link pin and exactly where you would want for a top-n-tilt hydraulic top link. A toolbox just below the rear window for cinch pins and other 3PH hardware is sure to be appreciated.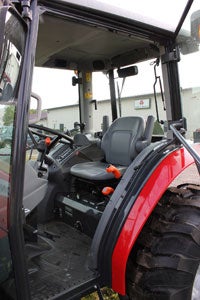 The cab doors open and close with a nice luxury automobile-like dampened feel and steps and grab handles make access to the cockpit from either side quite easy. Settling into the high-back seat, which is adjustable for operator weight and features arm rests that fold up out of the way, the operator is treated to a roomy cabin with clearly marked and well laid out controls. The steering wheel tilt adjusts in three positions and is positioned above a modern dash with a large tachometer in the center, temperature gauge on the right and fuel level on the left.
On the left side of the steering column is the abovementioned Power Reverser stalk and on the opposite side is the hand throttle (there is also a foot throttle). On the outside left of the dash are two switches for the front and rear wipers and on the opposite left are two switches for front and rear lighting. PTO engagement and flasher and turn signal switches are located on the flat fascia.
A clutch pedal used for starting and gear engagement is on the left floor and dual split brakes are on the right. A foot throttle is also on the right floor, which allows the operator to modulate ground speed while freeing up hands to work the wheel/joystick/shuttle stalk. Differntial lock is standard and is actuated by the operators right heel.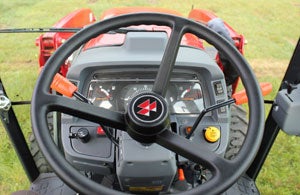 The left fenderwell contains levers for the three gear ranges, PTO Rear/Mid selector, 2WD/4WD and an "H" pattern shifter. The right fenderwell contains a nicely integrated joystick, 3PH position control, places for levers controlling up to three auxiliary remotes and a lever slot for the optional draft control. Cab controls for A/C and heat, dome light and optional CD/radio (wiring and speakers are included) are positioned in the headliner.
The rear window opens high to give the operator an excellent view of the 3PH, which is especially helpful while hooking up an attachment. Between the doors and the rear window are two curved quarter panel windows which also open. Due to their curved design they help funnel in fresh air when opened. When the A/C or heater is being used, eight vents help funnel air where needed. The outside lighting package, combined with the four headlamps in the hood, is excellent and adjustable mirrors help the operator keep his/her eye on the task at hand. A cup holder and an auxiliary 12V outlet complete the interior package.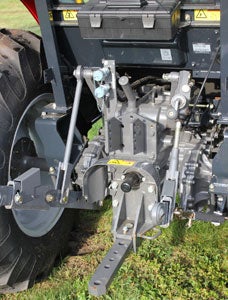 Start up the bio-diesel compliant powerplant, and one word comes to mind: quiet. Indirect injection and pistons with graphite coatings help ensure long life and fuel efficiency but low vibration is another result which helps reduce cabin noise.
After familiarizing ourselves with the cabin layout and controls, we headed off to the North 40. Immediately we were impressed with 1643's balance. Later we asked if the tires were loaded and told "no", so Massey has really hit the nail on the head with this setup. To give you an idea, we can't think of a competitor's tractor in this size that offers this level of perceived stability without weighting. Admittedly this is a subjective comment, but all of our testers agreed this is one of the most stable feeling machines we have tested. Later we talked with Mark, one of Northwood's technicians, and he agreed this was one of the biggest selling features of the 1643.
Our test tractor was outfitted with a D120 curved boom loader which matched the hoodline of the 1643. A 72" bucket was included, but 60", 66" options are available. The D120 is also skid-steer compatible, so if you have a neighbor with lots of attachments you'll be golden with this tractor. If you're not lucky enough to have such a neighbor, your local rental place will have compatible implements to rent. We did not have a chance to remove the loader, but Mark told us that the loader was so easy to remove, an owner wouldn't think twice about doing so. Loader response was excellent, though not surprising given the 11.6 gpm of flow available, and we were impressed again with the stability even at high lift points and again without additional weighting. The D120 is rated to lift 1900 lbs. to a 120" height.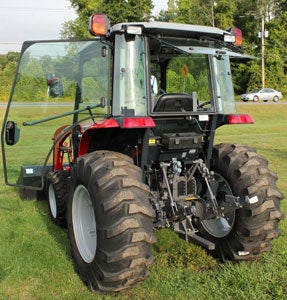 Maintenance is designed to be easy with the oil dipstick and filler tube are accessible without lifting the hood (admittedly, a funnel with a gooseneck might be prudent if the 1643 is equipped with a loader), while the hood lifts easily with hydraulic struts. Under the hood the battery is in the front and above it the two-stage air filter. A pre-screen protecting radiator fins from obstruction is easily accessible.
A full line of attachments is available including a CB15 Back Hoe with a 90" dig depth, front and rear snowblowers and a variety of ground-engaging implements. Massey gives its tractors a three-year, 2000-hour powertrain warranty (two-year, 2000-hour bumper-to-bumper). With an overall length of 122" and a width of 64.5", the 94.5" tall height to the top of the cab 1643 weighs 3,737 lbs. and has a ground clearance of 14.2".
So what was our overall impression of the 1643? We all gave it a thumbs up for overall quality, fit, comfort/ergonomics, stability, and power – and would go a step further suggesting Massey Ferguson upgrade the III+ classification to III!
Related Reading
2012 Massey Ferguson 1529 4WD Review
2011 Massey Ferguson 1526 4WD Review