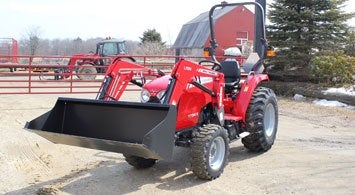 On a cold winter day last December, Tractor.com spent some time with a brand new Massey Ferguson 1754. This was the next to the top-of-the line model in the new premium series that replaced the venerable 1600 Series and we came away impressed with the deluxe features. But not every potential purchaser can afford nor wants all those deluxe niceties. There were rumors of economy models to follow, but it wasn't until the National Farm Machinery Show (NFMS) in Louisville last month that we finally got to see a 1734E.

The new E Series consists of two models, the 38.5 HP 1739E and the 34 HP subject of this test, the 1734E. Unlike 1700 Series Premium models which are powered by Mitsubishi engines, E Series models get Shiabura N843T-F powerplants. But like the Premium Series, the rest of the tractor is all-Iseki. The Shiabura engines are three-cylinder mills that displace 1.5L (91.5 ci), have low-pressure indirect injection, and are turbocharged. Final Tier 4 (FT4) emissions requirements are met through internal exhaust gas recirculation (iEGR) and a regenerative diesel particulate filter (DPF). Rated output comes at 2600 RPM, and in the case of the 1734E, power take off (PTO) horsepower is 29 for gear transmission models and 27.2 for hydrostatic equipped tractors.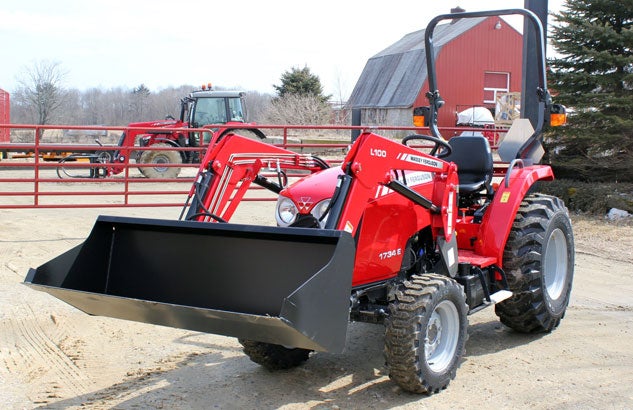 Manual transmission models have three forward and one reverse gear with three speed ranges (9F / 3R) and feature independent rear PTOs (a mid PTO is not an option for E Series tractors). Hydrostatic (HST) tractors also have three ranges and come with transmission driven PTOs with overrunning clutches. A nod to the cost-cutting gods or, according to Dan Huff of Big Boy's Toys in Pomfret, Conn. and our gracious host, good news for those with big feet is the treadle-style pedal that HST E Series tractors utilize. Either way, operators must use a left foot clutch pedal to engage/disengage the PTO.
COMPARISON: Read our review of the 2014 Massey Ferguson 1754 Premium Review
Hydraulics run through an open center system with 6.2 gpm flowing to implement needs and 3.8 gpm for power steering (10.0 gpm total). 1739E tractors get a slightly more robust pump that flows 6.6 gpm and 4.1 gpm respectively (10.7 gpm total). Three-point hitch (3PH) lift capacity is rated at 1600 lbs at the industry standard of 24". Lower link arm ends are fixed (there is no telescopic option) and the outboard stabilizers are of a turnbuckle style. Wrestling with a 3PH implement usually isn't fun and telescopic link ends do help, but an easy option is one of the quick hitches readily available or the well-known Pat's Easy Change System.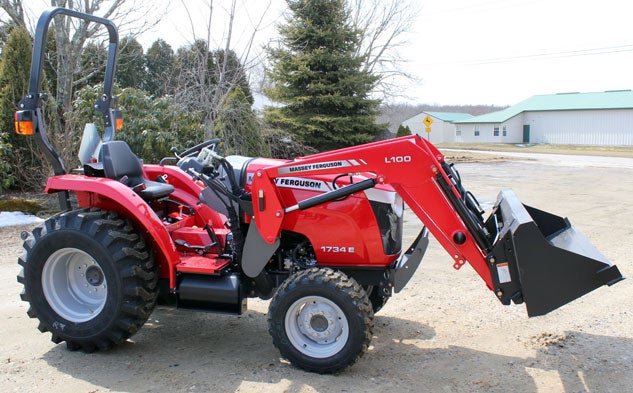 Front axles on E Series tractors are cast steel with bevel gear final drives, while the rear distributes power to the ground using bull gear final drives. Differential lock is standard and engaged by a left heel-activated pedal while 2WD/4WD changes are made through a push/pull lever. Climb up and into the mid-back vinyl suspension seat with retractable seatbelts and the operator is treated to a well laid out and uncluttered cockpit. For tractors not outfitted with loaders (a field install option), there is no joystick. For loader equipped tractors, the joystick gets mounted to the loader stanchion. There is a transmission hump that does lessen foot room by an ever so slight amount, but we can't say the space ever felt cramped.
COMPARISON: Read our review of the 2014 John Deere 3R Series Review
Firing up the noticeably quieter FT4 powerplant, our dBA meter registered 77 – about that of moderate ocean surf a few yards away. There is no throttle mapping for E Series HST models, but the treadle pedal does offer well modulated control over the entire forward and reverse speed ranges. Having smaller feet than Huff, we preferred to operate the 1734E test tractor by pushing down to go forward and slipping the toe under the pedal and lifting up to reverse.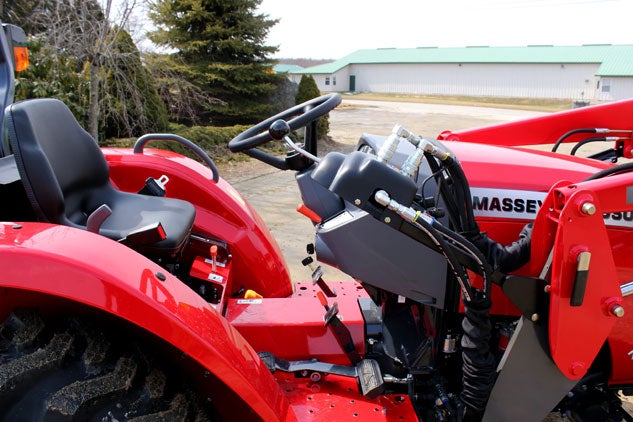 Our test tractor was equipped with Massey Ferguson's model L100 loader. Rated to lift 1,282 lbs to a height of 98.6", we found the L100 well-matched to the standard 7.84 cf 60" bucket. Response at idle was class acceptable and at 2100 RPM we measured full raise time at 3.5 seconds, full lower at 2.1 seconds, full curl at 2.1 seconds, and full dump at 3.5 seconds. Breakout force is rated at 1,968 lbs and dig depth 2.1". The design is a quick attach/detach one with park stands built in. A worthwhile option is the skid-steer compatible bucket attaching system.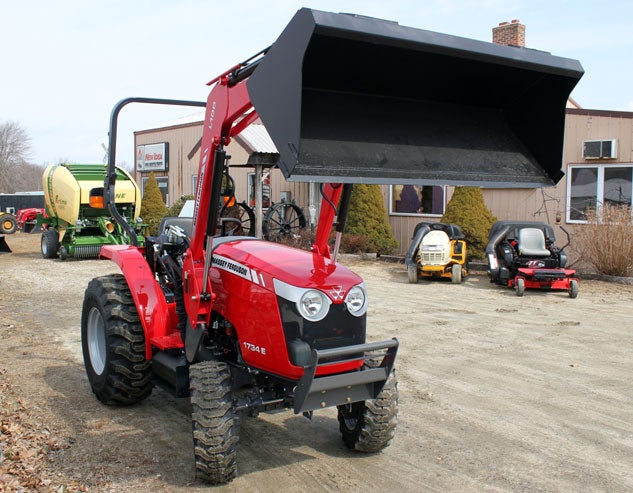 The 1734E measures 116" long by 52.4" wide and 97.6" tall with the ROPS up (63.8" with the ROPS folded). The wheelbase is 65.9" and bare-bones the tractor weighs 2,734 lbs.
COMPARISON: Read our review of the 2013 Mahindra 4035 Power Shuttle Review
As mentioned above, a major component of the emissions system is the DPF, which removes soot and particulate matter using engine heat to oxidize particulates into a gas. In most cases this system will work automatically without operator involvement. Only in cases of the lightest use should an operator be required to depress the dash mounted switch to start the regenerative action. And as expected, the regenerative process can be postponed for indoor conditions where the high heat might not be safe – cleaning up emissions only to burn the barn down wouldn't make much sense.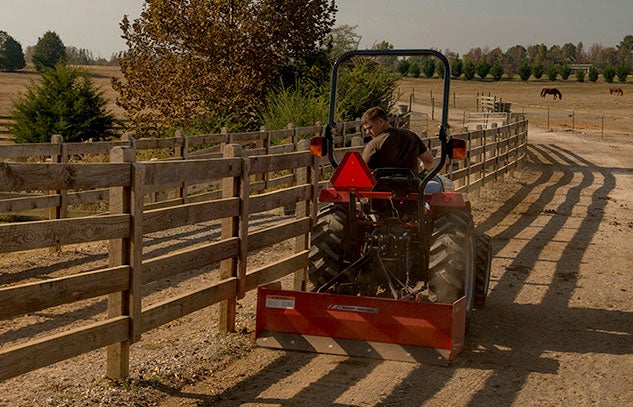 Designed to compete with competitor economy models, Massey Ferguson's cost-cutting efforts have naturally touched on just about every area of manufacture. The lack of loader joystick integration into the fender console, use of a treadle pedal, and slightly lesser hydraulic flow are a few of those areas. On paper that may steer some possible purchasers to 1700 Series Premium models. But to those not opposed to those sacrifices and eager to save a few dollars, the E Series offers serious value.
For 2014 Massey Ferguson backs up 1700E tractors with a two-year/2000-hour bumper-to-bumper warranty with additional powertrain coverage to five years. With an MSRP of $ 24,647 (as tested with loader), if you are in the market for a "value" tractor and willing to forego a few deluxe features found in the Premium Series, we recommend you add the 1700E models to your short list.