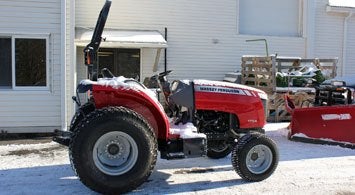 It was one of those bitter cold New England mornings that we set off to some impressions of the all-new Massey Ferguson 1700 Series. With the mercury hovering around 16° F, we had high hopes the tractor Goff's Equipment Service in Litchfield, Conn. was making available would be a cab variant, but that wasn't to be. Our test tractor ended up being an open station 1754 that was a municipal special order and the first 1700 Series machine Goff's had gotten in.

Massey Ferguson introduced the 1700 Series at the Farm Progress Show in Decatur, Ill. last August as a six-model premium series (1736, 1742, 1749, 1754, 1758 and 1759). As with the 1600 Series it replaces, the new series is built by Iseki to Massey Ferguson specifications. Powerplants, though, are quite different and no longer from Iseki.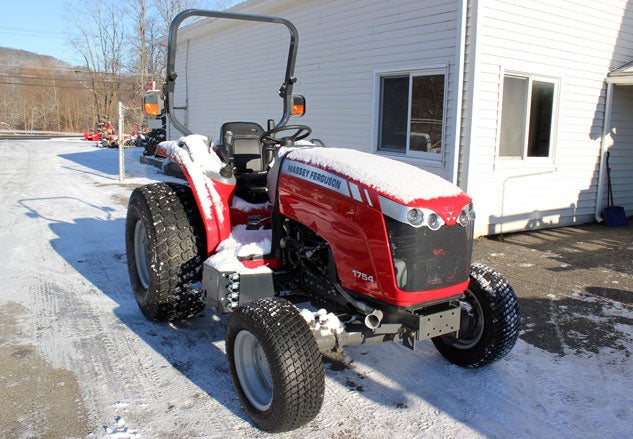 Premium series tractors (an economy series will be introduced early next year) are powered by Mitsubishi engines with the 1736, 1742 and 1749 getting three-cylinder 1.7L units while the 1754, 1758 and 1759 are four-cylinder 2.2L units. Rated output for the 1736, 1742 and 1749 are 36.2, 41.6 and 48.3 horsepower respectively, while the 1754, 1758 and 1759 churn out 53.6, 59 and 59 horsepower. All are turbocharged and intercooled with common rail direct injection and electronic engine management.
COMPARISON: 2012 Massey Ferguson 1643 Cab Review
EPA Final Tier 4 (FT4) emissions requirements are achieved through closed crankcase ventilation (CCV), diesel oxidation catalyst (DOC) and a regenerative diesel particulate filter (DPF). The DPF system used removes soot and particulate matter from the exhaust relying on engine heat to oxidize particulates into a gas. In most cases this system works automatically with no operator involvement. But as Tim Goff told us, if the tractor sees only light duty, possibly in hobby farm usage or the like, the instrumentation will prompt the operator to depress a dash mounted switch to start the regenerative action.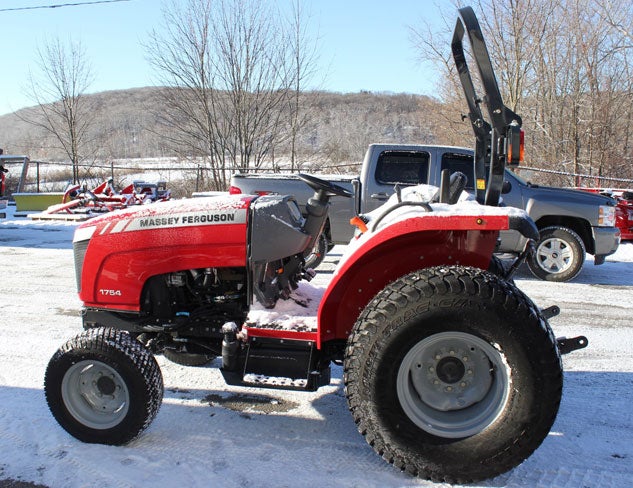 As mentioned above, 1700 Series premium tractors are available in cab or open station dress. Chassis size is slightly different from model to model with the 1736 being the smallest, the 1742 a little larger, the 1749, 1754 and 1758 a little larger, and the 1759 the largest. Our test 1754 measured 132.3" long and rode on a 77.2" wheelbase with an overall width of 65.4". Height from the ground to the extended rollover protection system (ROPS) is 92.9". Curb weight is 4178 lbs.
The 44.4 power take off (PTO) horsepower is directed to either a 12 x 12 speed powershuttle transmission (four synchronized gears and three non-synchronized ranges) or as in the case of our test tractor, a three-range hydrostatic unit. And while control over a powershuttle equipped tractor would be through a left side turn stalk lever, our hydro equipped tractor was controlled by a twin side-by-side pedal arrangement that we found ergonomic and intuitive with nice modulation over the infinitely variable speed range. In all cases (cab, open station, gear or hydro) pedals are suspended from the instrument cowl, making the sealing of cab variants that much easier. Torque is rated at 140.9 ft. lb. at 1800 rpm and 112.6 ft. lb. at rated engine rpm with a torque rise of 25.1%.
COMPARISON: 2014 New Holland Workmaster 40 Review
Hydraulics are run through a dual open center gear pump flowing 11.6 gpm to implement needs and 6.8 gpm to the hydrostatic power steering (18.4 gpm total). This gives the 1754 a three-point hitch (3PH) lift capacity of 3086 lbs at the industry standard of 24". Position control over the hitch is standard, so an operator can return an implement to a selectable position time and again, but draft control is optional. Lower lift arms telescope for ease of attachment.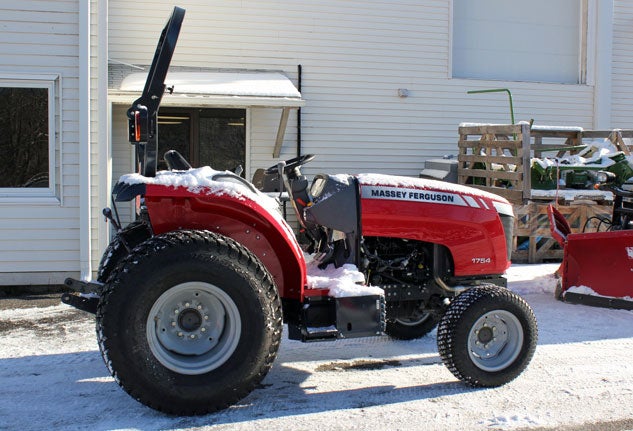 A 540 rpm rear PTO is standard and on 1700 series tractors there is now a fender-mounted switch so the PTO can be engaged/disengaged away from the operator seat. This feature is sure to be popular with operators of implements such as posthole diggers (PHD), chippers, stump grinders and log splitters. And all models can be equipped with optional 2000 rpm mid PTOs to run mid-mount mowers or front snowblowers. All that's required is the tractor be in neutral, the parking brake on and the dash PTO knob in the off position. All the operator has to do to engage the PTO is press and hold the fender switch for two seconds. A tap of the switch is all that's required to disengage the PTO. Another nice improvement is the ground level fuel tank (14.5 gallons) that's sure to be popular each and every time an owner goes to fuel up.
Climb up onto the flat platform and into the deluxe suspended seat (seatbelts and armrests included) that can be dialed in for operator weight. You'll find an uncluttered layout with color-coded levers and controls and a combo analog and electronic dash. The loader joystick is nicely integrated into the right fender console and the steering wheel tilts for operator comfort.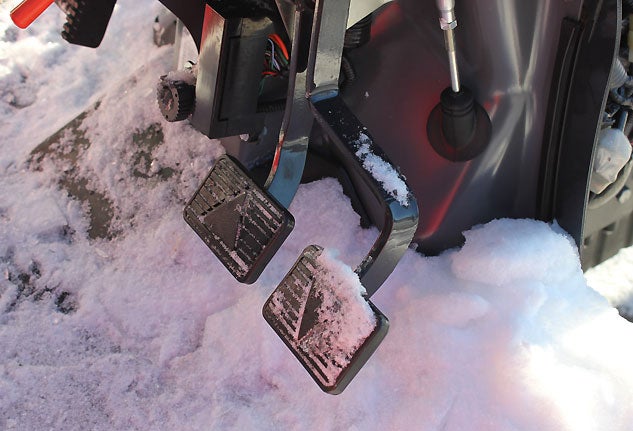 Fire up the D03CJ-T-CAC K39 powerplant and you hear a slight engine rev before it settles into an eerily quiet idle. Not quite a Lamborghini Aventador bad-boy rev, but enough to put a smile on your face. A really nice feature Massey Ferguson utilizes and continues with this series is throttle mapping in the hydro pedals. Press down on the forward or reverse pedal and the engine revs up to meet demand. While this most certainly saves fuel over time, it's one less thing the operator needs to pay attention to – and it's pretty cool too. As expected with a DPF silenced engine, the quietness extends from idle to the 2500 rpm rated engine speed.
COMPARISON: 2013 John Deere 3320 Open Station PowrReverser Review
New for 1700 series hydro equipped tractors are two left side seat-side dials for controlling maximum speed and hydraulic responsiveness – the latter determining how aggressively the tractor reacts to inputs. And right next to those controls is a pushbutton for actuating the electronic cruise function. A stall guard feature is also included. With it turned on, it's nearly impossible to stall the tractor – even during heavy load work.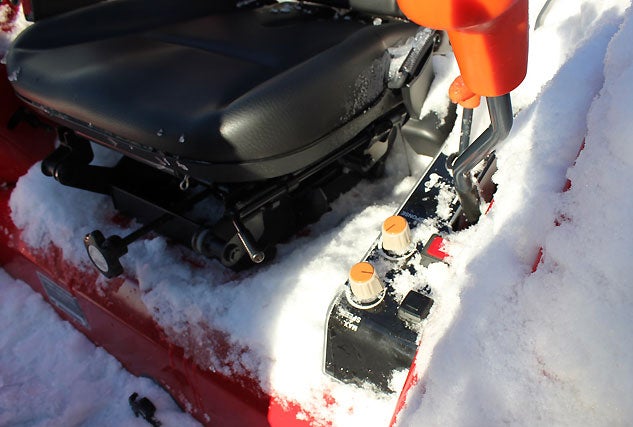 Our test tractor was not equipped with a loader, but the Massey Fergusson DL130 loader (replaces the 1530) is perfectly matched for the 1754's capabilities and has a lift capacity of 2527 lbs to a max lift height of 113.5". Ideal for general farm and property maintenance, hobby and specialty farm, landscaping, construction and municipal requirements, and carrying MSRPs beginning at $22,254 (1736), we won't be surprised if the new 1700 Series is even more popular than the 1600 Series it replaces.
Early next year Massey Ferguson is expected to roll out a two or three-model economy series to replace the 1500 Series. The 1743E and 1739E models we know of will be powered by three-cylinder 1.5L Shibaura engines that develop 34 and 38.5 gross horsepower while still meeting EPA FT4 emissions requirements. And though this is an economy series, choice of a 9 x 3 gear transmission or a hydrostatic unit is offered. The Massey Ferguson website lists the MSRP of the 1743E at $16,675 so it will be interesting to see what niceties are given up when compared with the premium series.
Right now Massey Ferguson is offering incentives on 1700 Series Premium tractors including 0% 60 months financing and rebates up to $2000. Our test tractor carried a MSRP of $33,374, which when you consider the 53.6 HP, FT4 compliance and quietness, electronic and comfort upgrades, is certainly a lot of tractor for the buck. Factor in how this is all accomplished in the relatively small footprint, and the 1754 might just be that perfect compact utility tractor (CUT) for your needs.