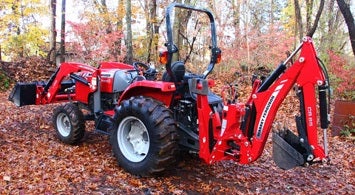 Our long-term test Massey Ferguson 2705E, originally delivered with 6.9 hours, is now approaching the agreed-upon 25-hour mark. Over almost three months we have gotten to know the tractor-loader-backhoe combination quite well, to-the-point where operation has become second nature, though that familiarity did lead us to a single oops (see below).

Temperatures during our test time have ranged from as low as 25 degrees to greater than 90 degrees with the Shibaura N4LDI-T turbo diesel always firing right up after a quick cycling of the glow plugs (just twist the key partially to the right, watch the tach swing from zero to max and back, and then twist the key a notch further to the right). Fuel consumption has been surprisingly thrifty considering the powerplant is rated at 48.8 gross horsepower. Quantifying the exact usage is imprecise owing to not having a metering pump, but our rough calculations peg the usage at just under 1.5 gallons per hour.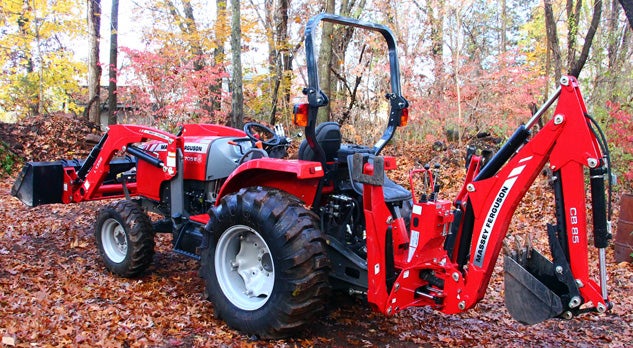 In our midway report we mentioned a discrepancy between the advice given at delivery and what we found in the owner's manual. The discrepancy had to do with the need to clutch or not when shuttling between forward and reverse. Dan Huff of Big Boy's Toys in Pomfret, Conn. confirmed what we suspected all along, that there was indeed a misprint in the manual –perhaps from cutting and pasting material from a power shuttle model literature – and to keep using the tractor as advised.
2016 Massey Ferguson MF2705E TLB Long Term Review: Part 1
We also reported that the CB85 backhoe would be getting an ever bigger workout which proved to be true. And while none of those projects needed exploring the CB85's 99.6" dig-depth capability, we fast became friends with the almost 11' of reach (129.9"). Time and again the extra reach forestalled having to reposition the tractor, a routine which requires parking the backhoe, raising the stabilizers, climbing off the backhoe and back onto the tractor, raising the loader bucket and then moving to the next position. The mechanical thumb, an $829 option, also gets high marks for versatility. With six pin positions plus park, it would take a hydraulic thumb to be any easier to dial in the desired amount of "grab". And though the backhoe can be operated at engine speeds as low as idle, 1500-1600 rpm seemed to be the sweet spot for most of our tasks.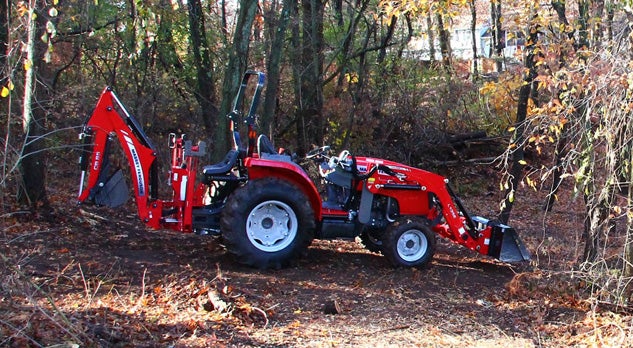 Likewise, the L135E loader can be operated at idle, with cycling times quite tolerable. Even the lowering cycle, which we suspect many manufacturers purposefully retard, furthers that nice move-it-along, get-it-done overall feel. Up the engine rpms a bit to 1500 and an operator can expect full raise to take 6.0 seconds, full lower 5.39 seconds, full curl from level < 1 seconds, and full dump from level 5.07 seconds. Of special note, our test tractor was outfitted with a HD 72" HLA skid-steer mount bucket. We can't say enough good things about how the HLA bucket was sized to match the 2705E capabilities and handled everything we threw at it and even probably more than it was designed for. At times it was easy to forget that the 2705E TLB wasn't a construction machine. Even a rock, more like boulder, that pushed the L135E lift capacity (2430 lbs max height at pivot pin), proved to be no match.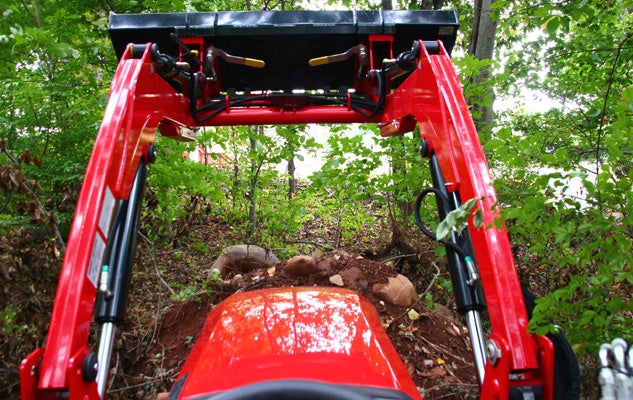 Likes
There were many reasons to like the 2705E TLB starting with the sturdy construction and planted footprint that gives the operator confidence the task is safely at hand, yet not at a penalty of maneuverability. Yes, the package is in no way small, but the ergonomics, sightlines, and operator positioning somehow combine in a way to shrink the size. Call it a utility tractor (UT) with that classifications full capabilities, but with compact utility tractor (CUT) yearnings.
Tractor ergonomics also got high marks. Everyone who drove the 2705E, quickly became comfortable with the seat, platform, lever layout and positioning. The operator seat, though not air ride cushy or expensive, got high marks for all-around comfort. We also liked the fact it didn't have to share tractor and backhoe duties.
2016 Massey Ferguson MF2705E TLB Long Term Review: Part 2
On the power side, we found 41.4 power take-off (PTO) horsepower and 12.6 gpm of hydraulic flow enough to handle any task we could throw its way and certainly enough grunt to handle a substantial rotary cutter or extra hydraulic features such as a grapple. The transmission always seemed to have the right combo range and gear available, and though clutching is required to make a change, none of our testers complained at the arrangement nor was there any mention of fatigue. For those insistent on not having a clutch, Massey Ferguson does offer the 2705E with an available hydrostatic transmission. Also worthy of note was the strength of the hydraulics – not just in the lift, move, and dig arenas, but also the system stability. For example, though the CB85 has transport pins for the backhoe stabilizers, we found that addition to be nearly unnecessary. Even sitting for more than a week yielded no appreciable stabilizer droop.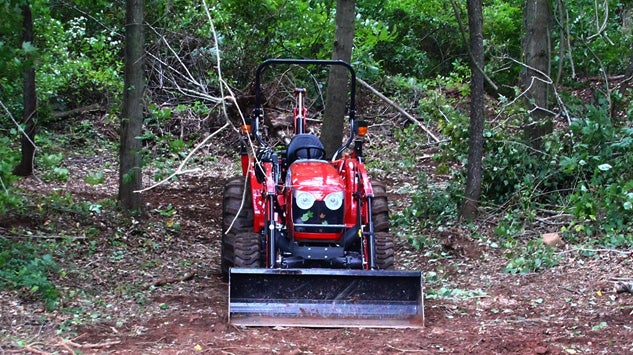 Nits
There were few nits associated with the Massey Ferguson 2705E TLB. Not being able to reach the backhoe controls from the operator seat was one, but owe that to the extra seat in between (see above likes). Once while operating on a hill, the low-high range lever popped out of gear. Since this only happened on a single occasion, we'll chalk that up to the operator failing to fully seat the lever. Credit the excellent brakes at bringing that almost three tons of momentum to a safe halt. Lastly, we found the CB85 hose routing a little tight at the swing frame/boom bend (see oops below), making it difficult to get the transport/boom lock pin seated in place.
Oops
At the end of one long day, we tried to insert the transport/boom lock pin and met the abovementioned hose routing. A cellular call interruption followed by a week of nonuse led us to forget the partially inserted pin. The next use you can figure involved pushing the boom outward, in turn bending the pin and the boom plate. Chalk the oops up to operator fault and not at all the design, though we'd like to see a little more slack in the hydraulic hose routing. We don't think it will be a big deal to have the dealer straighten the plate bend and replace the pin, but we'll work that out with Big Boy's Toys when we see them next.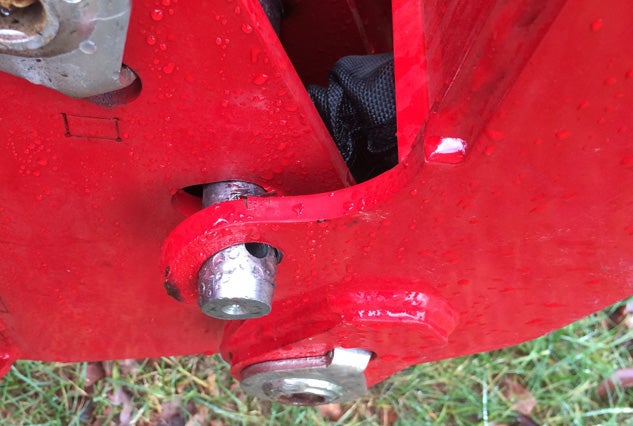 As delivered, the 2705E TLB carries a MSRP of $42,865 making it a not insignificant investment. For that investment, though, the prospective purchaser gets 48.8 horsepower, quick and powerful hydraulics, a roomy, comfortable operator platform and ergonomic controls. Billed as an economy tractor, the 2705E dispenses – thank-you-very-much – with any stigma possibly associated with that class, definitely blurring the line between premium offerings. Factor in long term cost advantages such as the Final Tier 4 (FT4) powerplant not having a diesel particulate filter (DPF) along with that technologies down-the-road maintenance costs, the simplification of not having to monitor or have on hand diesel exhaust fluid (DEF), and a prospective purchaser for a machine of this size and class would definitely end up with a lot of tractor value for their investment.
For an agribusiness, contractor or municipality in the market for a near 50hp TLB, the 2705E would certainly be well worth checking out. For those in the vicinity of Pomfret, Conn., Big Boy's Toys would be a good place to start. As for parting ways with our long-term test TLB, Tractor.com just wishes the 2705E could hang around our test site for a more indefinite time.