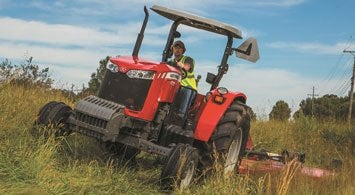 Tractor.com's first exposure to the new Massey Ferguson 4700 series was through a single page brochure we came across in January. That flyer showed a picture of an open station loader tractor on the cover and a specification sheet on the reverse that was a bit skimpy on details. Still, the tractor had that heavy-duty, ready to get dirty look. A month later, at the National Farm Machinery Show (NFMS) held in Louisville, we had a chance to learn quite a bit more.

The 4700 series is made up of three models: the 80hp MF4708, the 90hp MF4709, and the 100hp MF4710. AGCO Corp's Warren Morris told Tractor.com that this series is part of the single largest company investment to date. Internally, this worldwide platform is known as the "Global Series" and is a ground up redesign with over 50,000 hours of endurance testing in extreme conditions to prove reliability. Morris called the 4700 series the top of the heavy-duty utility tractor line.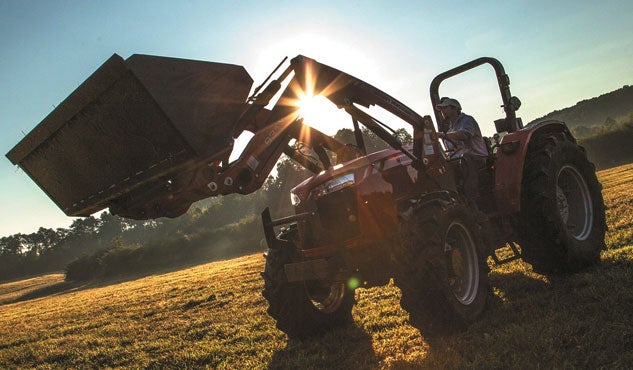 Powered by AGCO Power 3.3L three-cylinder engines that are turbocharged, intercooled and have high-pressure common rail (HPCR) injection systems. EPA Final Tier 4 (FT4) compliance comes through a combination of selective catalytic reduction (SCR) and diesel oxidation catalyst (DOC) technologies. Diesel exhaust fluid (DEF) treats the post-combustion stream and reduces NOx into water and nitrogen. The system does not require a diesel particulate filter (DPF), saving the upfront cost, down-the-road maintenance, and the heat-generating cycling those systems generate.
COMPARISON: Read our review of the 2016 New Holland T5.120
4700 series tractors come in two configurations, Classic and Deluxe. For the MF4708 and MF4709, Classic models come with an 8F x 8R, two-range, synchro-shuttle transmission. For the 4710, a Classic configured tractor comes with an 12F x 12R, two-range, synchro-shuttle transmission. Classic models have a dry clutch with foot pedal control while the shuttle mechanism is a mechanical shuttle lever. Deluxe models all get 12F x 12R, two-range, power shuttle transmissions. This setup uses an electro-hydraulic shuttle lever and wet clutch also with foot pedal control.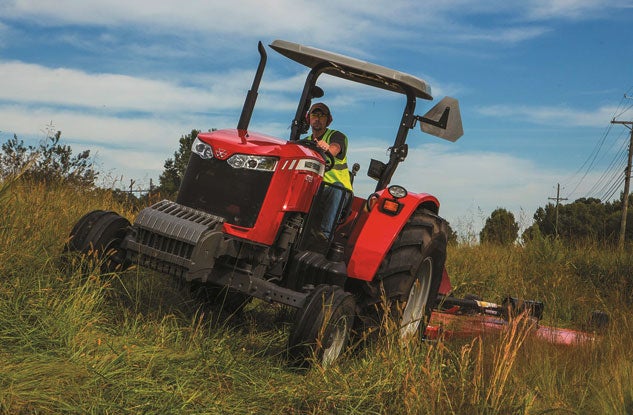 4700 series tractors utilize a cast steel fixed front axle with center drive line and a combination bevel-gear/planetary final drive. 2WD variants have only rear axle differential lock, engaged through an electro-hydraulic rocker switch and have five track width settings in 4" increments to accommodate most every field condition. 4WD Classic tractors come standard with Autolock while Deluxe tractors get touch-of-a-button, simultaneous front and rear lock with true four-wheel drive for maximum traction. At the rear, the flange type axle with internal planetary final drives is beefier than the already beefy axle used on 4600 series tractors. Trelleborg radial tires, 340/85 R 24 front and 420/85 R 34 rear, come standard.
Hydraulics run through an open center system using a single pump that flows 17.7 gpm for both implement and power steering demands. Classic tractors come standard with one double acting (DA) rear remote with float (FL) with a factory installed option for two valves that add kickout (KO). Deluxe tractors come standard with two valves DA, KO, FL with a field installed third valve option with DA, FL only. All valve configurations are spring return to neutral (SRN).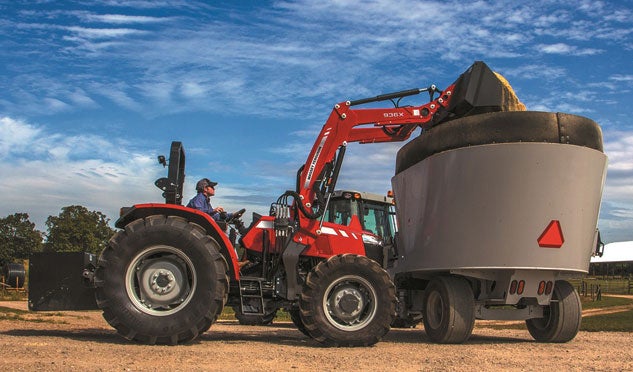 The Cat II three-point hitch (3PH) lift capacity is 4850 lbs at the industry standard of 24" behind ball ends. Lower link arms telescope for ease of implement hookup. Deluxe tractors come with the added nicety of outboard telescopic stabilizer bars. All models have a heavy-duty drawbar as standard equipment. Rear PTO is independent, actuated by an electro-hydraulic switch, and can run at 540 or 1000 rpm using a reversible shaft. Optional is a 540/540E PTO. PTO horsepower ratings are 68 for the MF4708, 78 for the MF4709, and 88 for the MF4710.
COMPARISON: Read our review of the 2016 Massey Ferguson MF4610M Cab
Climb up into the operator's cockpit which is accessible from either side and slip into the comfortable high-back spring suspension seat. There is plenty of fore and aft adjustability along with a mechanical weight adjustment. Controls fall where one expects them to, though floor space is a little tight especially on the right side where the suspended split brake pedals and the floor throttle are positioned. There is also a slight transmission hump to contend with, unlike the fully flat platform found on 4600 series machines, though in no way would the space feel cramped, even after a long day. Deluxe tractors come with a tilt steering column and have the power shuttle stalk mounted at 10 a.m. There is also a rotary +/- switch to adjust the shuttle reactiveness.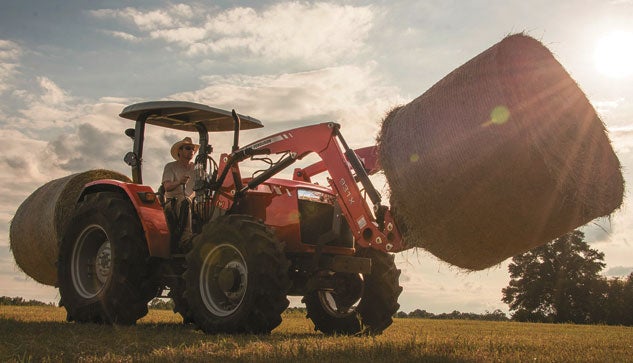 Deluxe models, which in addition to the abovementioned differences also come with a few other performance niceties such as additional protection under the fuel tank, extra 30-amp auxiliary power socket (in addition to the standard seven-pin trailer socket), two more mid-mount adjustable work lights (in addition to the standard four headlights and single rear work light), fender mounted rear hitch switches, standard draft control (optional on Classic tractors), and a performance monitor in addition to the standard analog/digital dash display. But it is the 12F x 12R transmission used in Deluxe models that really shines with six gears in that all-important 2.5 – 7.5 mph field work range. Shifting gears requires just a press of a button on the shift knob with no need to clutch. Top transport speed is 25 mph.
COMPARISON: Read our review of the 2016 Mahindra 3550 PST Cab
Two loaders are available, model 931X which is non-self-leveling (NSL) and 936X which is mechanical self-leveling (MSL). Both have a max lift height of 136", 5.9" of dig depth, and can come in skid-steer or Euro hook attachment styles. Lift capacity for the 931X is 3420 lbs, while the 936X can lift 2770 lbs. Breakout force is 5210 lbs and 4310 lbs, respectively.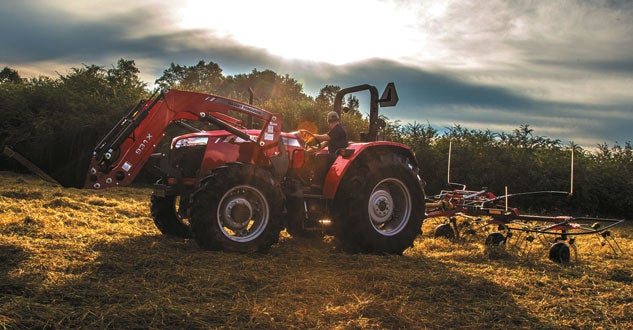 Dates for these tractors to hit dealer stocks at the time of NFMS was March 2016 for open station tractors and fourth quarter 2016 for cab tractors. A little birdie attending the February dealer meeting told us that shipments are ahead of schedule and that cab tractors are expected to start shipping in late July. With a price range of $40-$60K, 80–100hp power, heavy-duty construction and great lift capacity, 4700 series tractors will be well suited for hay, dairy farm, small farm, rotary cutting and loader work.
For an agribusiness with a need for a workhorse of this class, this new series would be well worth checking out. And when it comes time to ordering, our nod would be to the Deluxe package which carries a premium of just around $2500.