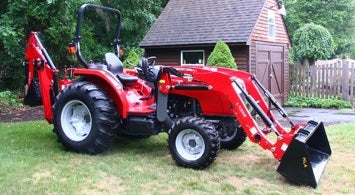 Our long-term test Massey Ferguson MF2705E tractor-loader-backhoe was delivered on a steamy, rainy summer day after being fully prepped by Big Boy's Toys of Pomfret Center, Conn. The tractor was outfitted with an L135E loader and 72" bucket and model CB85 backhoe with a 16" bucket and mechanical thumb. With the sky not cooperating, the weather conditions gave us a good excuse to study the operator's manual.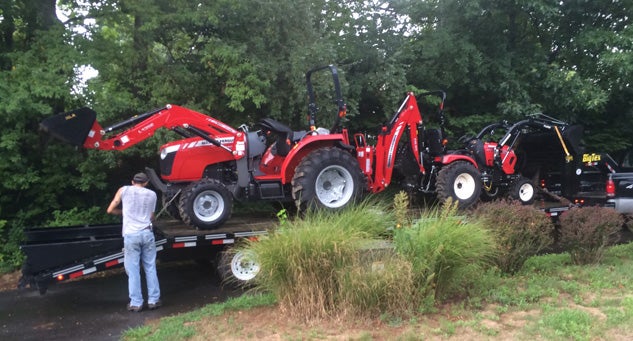 The Massey Ferguson operator's manual is about 7/16" thick, well laid out with a concise table of contents and begins with a congratulation for selecting an AGCO product. Section 1 is all about safety: introduction, operation, travel on public roads, maintenance, and safety signs. Section 2 is an introduction to intended use, identification of major components and emissions controls. Section 3 is about operation. Section 4 is about maintenance. Section 5 contains troubleshooting tips. Section 6 contains specifications. Section 7 lists some of the available accessories. Section 8 contains assembly checklists. Section 9 is a complete index. The 180-page manual covers both the 2705E and 2706E models, as well as both hydrostatic and gear transmissions.
Tractor.com had spent time behind the wheel of a 2705E in December of 2015, but at that time the CB85 backhoe was not available. For our long-term test we were interested to see how the complete TLB package worked in concert. The first thing to note is that this is a big utility tractor (UT). Overall length with the backhoe in transport position is 244". Extend the backhoe and bucket to full reach and the real estate covered is nearly 27'. At time of delivery, the backhoe just cleared the ramp of a Big Tex gooseneck trailer. Weight for the TLB package is 5,978 lbs.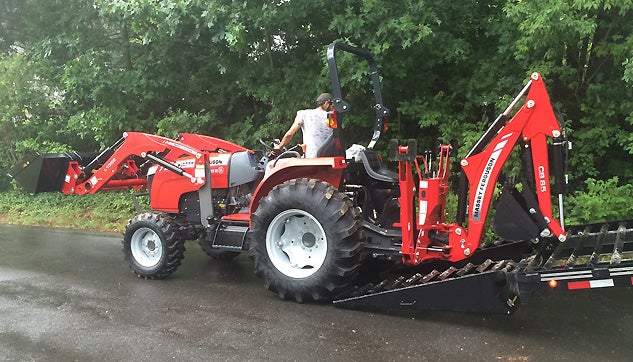 Our test tractor gets power from a Shibaura N4LDI-T water cooled four-cylinder turbo diesel making 48.8 gross horsepower. The 135.23-cubic-inch mill idles at about 1200 rpm, has an operating range to 2700 rpm, but makes rated power at 2600 rpm. Power take-off (PTO) horsepower is 41.4 and the engine is good for 118 lb-ft of torque. Although a hydrostatic transmission is available, we chose the excellent 8F x 8R gear transmission, which has four gears over two ranges and uses a left hand turn signal-like reverser lever. Directional changes do require the use of a clutch (single stage dry), but everything works well together.
Hydraulics run through an open center system flowing 12.6 gpm to implement demand and 7.0 gpm to the power steering system. The Cat I & II three-point hitch (3PH) is rated to lift 2,645 lbs at ball ends and 2,425 lbs 24" behind. Lower link arms have telescopic ends to aid implement hook up and are compatible with the backhoe so they do not have to be removed while in use. The top link is turnbuckle style and has a snap retainer to help keep the chosen length from vibrating out of adjustment. A power beyond circuit is used so when the backhoe is not installed it needs to be connected to complete the hydraulic flow routing and keep the pump from overheating. Position control is standard, so an implement can repeatedly be returned to a selectable point. Draft control is an option.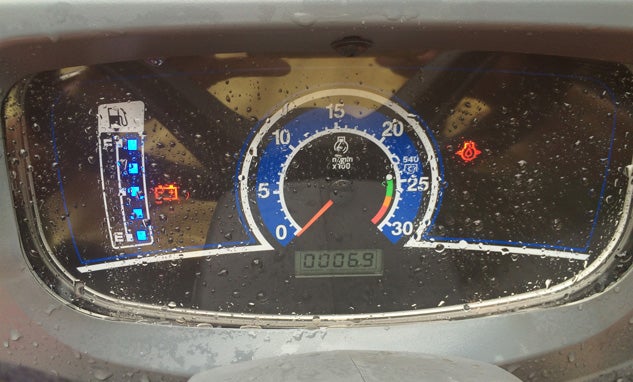 How does it all work? Quite well. The Shibaura mill fires right up after a quick spin of the tachometer dial up and down indicating the glow plugs have been activated and settles into a 79 dBA idle. As expected, hydraulic flow is limited at idle, but becomes more powerful as rpm increases. This means the TLB functions can be used by first-time users with less chance of peripheral damage while experienced users can throttle up and explore the full capability. Our test tractor was delivered with 6.9 hours on the hour meter and by the time it had reached 8.0, we had already moved a large dirt pile and dug out two stumps, one of which was large enough to leave behind a 3' cubed crater. The 2705E didn't miss a beat.
Specs for the CB85, which hadn't been released at the time of our 2015 test, are: 87" transport height, 100" dig depth, 175-degree swing arc, 130" of reach and 407 lbs of dig force. Our 16" bucket had a .95 cubic foot (struck) capacity and seemed well matched for our often challenging New England clay soil. And while disposing of the two stumps, we became appreciative of the tractor's almost 15" ground clearance. The backhoe is a quick attach/detach design and utilizes a subframe to protect the tractor from digging stresses. Leaving the transport pins out over two nights resulted in only negligible boom leak down, and though the tractor is nearly new, is a tribute to the strong hydraulic pump and powerful cylinders used.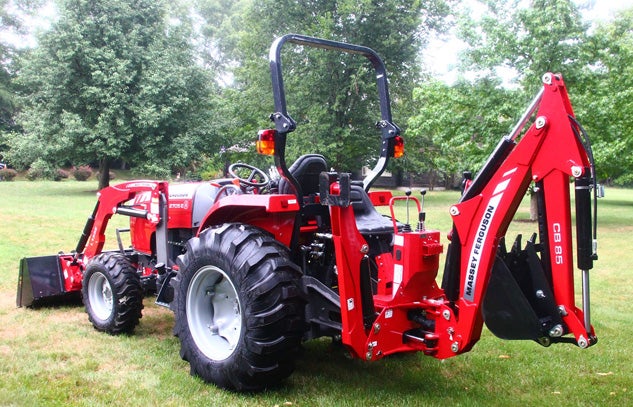 Although the 2705E is a large UT and certainly demanding the operator pay attention to where the loader bucket and backhoe boom are, especially when working in tight quarters, the tractor was surprisingly nimble. Massey Ferguson specs say the turning radius is 114.17" w/o brakes and 98.42" with brakes applied. Gear spacing was another area where we quickly found the right speed for the task at hand. Range 1 forward speeds are: .83, 1.26, 1.96, and 3.11 mph. Range 2 forward speeds are: 3.85, 5.82, 9.10, and 14.39 mph. Reverse speeds are slightly less.
There is a lot to like about this tractor: The quiet EPA Final Tier 4 (FT4) powerplant that does not have a diesel particulate filter (DPF) and that technology's high heat regenerative cycles. An emissions system that does not require additions of diesel exhaust fluid (DEF). A toolbox behind the operator seat (also see nits). Comfortable operator platform with flat floor, easy to read dash, cupholder, retractable seatbelt, and conveniently placed levers and controls, including the 2WD/4WD lever. Knee level fuel fill. Steering cylinders behind the front axle for protection. Substantial look and feel (no sign of cost cutting) and high degree of stability.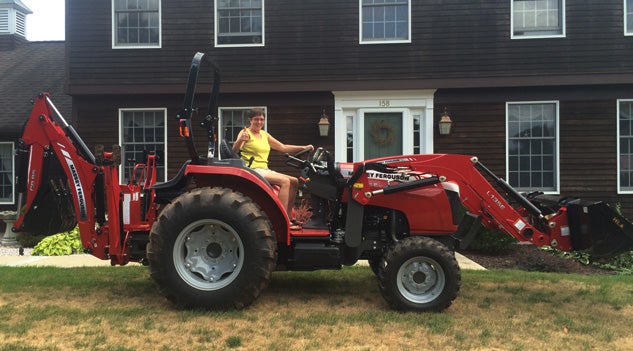 Nits were few: The toolbox is tightly sandwiched between the seats. No fender storage tray. No grab handle on the right fender. Truthfully, the toolbox is really in the right position and to access it more easily, the operator just needs to remove the transportation pin on the backhoe seat and tilt it out of the way. A fender storage tray might be nice, but the toolbox works just as well for storage of keys, hitch pins etc. And the grab handle; for the most part the operator hand is on the loader joystick or operating the 3PH control or throttle. Small nits indeed.
Over the next few months we will be undertaking several projects and really getting to know the Massey Ferguson 2705E. We plan a midway through update and then a wrap up piece. Meanwhile, we're enjoying seat time with our long-term test TLB.