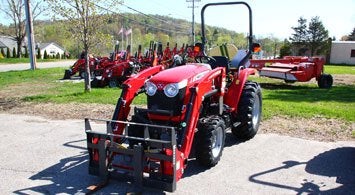 Defining an economy tractor isn't as simple as pulling out a Webster dictionary and scanning down to a specific line, though the generalities are 30 to 40 horsepower with basic functionality to handle minimum needs. The marketplace for such tractors is huge – 45% of all compact utility tractors (CUTs) fall into this range (about 26,000 units each year).

Massey Ferguson has always been know for its premium tractors, but had no offering to compete with economy models from Kubota, John Deere, Mahindra, and others. That changed with the introduction of the 1700E Series. The first economy model we tested was back in the spring of 2014 when there were just two models. We found the 1734E gave up some deluxe and more refined features of the premium models (1734, 1742, 1749, 1754, 1758 and 1759), but performed well. Since that two-model release, Massey Fergusson has added the 1726E, which is the subject of this review.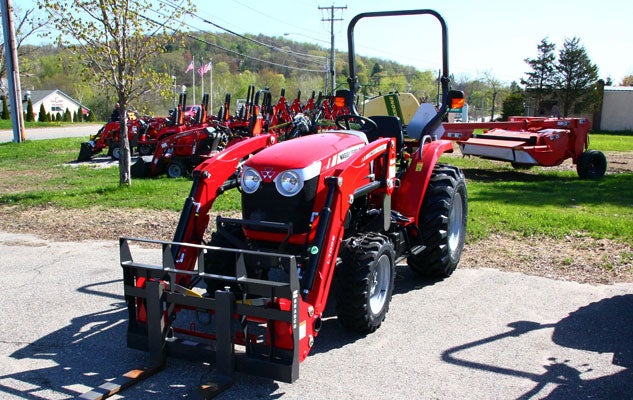 The 1726E gets the same chassis as the 1734E and 1739E, which is made by Iseki and is powered by the same N843T-F three-cylinder Shiabura diesel. What's unique about the 1726E is the turning down of power to 24.8 gross, which puts it into that under 25 horsepower EPA class not required to meet Final Tier IV (FT4) emissions compliance. This means no diesel particulate filter (DPF), which is a more complex and costly system requiring a periodic heat inducing cycling to regenerate (clean).
COMPARISON: Read our review of the 2014 Massey Ferguson 1734E HST
The N843T-F utilizes indirect low pressure injection and electronic engine management, internal exhaust gas recirculation (iEGR), and is turbocharged with a power take off (PTO) horsepower rating at 2600 rpm of 19.2 for hydrostatic models and 20.4 for those equipped with gear transmissions. Since the 1734E we tested came with a hydrostatic transmission, we wanted to see how a lower powered 1726E gear would perform. Thanks to Goff's Equipment Service in Litchfield, Conn., who made such a model available, we're able to make that comparison.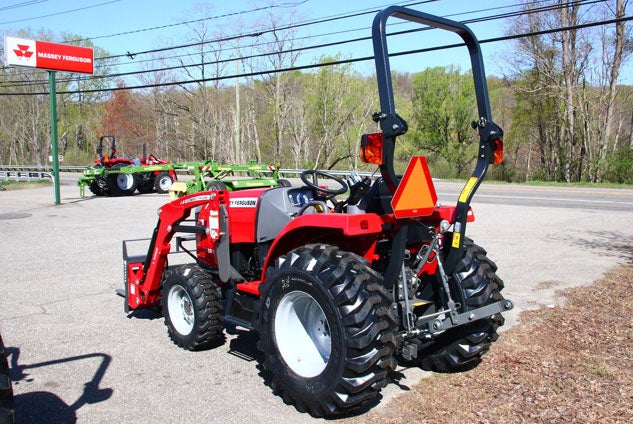 If a hydrostatic transmission is selected, the 1726E comes with the same three-range unit as in the 1734E. For so equipped tractors an "r" shaped treadle pedal is the operator control interface and there is only a single brake pedal. For gear transmission models, the center mounted shift lever is arranged in a classic "H" with 1 above R and 2 to the right above 3. A three-range selector (rabbit, turtle and snail) multiply those gears to nine forward and three reverse. The system is constant mesh, meaning there is no shuttle control and the clutch is required when making a change of direction, gear or range. A nice tradeoff is the split right side brake pedals that don't require gymnastics to use. For ease of use, the operator can vary engine rpm using a foot and/or hand throttle.
Hydraulics run through an open center system flowing 6.7 gpm to implement demands and 3.8 to power steering needs (10.5 gpm total). This gives the Cat-I three-point hitch (3PH) a lift capacity of 1600 lbs at the industry standard of 24" behind (2205 lbs at ball ends). Position control is standard, so an implement can be returned to a selectable position repeatedly and accurately. Lower lift arms have fixed ends and outboard turnbuckle stabilizers, so some wrestling with implement attachment is expected but can be mitigated by readily available systems such as Pat's Easy Change. The hydraulic system on the 1726E can support up to two rear remotes, which would be an option. A 540 rpm rear PTO is standard which uses a 1-3/8" six-spline shaft but there is no mid-PTO available. The PTO on the 1726E is transmission-driven so engagement requires use of the clutch. 2WD/4WD actuation is through a push/pull lever, and for tough conditions, the operator can engage the differential lock with their right heel.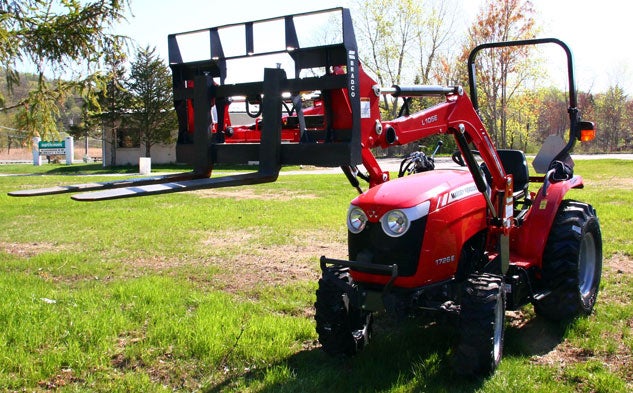 Climb up into the suspended vinyl seat (there is no weight adjustment) and the cockpit is spacious, owing to the fact that the 1726E is on a larger chassis than most 25 hp tractors. The transmission tunnel size is somewhere between small and medium, but without a treadle pedal, felt like it had plenty of room even for larger feet. The shift lever location below the steering wheel, which is fixed, isn't in the most convenient location for loader work, but isn't difficult to get used to. For those preferring to keep a hand on the joystick control while doing loader work, that might be the deal-sealer to go with the hydro transmission. By the same token, the joystick for economy models is mounted on top of the loader stanchion. For those desiring right console integration, they'll be looking at 1700 Premium models. Other than those distinctions, the 1726E cockpit has the same dashboard layout, color-coded levers and controls, folding rollover protection system (ROPS) hoop, retractable seatbelt, and even a right side cup holder.
COMPARISON: Read our review of the 2015 Kubota L2501 HST
Ease of maintenance is built into every 1700 series tractor and economy models are no different. One pull of the hood lever and the one-piece steel hood rises on a gas strut, exposing the battery, air filter canister, radiator screen, and engine oil dipstick and filler tube. Access to the 10-gallon fuel tank is left side knee height. And engine oil level can be checked without raising the hood. A sight glass for hydrostatic fluid level replaces the traditional awkward-to-use dipstick.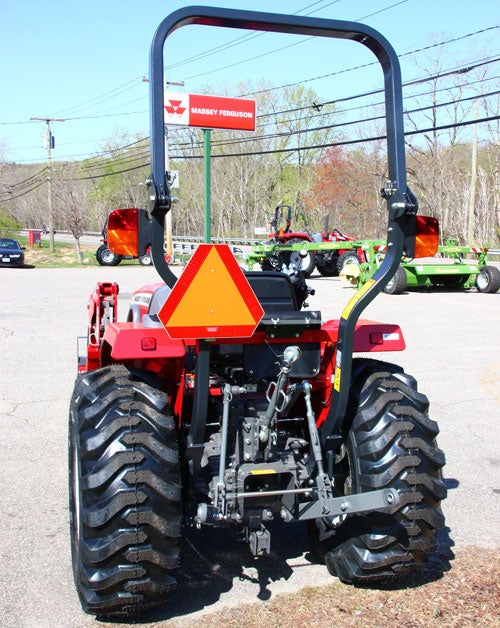 So how does it work? Firing up the Shiabura mill and the diesel settles into a 76-77 dBA purr that might be a little quieter than the 1734E we tested, but could also be due to ambient noise levels. Maneuverability is quite good with a lot of credit going to the bevel gear steel 4WD axle with 52 degrees of steering angle. Power is noticeably down from the 1734E we tested, even paired to the gear transmission, but select the right gear and speed range and we doubt there is a task the 1726E couldn't handle (within its tractive capabilities).
COMPARISON: Read our review of the 2014 John Deere 2025R
Our test tractor was equipped with Massey Ferguson's new L105E loader, which is rated to lift 830 lbs to a max height of 95.7". This is a little less than the L100 used on the 1734 and 1739E tractors, but still comes with 1460 lbs of breakout force and 3260 lbs of rollback power. An option well-worth considering is the skid-steer attachment system, which opens the door to a wide range of readily available attachments. Our test tractor was equipped with the skid-steer system along with a Bradco pallet fork attachment. This would be a really useful setup whether it be used for loading/unloading or piling on of brush that would all too quickly fill a loader bucket.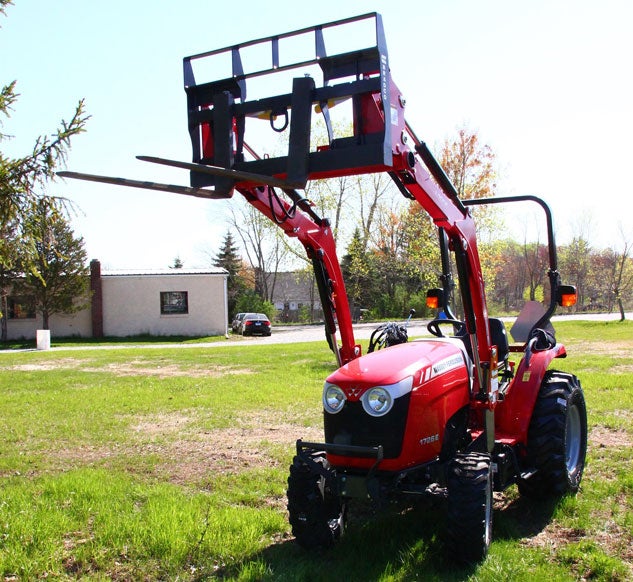 The 1726E measures 116" long by 52.4" wide and is 97" from the ground to the top of the extended ROPS hoop (63.8" when folded). Gear tractors weigh 2600 lbs (2657 lbs hydro). Massey Ferguson gives 1700 Series tractors a five-year powertrain warranty and currently incentives are available, including 0% 72 months. The 1726E has a MSRP of $14,948 (tractor-only), which undercuts the 1734E by $2354 and the 1739E by $4473.
For any agribusiness, landscaper or homeowner looking for a value tractor that doesn't compromise on performance while coming in under that EPA 25 horsepower demon, the 1726E is well worth checking out.