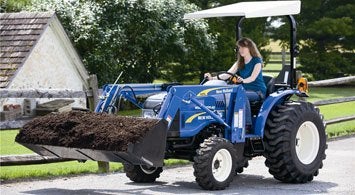 The Workmaster name dates back to 1957 when Ford came out with the Workmaster 601 lineup. Those tractors were known for their simplicity while still getting the job done reliably. In 2009 New Holland reached back into the name bin and revived the series, coming out with Workmaster 45, 55, 65 and 75 models. These were utility tractor (UT) size machines with gross horsepower ratings from 45 to 75 and power take off (PTO) horsepower numbers ranging from 39 to 65.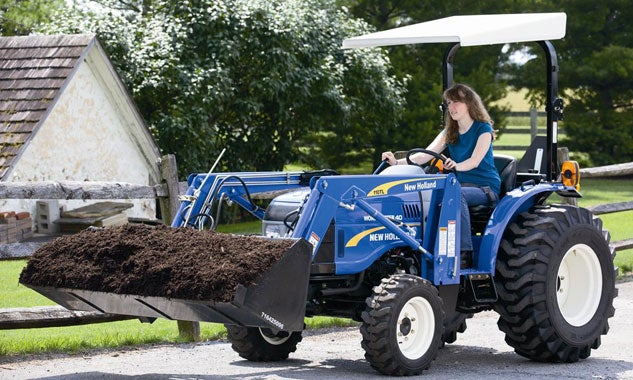 Earlier this year New Holland announced an addition to the lineup: the Workmaster 35 and Workmaster 40 with 35 and 40 gross horsepower, respectively. These are compact utility tractors (CUTs) and though the intent of the series is value, there is a choice of transmissions and standard features such as 4WD, separate hydraulic pumps for steering and implement use, electro-hydraulic PTO clutch and folding rollover protection system (ROPS). As with their bigger brothers, the Workmaster 35 and 40 are built in South Korea by LS to New Holland specifications.
COMPARISON: 2014 Kioti DS3510 Review
Powering the Workmaster CUTs are EPA Tier 3 compliant three cylinder diesels displacing 116 ci in the Workmaster 35 and 122 ci in the Workmaster 40. Both powerplants deliver rated horsepower at 2600 rpm. For the gear-driven Workmaster 35 the PTO horsepower is 28.4 while hydrostatic units (with their inherent losses) drop the rating to 26.6. In the case of Workmaster 40, its gear PTO horsepower rating is 33.4 and in hydro form 31.2. Fuel choice is number 2 off-road or B5 bio-diesel.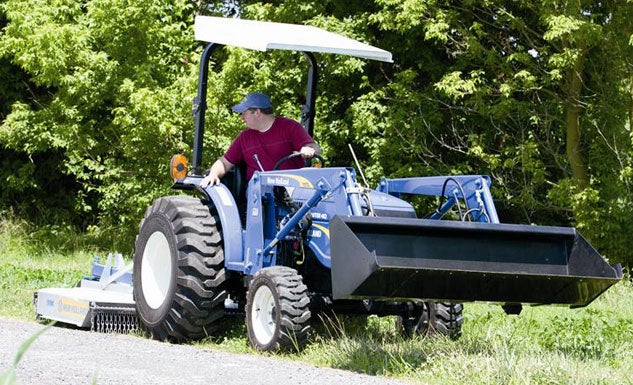 Other than the powerplant size and transmission choice, the chassis specifications for the two models are identical. Those transmission choices are a 12×12 speed synchro shuttle gear version and a three-range hydrostatic unit. Our test tractor came with the hydrostatic unit, which is controlled by a twin side-by-side pedal arrangement that received universal praise for its ergonomic positioning and ease of getting used to. And with three ranges on tap, you know there is always going to be that perfect balance of power and speed to get the job done in the most efficient manner.
For those opting for a manual transmission equipped Workmaster, directional control is through a dash-mounted shuttle lever. With this arrangement there is no need to come to a complete stop before changing direction, though the synchro shuttle is not a power shuttle and clutching is a required step. Either transmission excels at loader work, though we tend to prefer a hydrostat over a manual – unless it is a power shuttle unit. Hydrostatic transmission variants also come with cruise control.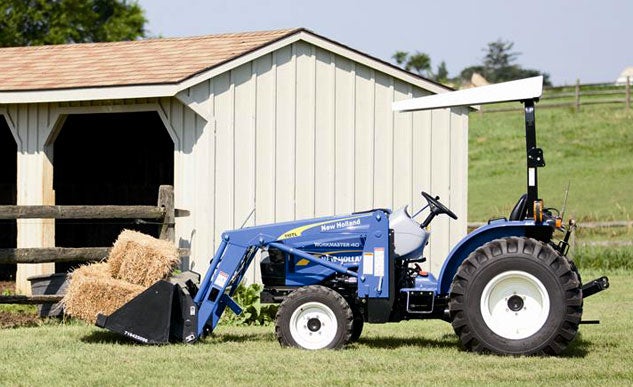 You might be thinking a value tractor skimping on hydraulic flow to save a few pennies would be an acceptable sacrifice, but you won't see it on Workmasters. Separate pumps, one flowing 4.8 gpm to the hydrostatic power steering and the other flowing 8.2 gpm (13 gpm total) for implement use, yield a three-point hitch (3PH) lift capacity of 1433 lbs at the industry standard of 24" behind ball ends. Position control over the Cat-I 3PH is standard, so the operator can lower an implement to the same selectable position time after time.
COMPARISON: 2013 Mahindra 4035 Power Shuttle Review
Adjustment of the outboard stabilizers is through a telescoping setup, but the lower lift arms are static. For those desiring more adjustability in that area, there are plenty of aftermarket systems that address ease of attachment. Castings used in the transmission and axle are cast iron and substantial – you won't find any aluminum used here. The drawbar has two adjustable positions and comes standard, along with a 540 rpm rear PTO. If a mid PTO is required, there is a 2000 rpm option covering that need.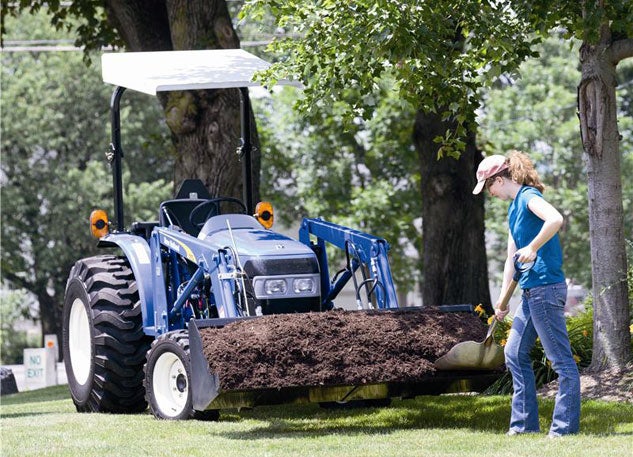 Climb up into the operator's seat using the left side steps (there is no right side step) and you'll find a nearly flat platform that is uncluttered with color-coded controls positioned intuitively. The seat is a contoured mid-back design that is well padded and adjustable fore and aft on a smooth track. Metal fenders are a little tight to the operator's sides, but never in such a way that it interferes with the controls. Instrumentation is a blend of electric and analog and offers good visibility even in direct sunlight. To actuate the electro-hydraulic PTO, the operator twists and detents a large yellow switch. To disengage the PTO, all that is needed is a push tap. As expected, 4WD, differential lock, a folding ROPS and wet disc brakes are standard.
Our test tractor was equipped with the model 110TL loader. This is a square post/frame design that bucks the trend of curved boom loaders. With a 100.2" max lift and a weight capacity of 1272 lbs at that same height, the 110TL is well matched to the Workmaster series. Buckets available include 60" and 68" widths. Attachment/detachment is easy and accomplished in minutes without the use of tools. And while we prefer a loader joystick to be incorporated into the right side fender/cowl and not on the loader tower, none of our testers found the 110TL tower positioning at all awkward. Breakout force is a substantial 3338 lbs and the lift capacity at 59" is rated at 1845 lbs.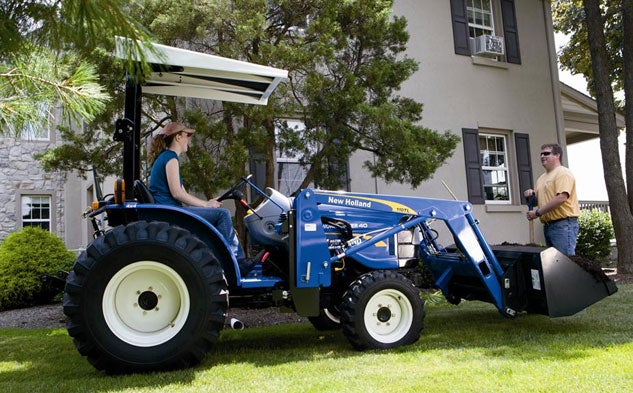 To access the engine for maintenance, all that's required is to pull a lever and the one-piece hood raises effortlessly on a gas strut. Maintenance points for the engine, radiator, air cleaner, power-steering reservoir and battery are all accessible – even with the loader installed. New Holland has chosen to position the 7.4-gallon fuel tank behind the seat instead of through the hood.
COMPARISON: 2012 Massey Ferguson 1643 Cab Review
The 2900-pound Workmaster 40 with R4 industrial tires (R1 Ag and R3 Turf options are available) measures 66.5" wide by 117.7" long and is 87.7" high from the ground to the top of the extended ROPS. Aimed at rural lifestylers, landscapers, farmers and municipalities, New Holland backs up each Workmaster with a five-year limited warranty. For anyone in the market for a 35 to 40 horsepower "value" tractor but desiring a choice of transmission, the new Workmaster additions are worthy of a serious look.