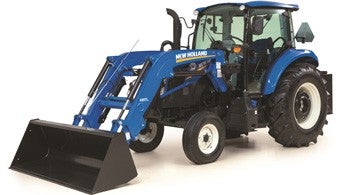 The New Holland T4 series is a four-tractor lineup – T4.90, T4.100, T4.110 and T4.120 – that fits in just below the slightly larger and more expensive T5 series. Though the T4 lineup is slightly smaller, it is all Utility with gross horsepower ratings ranging from 86 to 117 and power take-off (PTO) ratings from 73 to 99.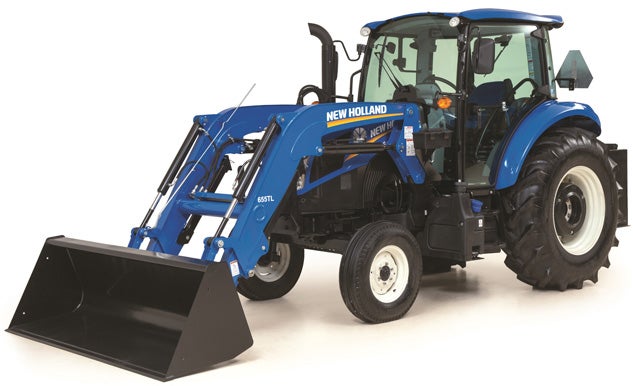 Powering T4 tractors are F5G four-cylinder 3.4L engines from Fiat Powertrain Technologies (FPT). These engines are EPA Final Tier 4 (FT4 or Tier 4B) compliant using external selective catalytic reduction (SCR) and light cooled exhaust gas recirculation (CEGR). This means additions of diesel exhaust fluid (DEF or AdBlue) are necessary, but it also means the emissions systems operate after combustion so the F5G engines can be tuned for optimum power. For the T4.90, the gross horsepower is 86 and the PTO horsepower is 73.
COMPARISON: Read our review of the 2016 Mahindra 2565 Cab
T4 tractor purchasers have five transmissions to choose from with base configuration tractors getting a 12 x 12 mechanical shuttle transmission. A good percentage of T4 tractors are expected to be purchased along with loaders, so New Holland offers several packages that include 12 x 12 power shuttle transmissions. More on the packages later. For applications that require slower, accurate speeds for applications such as seeding and spraying, a 20 x 20 power shuttle with creeper is available. Next step up are Dual Command transmissions, the first being a 24 x 24 which has high-low functionality and can be shifted between those ranges without the need to depress the clutch pedal and the second being a 40 x 40 Dual Command transmission with creeper.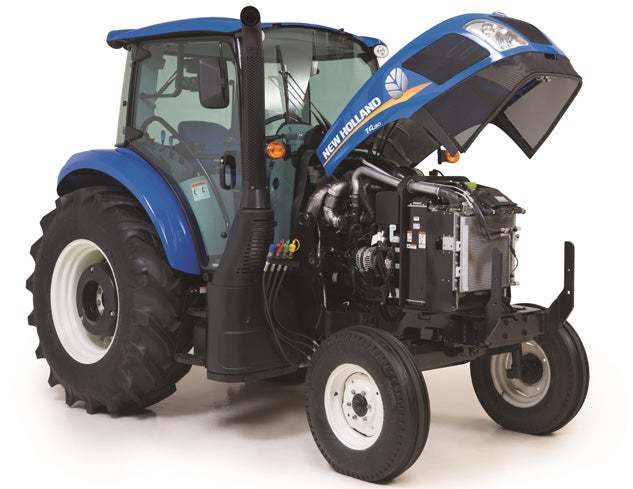 Hydraulics run through a twin pump system flowing 16.9 gpm to implement demand and 9.7 gpm to service needs (26.6 gpm total). This gives the three-point hitch (3PH) a standard lift capacity of 5620 lbs at the industry standard of 24" behind. Need more lift capacity? No problem, New Holland offers an optional ram that increases lift capacity to 7351 lbs. Lower link ends flex for ease of attachment and the outboard stabilizers telescope for quick cinching up of slack. Two rear remotes are standard with up to three supported. Tractors outfitted with the base 12 x 12 transmission come with a 540 rpm rear PTO with a 540/540E or 540/1000 rpm option. Dual Command transmissions can come with 540/540E or 540/1000 rpm PTOs.
COMPARISON: Read our review of the 2016 Yanmar YT347 Cab & Open Station
The standard duty 4WD front axle is electrically engaged with an in-action capacity of 9,479 lbs at 4 mph which is ideal for basic loader and field work. Need more capacity? No problem, a heavy-duty front axle is an available option (standard on T4.120) that ups the lift ante to 10,361 lbs. at 4 mph. The electrically engaged axle also aids in braking, with the system automatically going into 4WD whenever the brake pedal is depressed.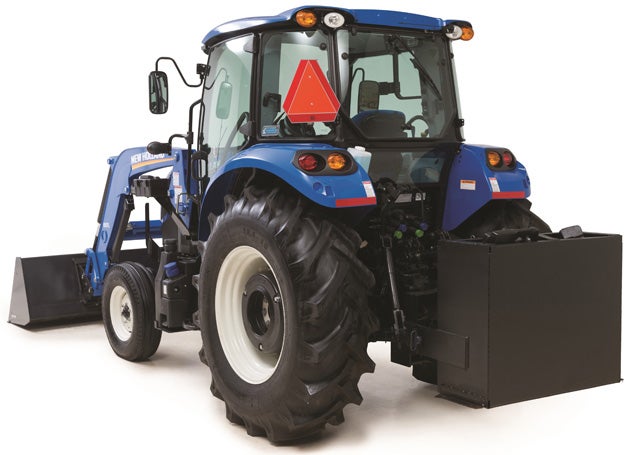 Several T4 packages are available, including a basic, no-frills open station 2WD or 4WD (ROPS) variant, but we suspect a good percentage will be cab models. Order the T4 Utility package and the tractor will come with the 12 x 12 power shuttle transmission, the VisionView cab, air suspension seat, electronic 4WD front axle, 655TL standard duty loader with 74" or 84" bucket, and bias tires. Options for the T4 Utility package include an upgrade to the Deluxe VisionView cab with instructor seat and rear wiper/washer or a downgrade of the seat to one with mechanical suspension. Order the T4 Standard package and the tractor comes with a 12 x 12 power shuttle transmission, deluxe cab with instructor seat, rear window wiper/washer, electronic 4WD front axle, 655TL standard duty loader or 665TL heavy-duty loader, and radial tires.
COMPARISON: Read our review of the 2016 Kubota M5660SU
The 655TL loader can come with mechanical self-leveling (MSL) linkage or as a non-self-leveling (NSL) loader. Either skid-steer or Euro-style quick attach faceplates are available. In MSL configuration, the 655TL will lift 3,179 lbs to a max height of 125" with a dump clearance of 93". Dig depth is 8" and breakout force is 3,860 lbs. In NSL configuration the 655TL will lift 2,478 lbs to a max height of 126", also with a dump clearance of 93" and a dig depth of 8". Breakout force is 3,739 lbs. For even greater lift height and capacity, the 665TL loader is available.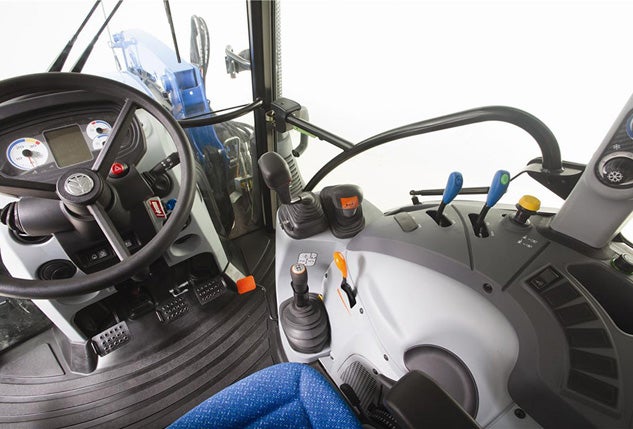 Open the large VisionView cab door, which swings wide for easy access, and climb up into the roomy operator cockpit. You'll find a near 360-degree view with the curved windshield glass adding to loader visibility, opening rear quarter panel windows and minimal roof support pillars. The CommandArc right side console is arranged with the most used functions grouped in close proximity to each other and the lesser used ones further away but intuitively-placed. Resting their right elbow on the armrest, the operator's right hand falls over the range, gear shift, throttle and loader joystick controls. Just aft are the remotes, 3PH control, and PTO switch. The right pillar houses the AC controls, lights, and wiper/washer controls. For operator comfort the steering column tilts (along with the gauge cluster) and the air suspension seat is definitely designed for long days in the field.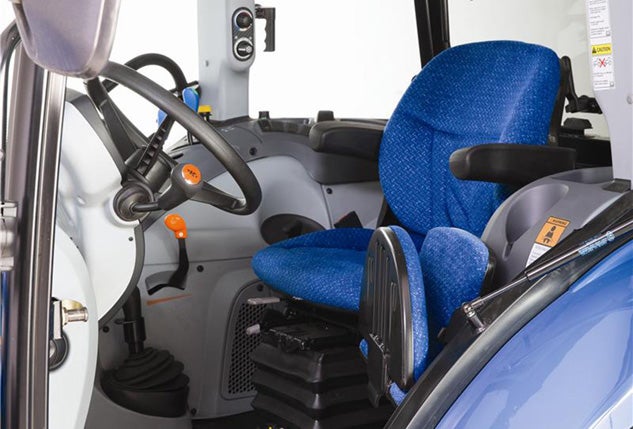 T4 tractors weigh 8,157 lbs in 4WD guise, are 75.7" wide by 160.9" long and 102.1" to the top of the cab and ride on an 89.9" wheelbase. Our test tractor, as optioned (T4 Utility) with the mechanical self-leveling 655TL, 12.4-24 front and 18.4-30 12PR rear R1 (Ag) tires, carries an MSRP of $74.859. For an agribusiness in the market for a utility tractor that is powerful, practical and comfortable, the New Holland T4 series might be well-worth considering.