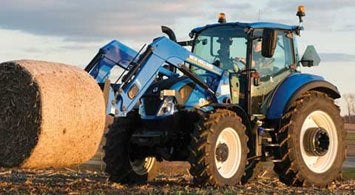 In the New Holland agricultural lineup the T5 series sits squarely at the sweet spot where maneuverability, power, versatility, comfort and price point all meet. For 2016, there are two new models that replace the outgoing three-model lineup and have received significant upgrades.

Beginning with the Fiat FPT F5G 3.4L four-cylinder power, these turbocharged, air-to-air intercooled, high pressure common rail (HPCR) injected engines utilize the latest emissions technologies to achieve EPA Final Tier 4 (FT4 or Tier 4B) compliance. Those technologies include selective catalytic reduction (SCR) and cooled exhaust gas recirculation (CEGR). Compliance with the F5G does not require the addition of an expensive diesel particulate filter (DPF) nor the heat inducing regenerative cycling those systems must go through.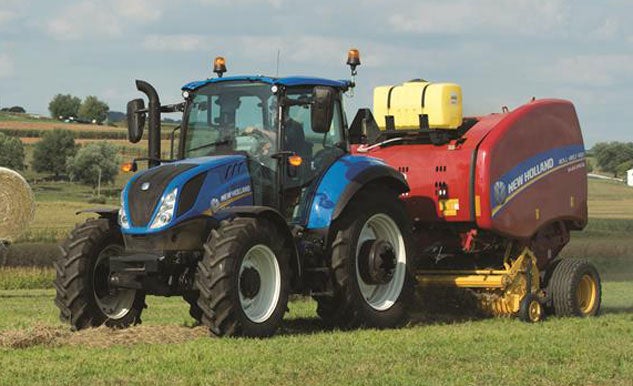 Horsepower for the T5.110 is 107 gross and 93 power take off (PTO), while the T5.120 is rated at 117 gross and 99 PTO. Peak torque comes at 1500 rpm and is 345 lb-ft for the T5.110 and 362 lb-ft for the T5.120.
COMPARISON: Read our review of the 2016 New Holland T4.115 Cab
Output from the F5G is sent to one of four transmissions. Standard is a 16 x 16 Electro Command semi-powershift transmission with a speed range of 1.62 – 25 mph. This transmission uses a left hand turn signal-like stalk for directional changes. To change gears, all that's required is a blip of a thumb button. Eight speeds are available using the thumb buttons and do not require clutching or a speed range change. Transmission Option 1 is a 16 x 16 Electro Command with AutoShift, also with a speed range of 1.62 – 25 mph. AutoShift can be set to field and transport modes. Option 2 is a 32 x 32 Electro Command transmission with Creeper, which has a speed range of 0.16 – 25 mph. And Option 3 is a 32 x 32 Electro Command transmission with Creeper and AutoShift, also with a 0.16 – 25 mph speed range. Achieving 25 mph transport comes at 1970 engine rpm for reduced fuel consumption and less noise. Shuttle modulation can be dialed in with three settings, allowing the operator to select the responsiveness of forward/reverse directional changes. This can be especially useful for tasks such as loader work.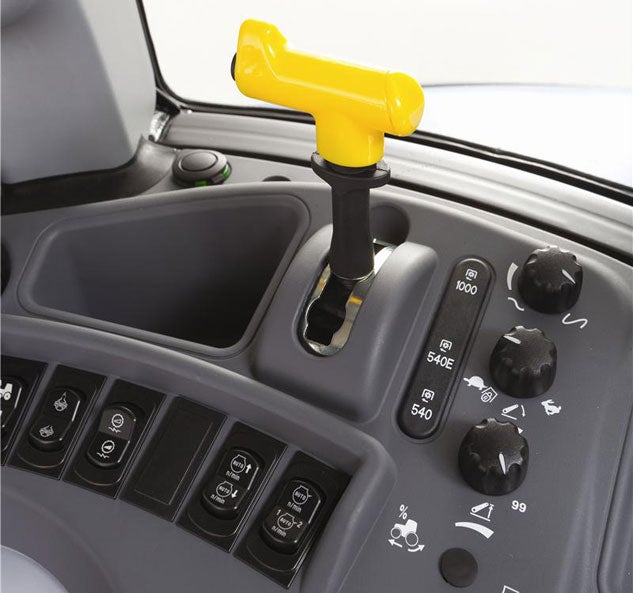 Hydraulics run through a closed center tandem pump flowing 21.1 gpm to implement demand and 11.4 gpm (32.5 total) to the power steering unit. Standard configuration has two rear mechanical remotes with configurable detents. T5 tractors can be optioned to have three mechanical rear remotes, with two having configurable detents. There are two mid-mount valve options which are two-function mechanical or electronic. If optioned with an electronic joystick, the placement is mounted at the end of the right armrest. Three-point hitch (3PH) lift capacity is 8084 lbs using standard external 80 mm rams, which is an increase of 1000 lbs over the previous generation T5 tractors. Standard is a 540/1000 rpm rear PTO which has an Auto PTO setting that disengages the PTO when the 3PH is lifted to a preset point and reengages when the hitch is lowered. The tractor achieves 540 PTO rpm at 1938 engine rpm and 1000 PTO at 1926 engine rpm. Optional is a 540/540E/1000 rpm PTO. Fender switches for the 3PH and PTO are standard.
The standard front axle is a class 1.5 heavy-duty axle. A big improvement in comfort and field performance is the option to now outfit T5 tractors with the Terraglide suspended 4WD front axle, which T6 and T7 operators will be familiar with. TerraLock automatic 4WD engagement and differential lock combine to put more power to the ground but disengage to make tight turns without damaging drive system components. 28" front wheels can now be accommodated, and along with chassis improvements now allow a GVW of 17,637 lbs (up from 16,320). True four-wheel braking is also now possible.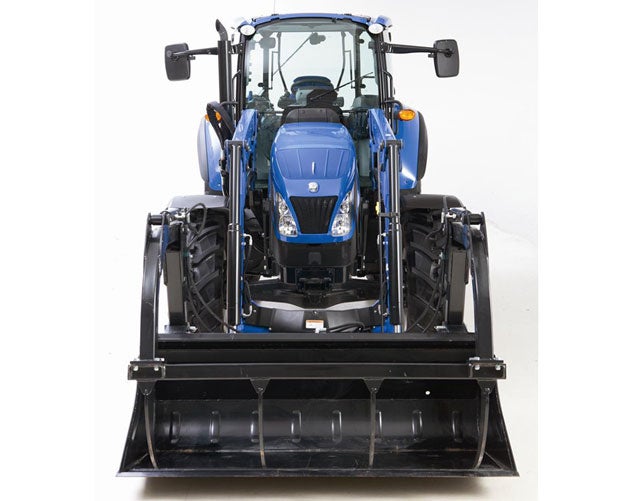 The new VisionView cab is deluxe through and through and designed using the latest virtual reality technology. Tractor.com saw firsthand this technology being applied in the New Holland campus virtual reality room and came away thoroughly amazed. Virtual reality allows ergonomics, comfort and visibility to be built in right from early design stages. Inside the cab, which can be optioned with Comfort Ride cab suspension, an operator will find the steering column tilts and telescopes for comfort and that the right console layout positions the most used controls within a hand-swipe motion. Dashboard readouts include analog gauges with a digital LCD pod in the center offering readout of functions such as gear, range, speed, rpm and hours at a glance. There is plenty of room for the optional instructor's seat, which comes with a seatbelt. The deluxe air suspension operator seat, though, is the place to be and comes with an expansive, panoramic view. Order the optional enlarged and heated wing mirrors, which feature electronically adjustable upper and manually adjustable lower sections, and you'll find blind spots at a minimum. T5 tractors can come with ISOBUS 2 capability, allowing control over implements such as balers and mowers using the IntelliView IV monitor for single screen operation.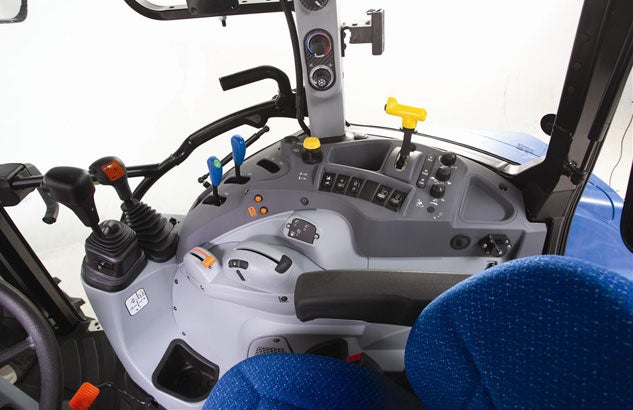 Since a good percentage of T5 owners will want to equip their tractors with loaders, New Holland offers a loader-ready package with electrohydraulic or mechanical joysticks with integrated transmission shifting. Two loaders are available, the 825TL and 835TL, both in non self-leveling (NSL) or mechanical self-leveling (MSL) configuration. The 825 TL can lift 3086 lbs to a max height of 139", has a dump clearance of 100.8", can dig to a depth of 3.5", and has a max breakout force of 3147 lbs. The 835TL can lift 3836 lbs to a max height of 146.9", has a dump clearance of 109.1", can dig to a depth of 5.9", and has a max breakout force of 4277 lbs. Either skid-steer or Euro-style attaching plates are available.
COMPARISON: Read our review of the 2016 Massey Ferguson MF4610M Cab
T5 tractors measure 165" long, ride on a 93.7" wheelbase and weigh 10,031 lbs (un-ballasted). Height to the top of the cab is 107". Tire options include all the major brands. Our test tractor came with Michelin 14.9R24 A8 front and Michelin 460/85 (18.4) R34 A8 rear tires. With a MSRP starting at $96,101, 600-hour service intervals (engine oil & filter, fuel filter, AdBlue DEF filter), the new T5 models are nimble, have high power to weight ratios, and are optimized for tasks such as haying and loader work.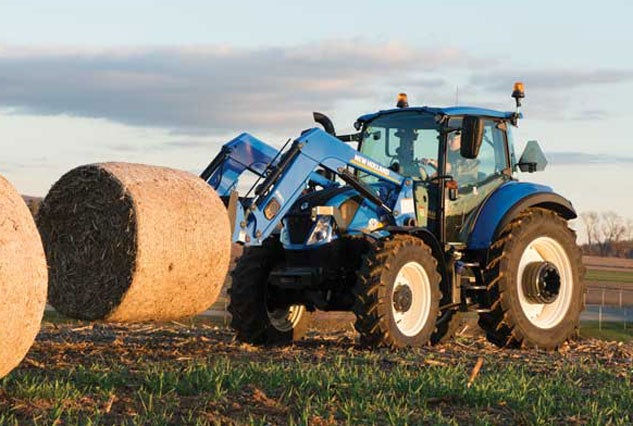 For an agribusiness looking for a premium short wheelbase, mid-power tractor that is eco-friendly and conserves fuel usage, the T5 would be well worth investigating.