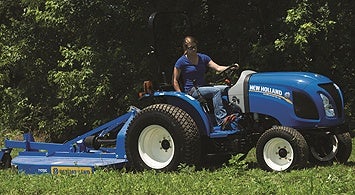 New Holland groups its Boomer and Workmaster series tractors into a single Compact Full Line brochure. Boomer tractors have seven models ranging from 24.4 to 53 HP and are the more deluxe series with available niceties that can include cabs and CVT transmissions (model dependent). Workmaster tractors have five models ranging from 32.2 to 70 HP and, as the name suggests, are simple, tough, economical machines designed for tough work.

On the Compact Utility (CUT) side, there are two models, the Workmaster 33 and the slightly higher horsepower Workmaster 37. On the Utility (UT) side there are three Workmaster models; the 50, 60 and 70.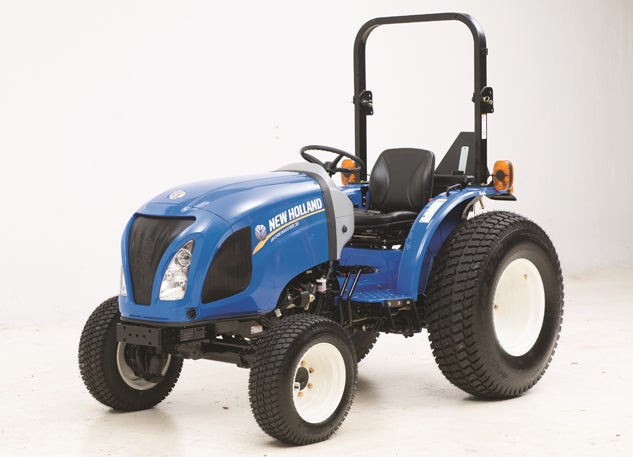 Power for the Compact Full Line comes by engines made by Shibaura that are EPA Final Tier 4 (FT4 or Tier 4B) compliant. Compliance is through a combination of technologies that include internal exhaust gas recirculation (EGR), diesel oxidation catalyst (DOC), and a diesel particulate filter (DPF). The system does not require additions of a diesel exhaust fluid (DEF) and does not require any operator input or the need to stop the tractor. Powering the Workmaster 33 is a three-cylinder turbocharged engine displacing 1.5L and rated to deliver 32.2 gross horsepower at 2600 rpm. Power take-off (PTO) horsepower rating is 26 for gear tractors and 24.7 for those equipped with hydrostatic transmissions.
COMPARISON: Read our review of the 2016 Kioti CK2610 HST
For owners that opt for gear power delivery, New Holland offers a 12 x 12 transmission with four synchronized gears and three synchronized ranges. Forward and reverse directional change is through a shuttle lever located just below the steering wheel rim. The system requires clutching between directional, gear and range shifting, but offers an impressive range of speed choice, especially for a tractor that is billed as a value model. Though the 12 x 12 transmission is simple to operate and convenient for loader work, as some 90% of Workmaster tractors will be equipped from the factory, many purchasers prefer a transmission that forgoes the need for a clutch or lever forward/reverse control.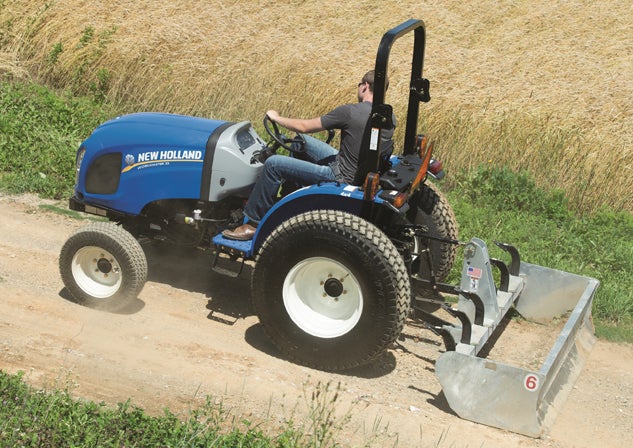 Our test tractor was equipped with the latter choice, a hydrostatic transmission, with three ranges and controlled by a pair of bright orange side-by-side pedals. This arrangement allows for infinite speed control within the selected range by depressing or letting up on the respective forward or reverse pedal. A single lever located between the operator seat and left fender is used to select H (high), N (neutral), M (medium), or L (low) ranges.
The hydraulic system used has two pumps with one flowing 8.2 gpm for implement demand and another flowing 4.2 gpm for power steering requirements (12.4 gpm total). This gives the Cat I three-point hitch (3PH) a lift capacity of 1807 lbs at ball ends and 1433 lbs 24" behind. Position control is standard, so an implement can be returned accurately to an operator selectable position time after time. The rockshaft control for the 3PH is located between the operator seat and the right fender. Lower link ends are fixed but the outboard stabilizers telescope for quick cinching up of 3PH slack. An electro-hydraulic 540 rpm rear PTO is standard with an option for a 2000 rpm mid-PTO. Castings for the engine, transmission and rear axle are hefty and are affirmation of the heavy-dutiness implied by the Workmaster name.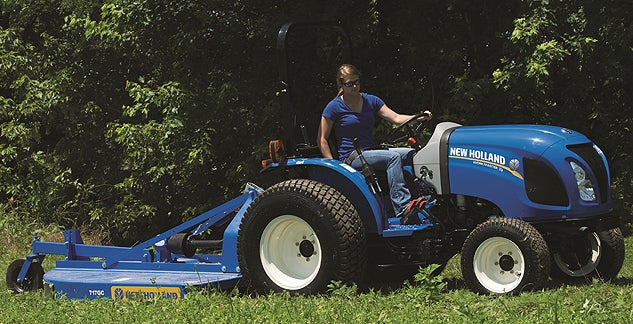 Our test tractor was equipped with the model 140TL front-end loader (FEL). This is a slightly different model than the 250TLA loader used on the Boomer 33 and 37, with slightly lesser capabilities. Even still, the 140TL comes with a single pin detach system and is rated to lift 1500 lbs to a max height of 91.5". Full dump clearance is 64", so dumping material into a 5' high pickup bed is possible. Breakout force is 2700 lbs. Cycle time for full raise is 3.8 seconds, full lower takes 1.7 seconds, full dump 2.2 seconds and full curl 1.7 seconds.
COMPARISON: Read our review of the 2016 Massey Ferguson 2705E
Climb up into the contoured suspension seat and the operator is treated with a spacious, open platform. There is a small transmission hump on the floor, but it in no way interferes with operation of the hydro or split brake pedals. The dashboard is modern with full instrumentation and the steering wheel tilts for operator comfort. There are grab handles on both fenders, and though there is plenty of room for access on either side, there is only a single step on the left side. With 90% of Workmaster tractors being factory equipped with loaders, it is no surprise that the joystick, which is nicely pinned onto the right fender, comes standard. There is no cup holder, but the ROPS folds for that height-compromised barn or shed storage. Cruise control rounds out the list of standard equipment – often not synonymous with value machines.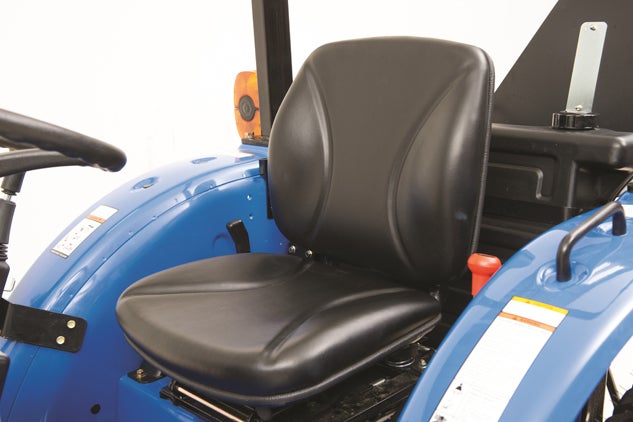 So how does it all work? Like a Workmaster should. The Shibaura engine starts right up and is quiet and smoke-free as, FT4 engines are. Ground speed is easily modulated using the twin pedal arrangement and all control levers, pedals and switches fall right were you expect them to. At the 2015 Media Event celebrating New Holland's 120th anniversary, Tractor.com got to spend some impressive time in the Virtual Reality engineering/design room. We'll probably never know how much VR room time was spent on the Workmaster lineup, but we wouldn't be surprised if some of those nice ergonomics are due to the availability of that technology.
COMPARISON: Read our review of the John Deere 3039R Open Station
Target users for New Holland Workmaster tractors are Ag lifestylers, landscapers, contractors, hobby farmers and homeowners with some real estate. Capable of running time-slashing implements such as a 6' rotary cutter, the 3067 lb Workmaster 33, which measures 121" long by 87.7" to the top of the ROPS and rides on a 66.5" wheelbase, has a MSRP of $22,152 (hydro & R3 tires). New Holland warrants Workmaster tractors for two years bumper-to-bumper with extended powertrain coverage for five years. Blurring the line between value and deluxe, a Workmaster 33 might just be that perfect tractor for your needs.