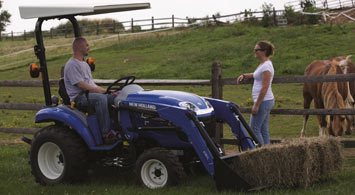 New Holland calls its entry-level Boomer 24 subcompact tractor the ultimate power tool for homeowners, rural lifestylers, landscapers and hobby farmers. Tractor.com first tested the prior model, the Boomer 25, in July of 2012 and came away impressed. Our few nits were the lack of quick-attach bucket mounting system, crowded relationship between loader joystick and treadle pedal, lack of a three-range hydro, lack of telescopic lower link ends, and a wish that the loader hoses were a little more protected. In 2014, New Holland introduced the Boomer 24 replacement, but it has taken until now that we've had a change to get behind the wheel of one and see how, or if, any of those nits have been addressed.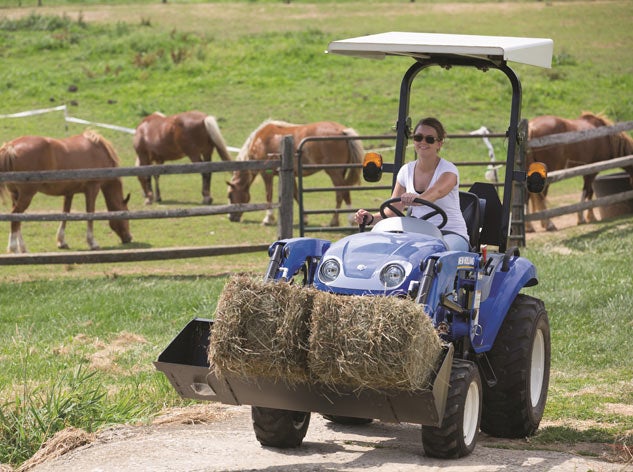 As with the Boomer 25, the Boomer 24 is manufactured by LS Tractor to New Holland specifications. To come in under EPA Final Tier 4 (FT4 or sometimes known as Tier 4) requirements, the three-cylinder engine has been slightly detuned and now outputs 24.4 gross horsepower. Displacement is still 80.4 cubic inches and power take-off (PTO) output is 18.5 horsepower at 2700 rpm. Onboard fuel is 6.6 gallons, so expect plenty of operating time between fill-ups.
COMPARISON: Read our review of the Kubota BX23S
Output from the engine is sent via shaft to a two-range hydrostatic transmission (HST). Referring to our nit of not having a three-range HST, one has to remember that this is an entry-level subcompact, designed to come in at a price point. And most purchasers would probably never know what they were missing not having a three-range HST. What has been nicely improved is the addition of side-by-side pedal control over the HST. Not only does the new system offer nice directional and speed control, it positions the pedals further away so that another nit – the crowded joystick/pedal relationship – has gone away. Top forward transport speed is now almost 2 mph faster than the previous generation machine (11.3 vs. 9.4 mph). As before, cruise control is standard.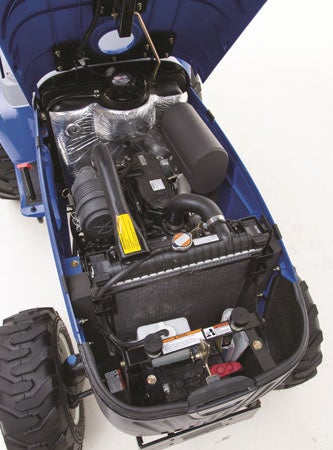 Hydraulics have also been beefed up with the implement pump now flowing 6.7 gpm (vs. 6 gpm) with the power steering circuit flowing 2.9 gpm (same) for a total hydraulic output of 9.6 gpm – impressive for a subcompact-class machine. Accordingly, the Cat I three-point hitch (3PH) is rated to lift 1,433 lbs, though that rating is at ball ends, so the lift capacity 24" behind will be somewhat less. Lower link arm ends still are fixed – remember the price point – and can be easily snugged up by the inboard turnbuckle stabilizers. For backhoe or other rear implement use, a dealer installed rear remote is optional. A 540 rpm rear and 2000 rpm mid PTO are standard with both independent and electro-hydraulically controlled.
COMPARISON: Read our review of the New Holland Boomer 25
Climb up into the operator cockpit (left-side step only) and you'll find a mostly-flat rubber-isolated floor with the slightest of transmission humps running down the middle. As commented on during our Boomer 25 test, the Boomer 24 control pedal, lever, and switch layout are minimal and ergonomically positioned. On the left fender is the HST speed range control lever (H – N – L), the 2WD/4WD lever, and a cup holder a little inconveniently positioned about even with the seat back – though included.
On the right is the PTO selector (R – R&M – M), electro-hydraulic PTO engage/disengage switch, and 3PH height control lever. The loader joystick is still an add-on to the right fender, but as commented above, less crowded due to the new HST pedal layout. There is also a small tray on the right fender for hitch pins etc. The dash is also minimalist, with a combination of analog, LCD and warning lights nicely mixed together and easily visible even in the brightest of days.
On the maintenance side, the hood opens (molded) high and locks in the open position with a built-in brace. Access to major maintenance points has clearly been thought through. And for greater major service access, the side panels (molded) also can be removed. We applaud the foil insulation wrapping the fuel tank, further isolating the operator from engine heat.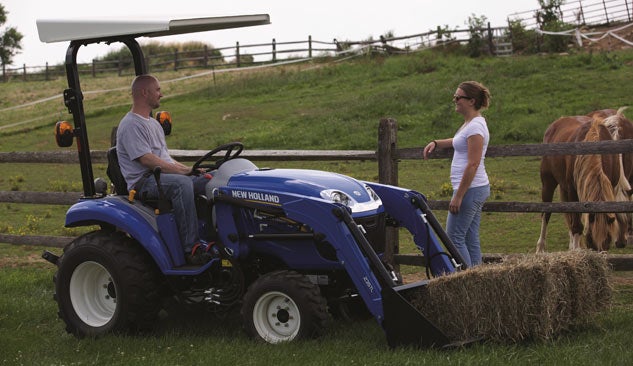 Our tractor was outfitted with the model 235TL loader. Rated to lift 1,034 lbs to a max lift height of 80.7", the 235TL is matched to a 52" wide bucket, that alas is not skid-steer compatible – remember the price point. With 6.7 gpm of hydraulic flow, a breakout force rating of 1,672 lbs, the 235TL is eager and willing to get some work done. Hose positioning on the loader frame is well protected, but as on the Boomer 25 we tested in 2012, the connections at the couplings end up being a little low to the ground.
COMPARISON: Read our review of the Kioti C S2210
Purchasers requiring a backhoe will be looking at the model 915GH, which has an 80" dig depth and 108" reach capability. The system operating at 1800 psi has a dig force of 2,480 lbs (bucket) and 1,750 lbs (dipperstick). With 150-degrees of swing arc, available 10", 12" and 16" buckets, the 915GH is well matched to the Boomer 24/235TL loader combination.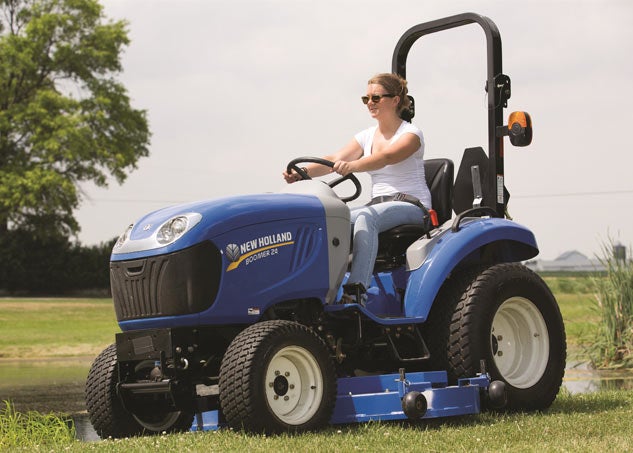 The Boomer 24 measures 103.6" long by 49.1" wide and is 85.5" high to the top of the ROPS, which folds for access to lower height shed/barn doors or for activities such as close mowing to trees, etc. Tire choices are 23×8.5-12 4PR front and 33×12-16.5 4PR rear R3 (turf) or 23×8.5-12 4PR front and 12-16.5 6PR rear R4 (industrial) either riding on a 59" wheelbase. Order package BMR24 Fast Pick and the savings is 2% ($320) with R4 tires.
With a MSRP of $15,000 ($15,695 with BMR24 selected), a five-year BoomerGuard warranty (two years bumper-to-bumper), available options such as a 60" mid-mount mower (MMM), and aftermarket cabs from companies such as SIMS, the Boomer 24 might just be that ultimate power tool.